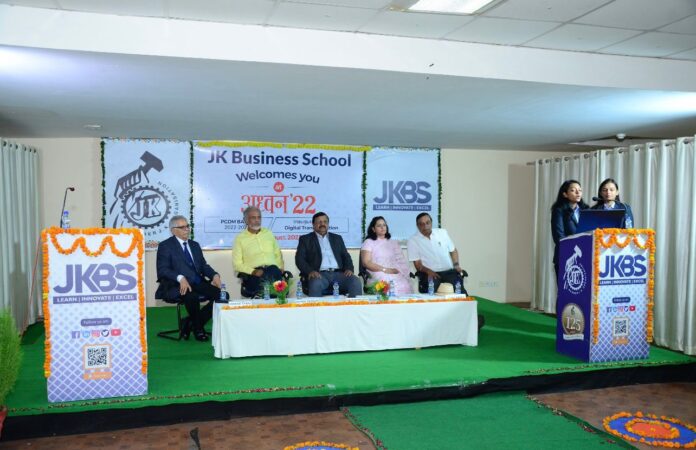 – 
17/08/2022, Delhi NCR: JK Business School (JKBS), a leading Business School in India and Asia's top industry-anchored B-School, recently conducted Orientation Programme 'Adhwan' for its newly joined PGDM 2022-24 batch. The 35 days annual orientation programme Adhwan takes place upon the completion of 100-days onboarding program 'Buniyaad' – an induction program to strengthen the basics of management and bridge gaps by bringing together students from diverse backgrounds on a common level of understanding before starting the PGDM program at JKBS. Buniyaad is conducted in 2 phases- Pre-Foundation and Foundation program. The program is enriched with sessions on leadership, current affairs, company presentations, quizzes and many more. Buniyaad-2 consists of many interactions with the corporate world through online networking and meetings. Many activities such as Webinars and e-Talks with Founders, Industry Leaders, Philanthropists, Motivational Speakers, Technology Front-runners, etc were conducted to keep students abreast with the changing times and to lay a platform to enable students to become thoughtful leaders and managers in the long run. Buniyad holds great significance for freshers as it prepares students for 2 years journey of comprehensive learning.
JK Business School officially welcomed the PGDM batch of 2022-24 during the onboarding ceremony, which started with lighting the lamp of knowledge followed by Saraswati Vandana and welcoming the chief guest of the day Shri Arvind Thakur, Member of the board at JK tech and Dr. S.K. Mahapatra, Director of KIIT, Bhubaneswar.
The PGDM Batch of 2022-24 has a good diversity in the class. The academic mix has graduates ranging from various streams like engineering, commerce, humanities, science, and management. In terms of professional experience, the batch has a balance of fresh graduates as well as working professionals. Diversity in the domains of working professionals, academic background and the geographical location of fresh graduates is expected to enrich the learning experience of the students within the classroom. 
READ MORE –   Upskill in these technologies to secure a high-paying job in 2022
Addressing the occasion Dr. S.K. Mahapatra, Director of KIIT, Bhubaneswar said, "I whole-heartedly welcome PGDM batch 2022-2024 and congratulate them for successfully completing the foundation program". He further added, "2 years comprehensive PGDM program at JKBS will focus on Tech Savvy curriculum, Strong industry connect and Learning beyond academics. JKBS curriculum is laid on outcome-based approach and problem-based learning in order to harness the 'higher-order thinking skills (HOTS). This will foster the analytical and critical thinking abilities of students and help them make data-based decisions and inculcate cross-cultural perspectives so they can function seamlessly in a global business environment. Thus, our focus will be majorly on working on real-time projects with industry professionals to give students firsthand experience of the real world scenarios."
The organization has served the nation with over 135 years of contribution to the education industry and continues to carry on the legacy. Located in Gurugram, JK Business School is affiliated to Gurugram University, a State University of Haryana, and offers management and business-related courses. The goal at JK Business School is to prepare the students for the contemporary business environment which demands qualified and skillful professionals. It offers the student an environment, where they grow and acquire knowledge through practical experience including real-life situations and case studies, applications based on real industry data, engaging projects, and an extensive corporate link where industry veterans handle the academic delivery.
About JK Business School
JK Business School (JKBS) is a member of the JK organization (one of the leading private sector groups in India) with a great history of contribution to Indian business through diverse industries and initiatives. The institute has a very talented team of faculty that includes both core & visiting. The faculty has comprehensive national & international teaching and industry experience. JK Business School is ranked #7 among India's Top 10 private higher education institutions for Best Academia-Industry Alliance in the Education World India Higher Education Grand Jury Awards 2020-21. JKBS has ranked 23rd in Top Private B-Schools in India by Education world Ranking. Top 10 Best Global Institutes for Marketing Programs- The Knowledge Review. Top 38 Private Business School- Business World Ranking and 3rd rank – Top B-Schools of Eminence, GHRDC- CSR Ranking.
visit EasyShiksha for skill development.