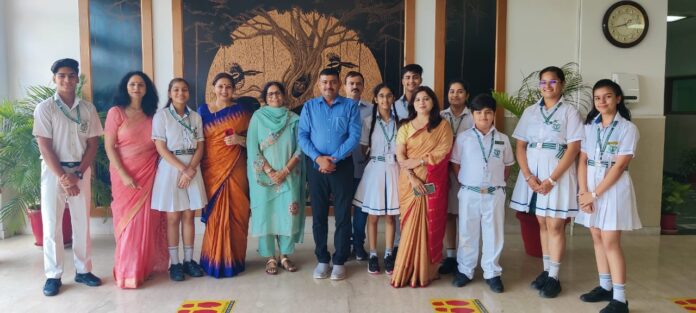 Ghaziabad: DPS RNE celebrated the 75th Independence Day on 15th August, which symbolised India's victory and freedom from British rule. Param Veer Chakra Awardee, Subedar Major and Honorary Captain Yogendra Singh Yadav was also honoured and venerated at the event. He graced the occasion to mark India's 75th Independence day. Subedar Major & Honorary Captain Yogendra Singh Yadav has been awarded the highest Indian military honour, the Param Vir Chakra, for his valiant efforts in the Kargil war.
He talked about the numerous opportunities available in the field of Indian Army. He recollected his experiences of joining the Indian Army at a very young age of 16 years. "Bravery is how well you hide your fears. Even when death is definite while facing an enemy, personal safety is the last on a soldier's mind, and security of the nation and its citizens remains central", Kargil War hero and Param Vir Chakra Awardee Y S Yadav said.
The guests were presented with a Guard of Honour under the leadership of the School Head Boy & Student Council team. The school Pro Vice Chairperson, Mrs. Santosh Bansal felicitated Subedar Major Yogendra Singh Yadav, PVC, in a majestic manner.
The school Principal, Pallavi Upadhyaya, expressed that every student should be inspired by Subedar Major Yogendra Singh Yadav, PVC and must reach greater heights in their career.
ALSO READ : Fretbox Collaborates with Premium as a Colleges platform To Empower Their Hostels
Students from grades Nursery to V took part in Prabhat Pheri and were dressed in tricolour. The students marched with flags and posters in their hands while speaking slogans of patriotism. This activity was conducted as a part of the 'Fit India Movement', a nationwide campaign to encourage people as well as to make them aware of the importance of a healthy mind and body, which can be attained by adding physical activities and sports to the daily routine.
All the activities and competitions thrilled students and created an ambience of energy and patriotism. Each and every student took active participation. Grades III students engaged themselves in Intra Class Role Play Competition which was based on the theme of 'Unsung Heroes of the Freedom Struggle'. They were beautifully dressed up as their favourite freedom fighters and played their characters by narrating the untold stories of the fighters uttering patriotic slogans, which motivated each and everyone present at the event.
"I am glad to be a part of such an auspicious occasion and pleased to see amazing participation from all the students. I would like to thank and congratulate all the students, participants and teachers for making the event fruitful who have put their utmost efforts since the beginning of the celebrations. All activities, and competitions were commendable and should be applauded. Students performed really well." Mrs Pallavi Upadhyaya Principal, DPS RNE, said.
Visit EasyShiksha for skill development courses.