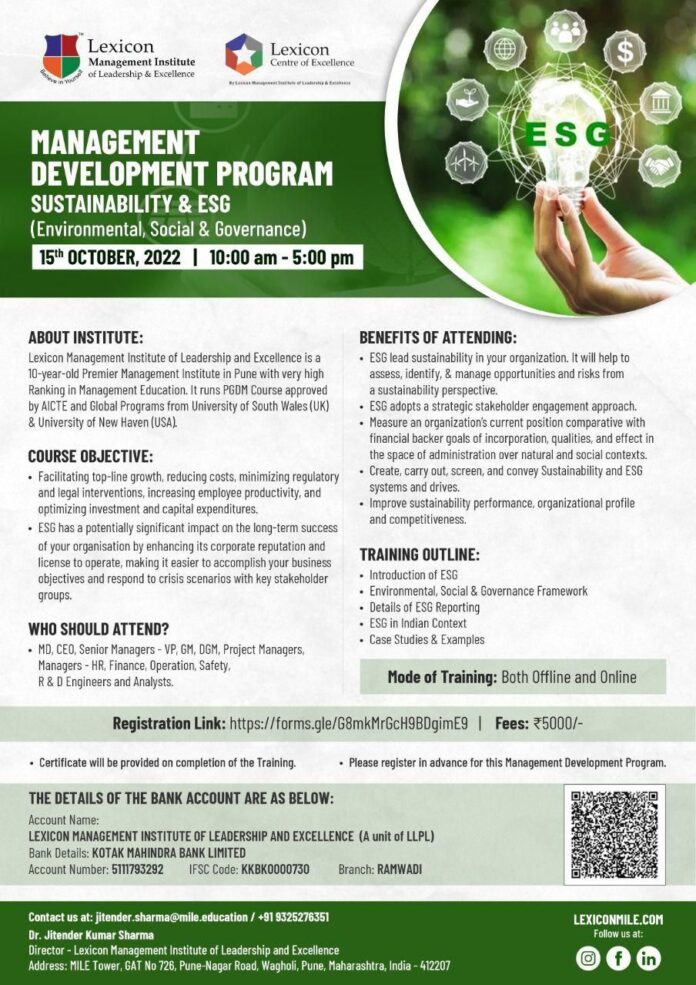 Pune, October 10, 2022: Lexicon Management Institute of Leadership and Excellence is a premium management institution in Pune that prepares students to be industry ready through various academic and extra-curricular exposure. This October, the institute is organising a Management Development Program on Sustainability and ESG [Environmental, Social & Governance].
The Management Development Program on Sustainability and ESG will particularly be beneficial to MD's, CEO's, VP's, GM's, Engineers and those in HR, Finance, Operation, Safety, and Analysts. "The main objective behind conducting this program has been to highlight the impact of Sustainability and ESG in the long term which is often overlooked. ESG is known to have a significant impact on the long-term success of an organisation by enhancing its corporate reputation. This also helps achieve business objectives, optimize investment, reduce costs, and so much more. Through this program we will be able to highlight and target all these key elements which will prove to be a boon to many in the coming days", says Dr. Jitender Kumar Sharma, Director Lexicon MILE.  Individuals will be provided with introduction to ESG, details on ESG reports, Case studies, ESG in Indian Context, and ESG Framework. 
Also Read: Almost 50% employees faced either depression, emotional or anxiety related symptoms
The course will help gain many insights and help identify, assess, and manage opportunities and risks from a sustainability perspective. The key benefits of attending this program would be ESG, which helps measure an organisation's current position comparative with financial backer's goals, it will help create, carry out screen, and convey Sustainability and ESG systems and drives, and improve sustainability performance, organizational profile and competitiveness.
If learning about such topics is something that has always peeked your interest, then this is the opportunity to dive deep into it. With Lexicon MILE's guidance and mentorship, you can achieve it all.
Visit EasyShiksha for skill development courses