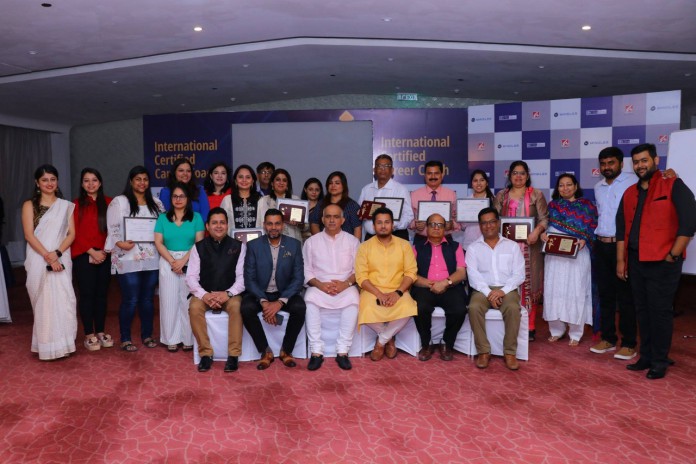 First batch of internationally certified Career Counsellors felicitated; 40 participants across India and the Middle-East successfully complete first ever 3-month certification program from Mindler in collaboration with Career Development Alliance, USA
New Delhi, 20th August 2018: Forty participants of the first ever 3-month International Certification Course for Career Counsellors (ICCC) were today felicitated on completion of  their course. The felicitation ceremony was presided over by institutional representatives of Mindler, a pioneering Ed-tech venture that focuses on technology enabled career guidance.
Created by Mindler in collaboration with Career Development Alliance (CDA), USA, the ICCC program offers a three-month programme for professionals, aiming to learn international best practices in counselling and to further sharpen their counselling skills. ICCC is being launched first in India and will then be introduced to other countries as well.
The first batch commenced in April 2018 with 40 participants from all across the world and India like Dubai, Oman, Delhi, Mumbai, Bangalore, Imphal, Gurgaon, Hyderabad, Gujrat, Kolkata, Dehradun, Ludhiana etc. The first cohort saw a set of some of the most earnest and inquisitive participants coming together to make the program truly exceptional. The certification program included 80 credit programs that were delivered to the participants comprising of class room learning, on-line webinars, case studies, assignments, live projects and final evaluation.
Mr. Peter J Reding (Founder Coach for Life, International Coach Federation) also imparted useful tips and guidance during the program along with Prof. Dr NK Chadha (a pioneer in the field of Psychometrics) and many other domain experts.
On the successful completion of the program, Prateek Bhargava, CEO, Mindler said, "We are really excited to see the great response to the International Career Coach Certification Program.  This robust programme will bring a qualitative change in the delivery of career counselling across the world. The program imparted coaching and counselling skill to prospective career coaches and empowered them with state-of-the-art career guidance tools. This will help the millions of students who are in dire need of robust career guidance. The initiative is in sync with our plans to scale up the Mindler Platform which can be used by all of our trained career coaches across the globe".
Two more batch of ICCC are expected to graduate in September 2018 and the fourth batch will commence in November 2018. Mindler aims to train over 10000 career coaches/ counsellors over the next 5 years, which makes up a team of professionals who can impact over 5 million students worldwide., 2018
About Mindler
Mindler is a technology enabled eco-system for career planning & development for students that enables students discover their unique potential and take well-informed career decisions. A venture run by alumni from Harvard, ISB, IIT and world's leading psychometrician, Mindler brings automated career assessments, collaborative platforms for stakeholders and a comprehensive eco-system for career planning & mentoring. 
Awarded and recognised by Ministry of Science & Technology – Govt. of India, National Career Development Association (USA), Asia Pacific Career Development Association, Economic Times, ISB Hyderabad and CIIE at IIM-Ahmedabad, Mindler is currently working with some of the leading schools & institutes across the country. Mindler has its presence across India, UAE and other South East Asian countries. https://www.mindler.com/
About CDA:
Founded in 1998, CDA is a career development body in Washington, USA. Its founders are members of notable international organizations and are pioneering and championing the cause of career development and guidance.
Widely consulted for career development across the globe, CDA has created comprehensive training and instructor materials used to train tens of thousands of professionals and paraprofessionals.  Notable clients include the American Medical Association (AMA), United States Secret Service, Federal Deposit Insurance Corporation (FDIC), among others.