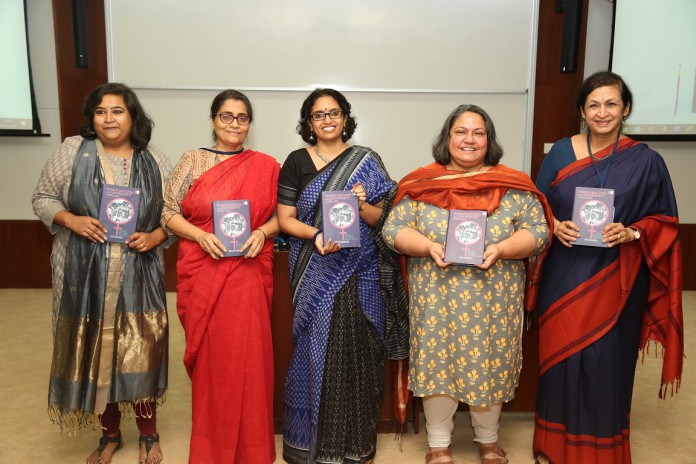 Padma Shri awardee Renana Jhabvala, National Coordinator at Self Employed Women's Association, an organization aimed to empower poor, self-employed women workers, delivers the closing address on 'Women, Work and the Economy: Lessons from the Informal Economy', at the XIV International Conference on Public Policy & Management at IIMB BRING SOCIAL CHANGE
26th August, 2019, Bengaluru: "Although we have a lot of women working in the country, a majority of the female labour force in India is in the unorganized sector. Their work is often not counted or is undercounted, and they remain invisible in statistics," said Padma Shri awardee Renana Jhabvala, a social worker and National Coordinator at Self Employed Women's Association (SEWA), an organization aimed to empower poor, self-employed women workers. Ms Jhabvala was delivering the closing address on 'Women, Work and the Economy: Lessons from the Informal Economy', on Day Three of the XIV International Conference on Public Policy and Management, organized by the Centre for Public Policy (CPP) at the Indian Institute of Management Bangalore (IIMB), from August 22 to August 24, 2019.
Ms Jhabvala listed few other reasons why there is a falling labour force participation of women in India. "These women are at the base of the pyramid of the workforce model. Then, there are young women, although educated, who are unable to enter the workforce. Even when women are ready to supply work, often there is no demand."

Important Announcement – EasyShiksha has now started Online Internship Program "Ab India Sikhega Ghar Se"

She went on to discuss SEWA's work in the informal economy and said that the organization has taken the approach of 'rights' (through trade unions) and 'development' (through social enterprises) to increase workforce participation of women. "We believe in making these women self-reliant, individually and collectively. We aim to provide full employment, both in terms of economic and social security."
Talking about the specific measures the organization has taken by way of bringing women into the workforce and incentivizing them, she said: "We strive to provide financial inclusion and better self-employment opportunities. We create social enterprises to make them able to enter the market, and make provisions for social security such as healthcare, insurance, housing and infrastructure and childcare. We also focus on providing education, awareness and training sessions, as well as personality, life and vocational skills to the youth though forums such as youth clubs, etc."
Regarding safety for the female labour force, she lamented the lack of committees in the informal sector to enforce the Acts and guidelines created by the government to safeguard women from exploitation of various kinds. "These women and their employers should be educated on such matters through discussions", she recommended.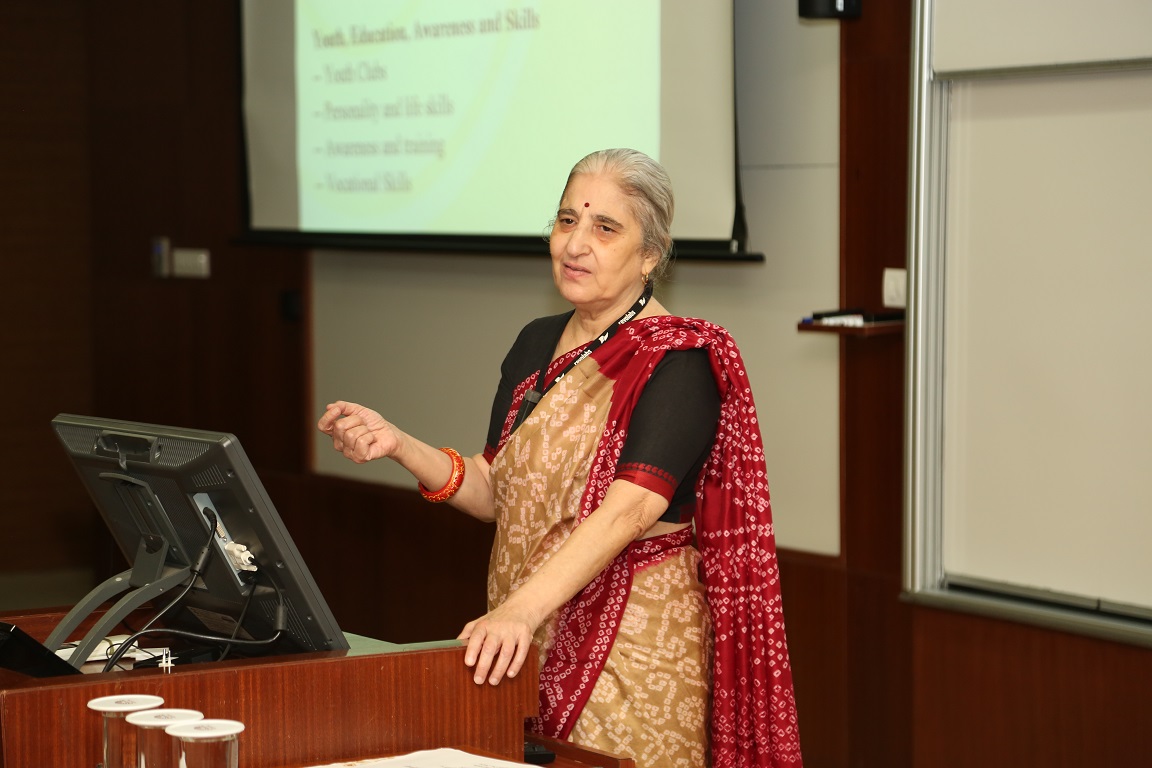 Ms Jhabvala pointed out that all the measures and initiatives can be scaled up, given the right attitude and investment. She also shared that working with the corporate sector brings in their knowhow, technique as well as their contacts, which could be utilized for the betterment of the labour force. "But formalization of this sector should only be allowed in so far as it benefits those from the informal economy."
The informative and inspiring session ended with Ms Jhabvala highlighting that: "Organizing is the key – bringing them and all the initiatives together, giving them trust and confidence, this is what will bring social change and bridge the gap between employment and empowerment."
Indian Media in the 21st century
The evening session of Day One (Aug 22) of the XIV International Conference on Public Policy & Management, featured a vibrant panel discussion on 'Indian Media in the 21st century'.
In the last few years, Indian media has witnessed an explosion with 900 TV channels, countless magazines, newspapers and digital platforms.
Moderated by Professor Prateek Raj of the Strategy area at IIMB, the panel featured Paranjoy Guha Thakurta, Sevanti Ninan and Govindraj Ethiraj, who highlighted the challenges faced by the media in the country.
The panellists, often relating personal experiences, wove an interesting discussion around how news gets produced, conditions that drive various media houses, challenges of free press, the role of technology in improving the state of debate in a democracy like India.
Top Software Engineering Courses
Resource crunch
Paranjoy Guha Thakurta, an independent journalist, political commentator, author and documentary film maker, said: "News reporting is often influenced by a series of circumstances like advertisers, financial considerations, or even an unwillingness to be critical of the ruling party."
Sevanti Ninan, author and columnist based in New Delhi writing on media for The Hindu and the Hindustan and founder-editor of The Hoot.org, a South Asian media watch website, pointed out that although media wields a lot of power and has the ability to expose the corrupt, resources is a crucial factor. "Any media house doing its job has to have money. Earlier, we had correspondents reporting from various geographical locations, but now this has been replaced with discussions within closed studios, due to a resource constraint," she explained.
Business model failure
Govindraj Ethiraj, a TV and print journalist and founder of Ping Digital Broadcast, an online multi-channel network, as well as of IndiaSpend.com and Factchecker.in, two public-interest journalism websites, opined that the problems plaguing the media was due to oversupply.
"When advertising is curtailed, often changes are made to cut costs, which again has an impact on news quality. Hence, the business model failure is causing gaps in the quality of content. Then, there is the factor of the advertiser putting pressure – be it a large corporate or the government, which manipulates content," he reckoned.
'Pay for quality content'
Discussing the impact of technology on news in India, the panellists pointed out that with the rise of internet, people expected content for free, which resulted in a dilution of quality. "Today, a handful of corporations – distributors really, and not creators of content – influence what people hear or watch. The anonymity of social media allows irresponsible reporting of news. The methods employed are often flawed, even manipulative. Tech should be supported by the human element and by human judgement. Moreover, social media cannot be the voice of the people as it lacks the class element," argued Sevanti.
While Paranjoy Guha Thakurta thought too much media and sponsored models have caused disequilibrium, Govindraj Ethiraj preferred to strike an optimistic note remarking that people would desire an alternative opinion and soon crave for better quality of news. Advertisers too, Ethiraj believed, would tend to start investing in the same. "Increased consumer demand will increase supply of quality news," he said.
The panellists agreed that "vanity" investment was one of the reasons for the proliferation of television channels and newspapers across the country. Vanity investment also leads to the quick and sudden folding up of such businesses, they added.
The moderator, Prof. Prateek Raj, summed up the panellists' thoughts, saying: "Media needs support from the consumer – both moral and financial. Most importantly, people in India should be willing to pay for good and quality information."
Prof. Gagandeep Kang's address
On the morning of August 22, 2019, the conference had a brilliant start with a keynote address on 'Trials and Tribulations: Clinical Research in India', delivered by Professor Gagandeep Kang, Executive Director, Translational Health Science and Technology Institute (THSTI). "The very purpose of clinical research is to improve health. Hence, everyone who participates in clinical trials is a partner and should be deemed as champions of the cause, and hence it is the responsibility of us professionals to serve these people to the best of our ability. Without their trust, the advancement of both clinical science and medical practice would falter", Professor Kang observed.
She went on to say that such trials need to be carried out responsibly and ethically, based on a relationship of trust with the participants where total understanding is a given, and the findings are shared with the communities. "There are regulatory bodies to raise the standard of clinical research and curb unethical practices. But although we have very good basic biology institutes, investment is still not to the level that it should be," she lamented.
Prof. Kang, who is an Infosys Prize Winner in Life Sciences and in 2019 was elected to the Fellow of Royal Society, the first Indian woman to achieve this, began her address by providing a background to public health in India, and proceeded to talk about the need for clinical research, the different players of healthcare delivery, and also gave an insight into her ongoing research and future work.
'Need to build trust and accountability'
She listed the factors that have worked so far in this domain as: identification of needs in public health research, partners who provided appropriate training, targeted and monitored mentoring, commitment to the communities that professionals work in and with as well as commitment to quality, building multidisciplinary research groups of young faculty, availability of academic positions and funding, working in collaboration with government and like-minded institutions, more investment in R&D, and new initiatives in public health. She said that lack of value systems, lack of systems, sclerotic bureaucracy, hierarchy, restrictive polies and lack of institutional support were some of the challenges of clinical research.
"Going forward, we need to focus on setting priorities, looking at evaluating effectiveness, access, and healthcare management. As academicians, we need to help the government in setting priorities, carry research, translate results into practice in India, and extend and reinforce research and training." She cited the example of the rotavirus vaccine which was developed overseas and was very costly. An Indian vaccine was developed as an alternative based on estimates which was introduced in 2016.
Prof. Kang rounded off her discussion by highlighting the importance of teamwork. She also said: "High quality clinical research is being and can be done in India. Policies can be changed with planning and evidence accumulation".
"Be curious, ask questions and find answers. Believe you can solve problems. Know you can make a difference", she advised the participants.
The 'how' of Public Policy
In his welcome address, Professor G Raghuram, Director, IIMB, said: "The very presence of the Centre for Public Policy at IIMB and the fact that we are committed to Public Policy has an induction effect on the other areas be it Marketing, Finance, or Economics. This conference promises wonderful fare, relevant to the Public Policy context in India. Often, the issues are not limited to 'what' we address; the 'how' is critical—how Public Policy gets resolved and executed is essential."
While emphasizing the need for clarity on addressing the 'how' with regard to Public Policy in India, he explained: "Coordination across different domains and verticals emerges as an interesting dynamic. The issue of how you leverage competition is a major challenge. An interesting question that needs to be researched and a proper framework be arrived at is, should public legacy institutions be allowed to bid for public delivery under a public-private partnership framework?"
Conference topics
Professor Hema Swaminathan, Chair, Centre for Public Policy at IIMB, set the context for the three-day conference which had eminent researchers and speakers sharing their perspectives on current policy issues like Education in India, Infrastructure Development, Health Sector: Issues and Solutions, Public Expenditure Review of Health and Education, Barriers to Trade, Political Economy and Governance, Trends in Migration, Economics of Inequality, and many more. The conference also featured plenaries on 'Changing Faces of Media in the New Era,' and 'Federation and Decentralization'.
The three-day event included a broad mix of academic sessions, workshops, panel discussions and practitioner-oriented discussions on contemporary topics in public policy and management and ongoing policy research in India. The objective of the conference is to provide a forum for exposure to new ideas and methodologies, leading to cross learning and collaboration.
Empower your team. Lead the industry
Get a subscription to a library of online courses and digital learning tools for your organization with EasyShiksha
Request Now
For information related to technology, visit HawksCode and EasyShiksha
ALSO READ: essay-writing-prompts-and-practical-advice-from-specialists
Get Course: a-complete-course-on-digital-marketing-advertising