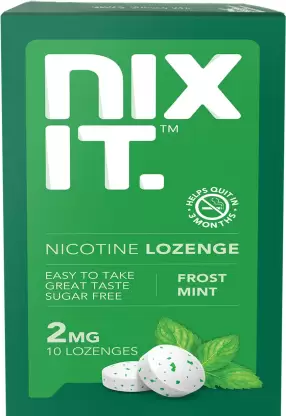 Makes an entry in the smoking cessation category with nicotine lozenges format
Nixit aims at helping people quit smoking in 3 months by controlling their withdrawal symptoms
Mumbai, India | October 20, 2022: Piramal Pharma Limited's Consumer Products Division (CPD) introduced Nixit, its smoking cessation brand in the Nicotine Lozenges format. The brand unveiled its high decibel TV, Digital and Print campaign, #QuititwithNixit in Karnataka to help consumers overcome smoking through Nicotine Replacement Therapy by controlling their withdrawal symptoms.
The campaign is premised on telling smokers that Nixit will help them combat their withdrawal symptoms and ease their quitting journey. Nixit lozenges releases nicotine in a controlled manner without the need to chew, helping consumers to quit smoking in 3 months. It comes in a refreshing frost mint flavour with 2mg and 4mg strengths.
Nitish Bajaj, CEO, Piramal Consumer Products Division said, "Smokers in the age group of 25-44 are in the phase of life with increasing responsibilities and tend to have more reasons and triggers to quit. Nixit helps relieve smokers with withdrawal symptoms. Through this campaign, we wish to reach out to smokers who want to quit and make the journey easier for them. With Nixit Lozenges, we are aiming to help consumers achieve a healthier lifestyle."
Nixit was acquired by Piramal Pharma Ltd. from Strides Pharma Science Ltd. in 2022 and was first launched in FY2018. It is a smoking cessation brand that helps consumers overcome smoking through Nicotine Replacement Therapy. Prior to the acquisition, Nixit was available on e-commerce and in chemist stores across India.
Link to the campaign: https://www.youtube.com/watch?v=ftjreLhQsNA&ab_channel=NixitIndia
Also Read: MyGlamm Launches LIT Lip and Cheek Rouge in 6 rich shades for your daily pop of colour
About Piramal Pharma's Consumer Products Division
Piramal Pharma's Consumer Products Division's portfolio comprises 21 brands with offerings spanning across multiple categories. It aims to be among the top three over the-counter (OTC) product companies in India. Over the last two years, the business has invested significantly in various growth levers. The Company's strategy of expanding the product portfolio and distribution network has worked well and the Consumer Products business is evolving into a strong player in India's OTC market. For more information visit: Piramal Pharma Limited – Consumer Products Division
About Piramal Pharma Limited:
Piramal Pharma Limited (PPL) offers a portfolio of differentiated products and services through end-to-end manufacturing capabilities across 15 global facilities and a global distribution network in over 100 countries. PPL includes Piramal Pharma Solutions (PPS), an integrated Contract Development and Manufacturing Organisation; Piramal Critical Care (PCC), a Complex Hospital Generics business; and the India Consumer Healthcare business, selling over-the-counter products. In addition, it has a joint venture with Allergan, a leader in ophthalmology in the Indian formulations market. In October 2020, PPL received 20% strategic growth investment from the Carlyle Group. 
Visit EasyShiksha for skill development courses.