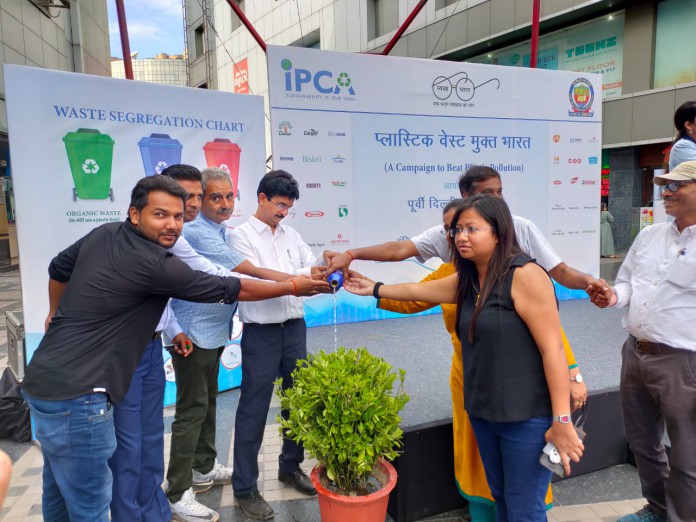 New Delhi, 27 September 2019: Indian Pollution Control Association (IPCA), a NGO with East Delhi Municipal Corporation (EDMC) is organizing an awareness campaign("Plastic Waste Mukt Bharat – under Swacchta Hi Sewa – Plastic Waste Sharamdaan Campaign" on 27thSeptember 2019 between 03:00 PM – 8:00 PM at the Atrium of V3S Mall, Laxmi Nagar, New Delhi.
The objective of Plastic Waste Mukt Bharat was to create awareness on Plastic waste management among the residents of East Delhi and to focus on bringing behavioral change toward waste management moreover aware people regarding plastic waste collection, disposal and elimination of single use plastic through large scale citizen engagement activities. There was a dance performance by the Brand Ambassador of EDMC Shri Alaknanda on Plastic waste and street play was performed by the school children and Drama Group – Peak Loud. IPCA engaged community through fun learning activities, quizzes and Drawing and Quiz Competition by Primary School Children which motivated and encourage them to reduce, reuse and recycle plastic waste. The event was attended by the Commissioner and Mayor of the EDMC along with various brand owners like DS group, Nestle, Dabur, Mother Dairy etc.
Quote by Govt, IPCA & Industries:
"Being a responsible Company with a portfolio of products based on Nature and natural ingredients, Dabur has always sought to operate its business with a strong regard for environmental sustainability. Moving forward on this mission, Dabur is on course to becoming a Plastic Waste Neutral Company by March 2021 by collecting, processing and recycling 20,000 MT of post-consumer plastic waste from across the country. Alongside, Dabur has been working towards spreading awareness and involving the community in this drive, and also reducing the consumption of plastic for packaging within our plants," Dabur India Ltd Head-HR and Global Human Capital Mr. A Sudhakar said.



Top Software Engineering Courses



"Parle Agro has set an ambitious goal to immediately become 100% PET waste free company. This not only requires us to accelerate many of our ongoing environment and sustainability initiatives, but also double our investments. We are committed to invest Rs.50 crores in the next three years towards this endeavor. Given our 30% growth rate, our 'PET Sustainability' investments will most definitely increase every year. Moreover, in the coming months we will be launching additional employee and consumer campaigns that will act as a multiplier for our PWM initiatives" said Nadia Chauhan, MD and CMO, Parle Agro.  
"Plastic has now been inculcated in our lifestyle so much that even after avoiding single use plastic, our consumption is still very huge. Therefore alternatives of plastic should be available locally and at affordable rate. R&D should be conducted for each type of plastic. Till date we don't have enough alternatives to plastic therefore it is the responsibility of each individual to handle their plastic waste consumption in a very responsible manner. Every citizen should ensure that all the plastic consumed by them should be send to proper recycler and non-recyclable plastic should go to cement kilns, waste to energy plant, road making etc. Littering of plastic waste on road, rivers and ocean should be completely banned and strict fines should be imposed on the people violating the rules and regulation." Indian Pollution Control Association, Secretary Mr. Ajay Garg.
Top Networking Online Courses
More Courses With Certification
Empower your team. Lead the industry
Get a subscription to a library of online courses and digital learning tools for your organization with EasyShiksha
Request Now
ALSO READ: Student-housing-to-witness-addition-of-around-6-lakh-beds-by-20222023
Get Course: Microsoft-Word-Tutorial-for-Beginners