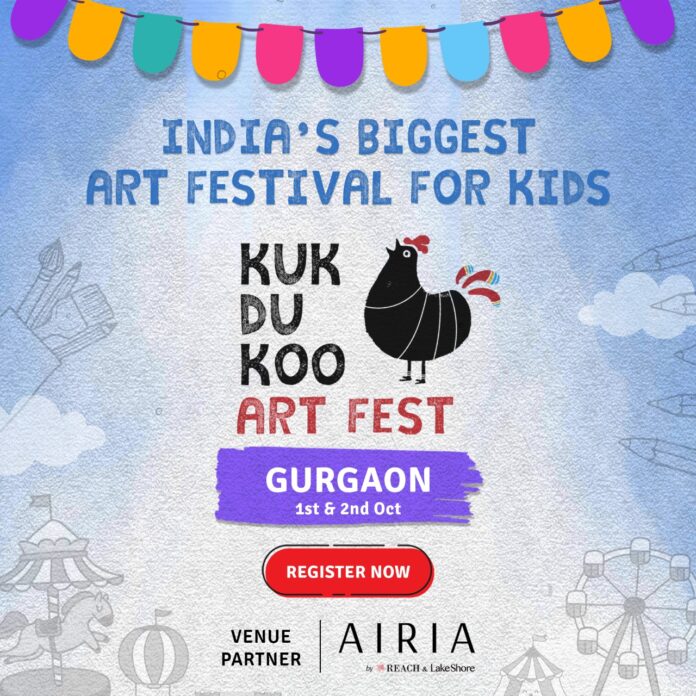 Kukdukoo Art Fest is a 2-day family festival that brings children & their parents, artists, and educators together for the larger-than-life visual and performing art experience all at one place. Returning after 2 years, the event is all set to intrigue the kids and instill a deep-seated love for art forms that are visual and performing, both Indian and International, traditional as well as contemporary.
Scheduled on 1st and 2nd October 2022 at Airia Mall Grounds in Sec-68, Gurgaon; this 2 day festival will cater to the children aged between 2-18 years. The festival is being conducted to make children take notice of the beauty and benefits of engaging and experiencing visual and performing art forms and also serve as a great weekend family getaway for spending time creatively. The event is expected to witness a footfall of over 20k+ children and their parents during the first weekend of October in Gurgaon.
Also Read: Lexicon MILE hosted the 'International Conference'- Sustainable & Innovative Business Practices
The event is set to witness the presence of eminent personalities including Dine Khan Manganiar from Rajasthan, Walter Peter (renowned Indian clowning artist), Kunal Motling (Indian Charlie Chaplin), Poet and Story Tellers – Lovely Sharma, Simmi Shrivastava, Seema Wahi Mukherjee and Renowned puppeteer – Mohd. Shameem , Theatre artists – Sukhmani Kohli, Imran Khan, Garima Arya & Prashant to name a few.
Highlights of the Event:
Date: 1st and 2nd October 2022
Time: 11am – 9pm
Venue: Airia Mall Grounds in Sec-68 Gurgaon
Entry: Rs. 499/- per child with complimentary access to the parents
Availability: Book My Show (https://in.bookmyshow.com/events/kukdukoo-art-fest-gurgaon/ET00339682) and Paytm Insider (https://insider.in/kukdukoo-art-fest-gurgaon-oct1-2022/event)
Weblink of the event: https://www.kukdukoo.com/art-fest-2022
Visit EasyShiksha for skill development courses