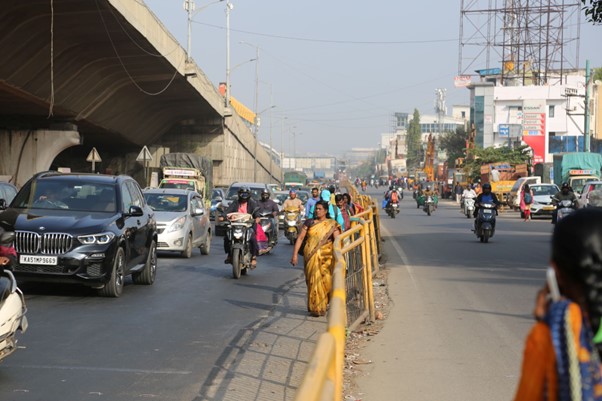 Bommanahalli Junction sees heavy pedestrian footfall through a high speed traffic corridor.
Bengaluru 29 March, 2023: To save lives and make Bengaluru roads safe for all, the SaveLIFE Foundation (SLF), with support from HDFC ERGO General Insurance and in close partnership with the Ministry of Road Transport and Highways (MoRTH), the National Highways Authority of India (NHAI) and the Bengaluru Traffic Police has launched a Tactical Urbanism Trial at the Bommanahalli Junction. As per the Bengaluru Traffic Police, the Bommanahalli Junction witnessed a total of 34 crashes between 2018 and 2021, eight of which were fatal.
Tactical Urbanism (TU) trialsare temporary, quick and relatively low-cost interventions, which test out urban design, transportation planning and infrastructural changes for improving road safety for all road users, especially the most vulnerable, like pedestrians, cyclists and other non-motorised transport users. Once the interventions are proven, the relevant Government agencies are expected to make them permanent.
ALSO READ: HP Leads in Hybrid Work with Future-Ready Portfolio
As part of the Zero Fatality Corridor (ZFC) initiative, SaveLIFE Foundation tests temporary urban design interventions. An essential component of these trials is road space redistribution to ensure modal equity, road geometrics modification, traffic channelisation, vehicular speed reduction, and addition of pedestrian and cyclist safety infrastructure.
Speaking about the immediate need to support such interventions, Parthanil Ghosh, President – Retail Business, HDFC ERGO General Insurance, said, "Road casualties not only cause a great deal of emotional loss for the family but also dent Indian GDP by 3% to 5% every year. According to a World Bank report, India accounts for 11% of overall global road deaths[1]. We at HDFC ERGO have been consistently supporting efforts to curtail the incidence of road fatalities and encourage road safety in the country. By launching Tactical Urbanism Trial with SaveLIFE Foundation, we aim to mitigate the number of road fatalities and make Bommanahalli Junction safer for all."
A T-junction located at the intersection of National Highway 44 and Begur Road, the Bommanahalli Junction is also in the vicinity of two metro stations, which contribute to heavy pedestrian footfall.  With an average of approximately 65,000 pedestrians and approximately 2,28,000 vehicles using the location on a daily basis, the Bommanahalli Junction experiences heavy pedestrian footfall and vehicular movement.
Adding to it, Vivek Jaiswal, Regional Officer, Bengaluru, NHAI, said, "Of the 34 crashes registered between 2018 and 2021, 14 involved pedestrians. NHAI is committed to finding unique, innovative solutions for it. These TU trials will help find apt solutions necessary to address the concerns identified at Bommanahalli Junction and make it safer for all road users."
The major TU interventions undertaken at the Bommanahalli Junction include the provision of dedicated waiting spaces and continuous crosswalk and pathways for pedestrians. To reduce the conflict  between different types of road users at the Junction, the interventions undertaken include carving out dedicated space for auto stands and parking, the provision of pick-up and drop-off spaces, road geometry correction and the installation of wayfinding signages, both for pedestrians and vehicles.

Commenting on it, Piyush Tewari, CEO, SaveLIFE Foundation said, "SaveLIFE Foundation uses scientific research and in-depth analysis to combat the road crash epidemic confronting the country. The Tactical Urbanism trials undertaken by SLF within its Zero Fatality Corridor programme use data, evidence and design thinking to determine the best possible solutions for saving lives. We are grateful to HDFC Ergo General Insurance, MoRTH, NHAI and the Bengaluru Traffic Police for working with us towards improving road safety in the capital city."
This redesigning at the Bommanahalli Junction has led to a 58% reduction in the total pedestrian exposure distance and a 263% increase in the public space available for pedestrians. Launched on March 28, this is the second Tactical Urbanism trial conducted in Bengaluru, with the previous one conducted specifically as a Child Safe Zone at Peniel School, Ayyappanagar.
About SaveLIFE Foundation:
SaveLIFE Foundation saves lives on roads in India and beyond by improving road safety and access to emergency medical care (UN SDGs 3.6 and 11.2). We fix roads: through crash investigations and smart engineering design, we make streets and highways safer for everyone. We strengthen emergency trauma services: with support from ambulance operators, police forces, and emergency medical teams, we train first responders in life-saving skills and bridge gaps between road crashes and the delivery of urgent trauma care. We design impactful policies: working in partnership with government agencies, industry, and grassroots organisations, we create and advocate for regulations that eliminate unsafe driving behaviors and enforce traffic laws to protect all road users. The results: we have reduced road crash deaths on India's dangerous Mumbai-Pune Expressway by 43%. We secured India's first Good Samaritan Law to protect bystanders when helping road crash victims. Our technology helps ambulances reach Delhi's residents as fast as possible during the COVID-19 crisis. Our ambition is to save 1 million lives by 2027.
This year Educate yourself and develop your career with EasyShiksha