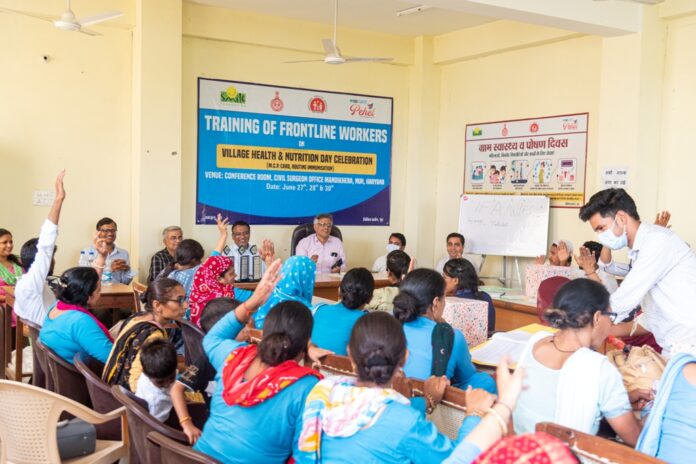 New Delhi, July 12, 2022: Smile Foundation has received a certificate of appreciation from the Nuh District Administration Health Department, Government of Haryana, for its efforts to enhance the quality of healthcare services in the district. Smile Foundation has established telemedicine centers and trained frontline workers in the district.
The Nuh District Administration – Health Department, Government of Haryana and Smile Foundation organized a three-day training workshop for frontline health workers in the district, supported by SBI Cards and Payment Services Ltd. The workshop focused on training frontline health workers on the detailed procedure for registration of beneficiaries for Mother-Child Protection Cards to boost immunization in the district.
ALSO READ: Arch College of Design and Business invites application for session 2022-23
The frontline health workers were also trained on providing tele consultation services and on the importance of adequate nutrition for pregnant women. They were taught ways of ensuring adequate nutrition through locally available fruits and vegetables.
The district administration praised Smile Foundation's efforts in promoting health-seeking behavior. "We are delighted to witness the consistent efforts being made by Smile Foundation to improve health outcomes in their intervention areas within Nuh district, Haryana. The Foundation's efforts are praiseworthy," said Dr. Surendra Yadav, Civil Surgeon, Nuh District Administration – Health Department, Government of Haryana.

Speaking on the occasion, Mr. Santanu Mishra, Co-Founder & Executive Trustee, Smile Foundation said, "We are honored by the recognition received from Civil Surgeon (CMO) of district Nuh. This recognition will motivate us to continue working to improve the healthcare system in the state. There is a lot that civil society organizations can and must do to improve health outcomes in the country."
Nuh is an aspirational district in Haryana. The district administration and health department of Nuh are working in a concerted manner to improve the health outcomes of the population. As part of efforts to strengthen the healthcare system in the district, Smile Foundation is bracing the telemedicine centers in Nuh.
Smile Foundation runs the Health Cannot Wait campaign throughout the country that prioritises improving primary healthcare delivery. The initiative aims to provide quality primary healthcare services to two million people and promote health-seeking behaviour among underprivileged communities. Health Cannot Wait works through four initiatives – Smile on Wheels mobile healthcare units, Smile Health Camps, Baaton Baaton Mein Sehat – a tele-counseling initiative, and Health Online – e-clinics through tele-medicine.
About Smile Foundation
Smile Foundation is an Indian development organization directly benefiting over 1.5 million children and families through more than 400 welfare projects on education, healthcare, livelihood, and women empowerment spread across 2,000 villages and slums in 25 states.
Visit EasyShiksha for skill development.