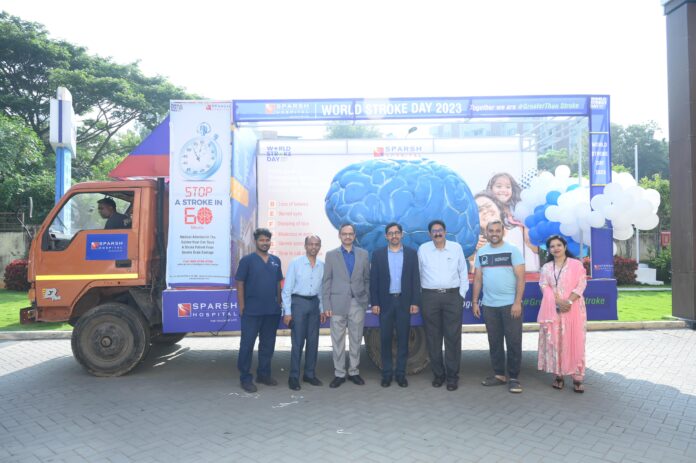 Bangalore, October 30, 2023 –In commemoration of World Stroke Day, SPARSH Hospital, RR Nagar, orchestrated a meaningful initiative dedicated to raising awareness on brain strokes. As part of the campaign titled '"Empathy in Action – Building a Stroke Aware Society", a group meditation program aimed at stroke prevention and the promotion of a healthy brain was organised. Through the campaign the Hospital reached out to over 5,000 individuals, including students, elderly citizens, and professionals, effectively engaging a diverse audience. This initiative marked a significant step in enhancing public understanding and awareness about brain strokes.
SPARSH Hospital also unveiled a special screening package for brain strokes in the presence of Dr. Kiran Kumar B R, Medical Director of SS SPARSH Hospital, along with Dr. Amit Kulkarni and Dr. Abhilash Bansal. To increase public awareness, a unique 3D brain sculpture will traverse the streets on a vehicle, serving as a moving symbol of stroke awareness which is very common irrespective of age.
Dr. Amit Kulkarni, Senior Consultant and Lead of Neurology Stroke at SS SPARSH Hospital. Said, ""Brain strokes are a serious and potentially life-threatening condition that can have devastating consequences. It's important for individuals to be aware of the warning signs such as sudden weakness, numbness, or difficulty speaking. If you or someone you know experiences these symptoms, seek immediate medical help. Timely intervention can be a game-changer in stroke prevention. By staying informed and vigilant we can work towards a future with fewer strokes and better outcomes for those affected".
The "Empathy in Action – Building a Stroke Aware Society" event serves as a testament to SPARSH Hospital's commitment to community well-being and the propagation of knowledge about brain strokes. As a premier healthcare institution, SPARSH Hospital is dedicated to making a positive impact on the lives of individuals, promoting a stroke-aware society, and ultimately preventing brain strokes.

About Sparsh Hospital
Sparsh Group of hospitals is one of the largest multi-speciality healthcare providers in Karnataka. Over the span of the last 17 years, the group has crafted a niche for quality health care in South India. Under visionary leadership and strong management, Sparsh has evolved as the Centre of Excellence in over 35 specialities including Orthopaedic, Neuroscience, Organ transplants, Women and Children amongst many other super specialities. Sparsh has achieved many milestones and performed path breaking surgeries, winning many accolades and recognitions on the national and international front along the way. Sparsh has proven that India can provide the best medical treatment and care in the world and is emerging as the destination of choice for international patients from over 12 countries.
Built on the core values of faith, hope and love, Sparsh has been diligently working towards making quality health care accessible to all. The Group, led by Dr. Sharan Patil, an eminent Orthopaedic surgeon and a renowned thought leader in his own right, believes that every person should be able to avail of excellent healthcare irrespective of their socio-economic background. State- of-the-art facilities, skilled doctors, nurses and supporting allied healthcare staff, including exceptional evidence-based, patient-centric care define the Sparsh Anubhava, which is our patient experience model.
Sparsh now operates five healthcare facilities across Karnataka, three in Bengaluru and two others in Davanagere and Hassan, with two more multi-speciality hospitals on the anvil. Sparsh has successfully treated over 2 million happy patients and counting.
This year educate yourself and develop your career with EasyShiksha