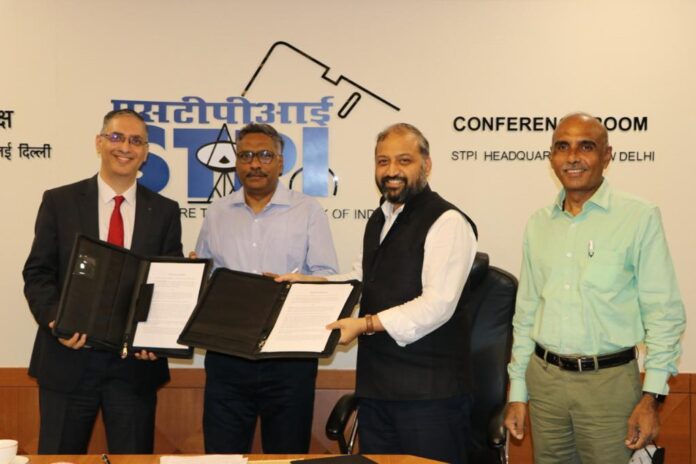 New Delhi, 5th May, 2022 : AIC STPINEXT Initiatives (STPINEXT), a special purpose vehicle of Software Technology Parks of India (STPI), an organization under the Ministry of Electronics and Information Technology (MeitY) has signed two memorandums of understanding (MoUs) one with IDBI Capital Markets & Securities Limited (ICMS), a well-known investment banking and financial services company and another with MergerDomo, a global online marketplace that enables fundraising and consulting for startups in the country. These partners would play critical role in supporting and handholding the startups in the growth journey through technical guidance & assistance, mentoring, pitching to investors, funding support, and market connect & access etc.
ALSO READ: easyshiksha.com
Speaking on the occasion, Shri Arvind Kumar, DG, STPI highlighted, "STPI & STPINEXT have created a strong collaborative ecosystem and are continuously striving to enhance it for nurturing emerging tech startups into self-sustainable and market ready ventures. For addressing the diversified needs of the startups, STPI & STPINEXT have associated with various organization who excel in their functional areas. Moving forward, collaboration will be a critical parameter for success, and STPI's robust CoE ecosystem is a glaring manifestation of this."
STPI has announced setting up of 25-plus Centres of Entrepreneurship (CoEs) in specific domains spread across India. To further strengthen the startup ecosystem, STPINEXT is getting into an association with IDBI Capital Market &Securities Ltd. and MergerDomo. The forthcoming support from these organizations will be of immense value to the startup community.
EXPAND YOUR KNOWLEDGE: Kool Kanya addresses "mom guilt"
Shri Subodh Sachan, Director, STPI & MD & CEO, STPINEXT cited, "Signing of MoUs with IDBI Capital & Merger Domo is a laudable step towards further galvanising STPI's startup ecosystem to nurture startups by providing them access to industry, industry associations, and funding partners for scaling up their ventures."
Speaking on the occasion Shri Vikram Jain, Senior Manager, ICMS highlighted, "Under this collaboration, ICMS may on best effort basis support STPI CoEs' initiative with regards to supporting and nurturing the selected startups by providing Venture Capital Funding and also through mentoring and knowledge sharing in financial and fund-raising space.
"

Shri Hormazd Charna, Founder & CEO, MergerDomo said, "The collaboration will strengthen STPI's startup ecosystem in particularly through Fund Raising, Market Access, Presenting startups to its investor community on its technology platform, etc."
About STPI
Software Technology Parks of India (STPI) is a premier S&T organization under Ministry of Electronics and Information Technology (MeitY) engaged in promoting IT/ITES Industry, innovation, R&D, start-ups, product/IP creation in the field of emerging technologies.
About STPINEXT
"AIC STPINEXT INITIATIVES" is a section 8 company incorporated by STPI to act as the nodal agency and common implementation vehicle for various startup and entrepreneurship activities at STPI.
About IDBI Capital Market & Securities Ltd (ICMS)
ICMS a 100% subsidiary of IDBI Bank Limited, a wholly owned subsidiary of IDBI Bank is a fully integrated financial services provider catering to retail, institutional and corporate clients. The range of services include Stock Broking-institutional and Retail, Distribution of Financial Products, Merchant Banking, Corporate Advisory Services, Mergers & Acquisitions, Project Appraisals & Debt Syndication, Portfolio Management Services, Capital Market Products, Debt Placement and Underwriting, Research and Fund Management (Managing AIFs, Clients' Assets-Pension/PF Fund Managers).
ICMS is also acting as Investment Manager to Maharashtra Defence and Aerospace Venture Fund and Project Advisor to Dr. Babasaheb Ambedkar SCST Fund.
About MergerDomo
MergerDomo is a global online marketplace that enables fundraising and consulting for startups with the following six key persona target pillars: startups, Corporate/SMEs, Investment Banker, Financial Investor, Consultant, and Incubator/Accelerator.