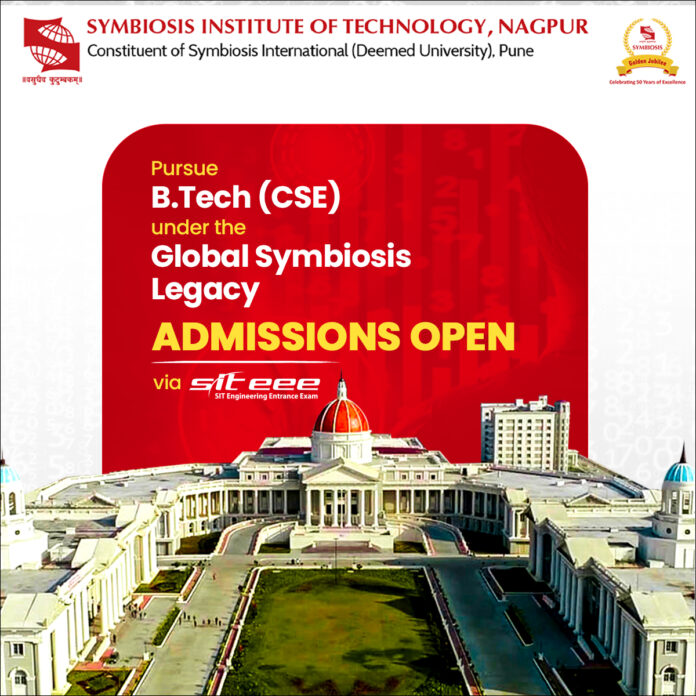 Nagpur, 21st March 2023: Symbiosis Institute of Technology, Nagpur (SIT Nagpur), a leading Engineering Institute in Central India established in 2021 and a constituent of renowned Symbiosis International (Deemed University) (SIU) is inviting applications for its industry-oriented and innovation-based programme, Bachelor of Technology (BTech) in Computer Science and Engineering (CSE). Furthermore, to direct the cohort's career path towards emerging areas of the technology-driven future, SIT, Nagpur offers Honors programmes in cutting-edge technology designed to supplement the core engineering programme such as:
1.Internet of Things
2.Artificial Intelligence & Machine Learning
3.Data Science
4.Game Design and Development
SIT Nagpur has been established under Symbiosis legacy that has been listed in 32nd in NIRF rankings and 78th QS Asia University Rankings 2023 – Southern Asia. With international accreditations, Symbiosis has been ranked amongst the top 351-400 in QS Asia University Rankings 2023, and ranks between 401-500 in the band of Computer Science course of The Times Higher Education World University Rankings 2023.
READ ALSO: Business Tips for Small Business Owner
Aspirants seeking to seize the leadership positions of Industry 4.0, can apply through SITEEE (SIT Engineering Entrance Exam) 2023 or JEE/ any state govt engg. entrance exam; the last date to apply for SITEEE 2023 is 12th April 2023. Additionally, the final dates for JEE (Main) will soon be disclosed. Candidates who have registered and paid for SITEEE are exempt from paying the registration fee through JEE/ ASGEEE. The students may learn about the programs and apply from the below list –
SITEEE 2023 (B.Tech First Year),
JEE/ASGEEE 2023 (B.Tech First Year), and
Direct Second Year 2023
Acknowledging the prospective candidates, Dr. Mukesh M Raghuwanshi, (PhD in Computer Sc from VNIT, Nagpur and MTech in Computer Sc from IIT, Kharagpur), Director and Professor of Symbiosis Institute of Technology, Nagpur, acknowledging the prospective candidates ahead of the admission season, said, "With utmost pleasure, we are looking forward to the new batch of candidates at SIT, Nagpur. We are set to prepare candidates who will be ready to not just take up the challenges of the industry in the future but also unleash a creative disruption that will redefine the industry as we know it. The technology industry is dynamic, and we are devoted to giving our students the best possible exposure. Our various specialized programs are formulated to equip the students with industry-ready and future-proof, with a focus on innovations, and agility that prepare them for the ever-changing world challenges of today and tomorrow. Become a leader of the vibrant community of techies, innovators, and learners by joining our institute."

SIT Nagpur is dedicated to providing its students with a comprehensive and integrated academic experience that encompasses ingenious teaching such as project-based learning implemented from the foundational semesters (IInd year Onwards), flexi-credit courses based on current technological trends, foreign language skills, and multi-teacher engagement for practical based subjects to foster a favorable learning environment.
The institute offers numerous facilities including Diploma in Business Management, Floating Credit Program, TinkerLab, Capstone Course and Service Learning. Moreover, the industry experts act as lecturers, guest lecturers, and mentors to the candidates in order to add an insider's view on the industry to the pedagogy. The institute has specially curated faculty members from IITs, NITs, IIITES and other credible institutions who are trained in cloud computing, software quality, cyber security, artificial intelligence, etc. and are leading academics of the domain.
The institute also emphasizes entrepreneurship and innovation, providing students with ample opportunities to develop their entrepreneurial skills and start their ventures. Global industry partnerships are also a priority at SIT Nagpur to give students practical exposure and understanding in their chosen fields. To bridge the gap between theoretical knowledge and practical applications SIT prepares them for employment. Therefore, The institute also provides a Global Immersion Program, where students would go to a university abroad for one semester and get exposure to the global environment. This program invites international industry experts to share their insights and expertise on their respective subjects.
Along with the global exposure, the students also get 6 months' internship with renowned national and international companies, MoUs with eminent companies and mentorship from industry experts in almost every aspect of the course including curriculum upgradation, evaluation of projects, conduction of ted talks, hackathons etc. Additionally, the tech fests, cultural events, sporting events, industry-institute gatherings, guest lectures by notable figures, and student exchange programs with foreign institutions improve the learning process and provide a foundation for a strong legacy in the making. Aspirants who have chosen the SITEEE 2023 route, will attend an hour-long CBT (Computer-Based Test). The test consists of 60 multiple-choice questions from Physics, Chemistry and Mathematics, 15 questions each from the Physics and Chemistry segments, remaining 30 questions from mathematics section. SITEEE 2023 will be held in 76 cities on the 6th and 14th of May 2023. The admission cards for it will be available on the 22nd and 28th of April, 2023 for the attempts to be held on the 6th and 14th of May 2023 respectively. Candidates are permitted to participate in both attempts and will be shortlisted based on their performance in the SITEEE 2023, JEE, or any other state government engineering entrance examination.
This year Educate yourself and develop your skills with EasyShiksha