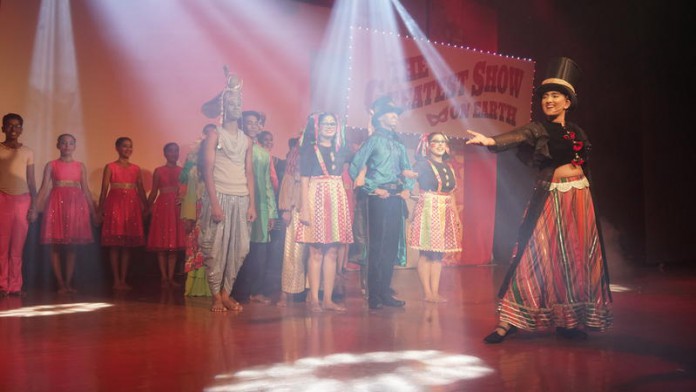 Pune, October 11, 2019: Teach For India marked a decade of service at the Symbiosis Centre for Management Studies on Friday evening, by launching a very special book- Grey Sunshine, a collection of powerful stories from the organisation's 10 year journey, authored by its Chief of City Operations, Sandeep Rai. The launch was prefaced by "The Greatest Show On. 
"The Greatest Show On Earth" immersed the audience in the stories of Teach For India's children, who suffer the reality of a broken education system, and the brave and hard-working Fellows and Alumni of the movement, who work relentlessly to fix it. The play depicts how our education system fails to deliver on the promise of unleashing the potential of every child through the metaphor of a circus, the set for which was hand-painted by 150 children from the Akanksha Foundation. Through song, dance and acrobatics, the talented children told real stories from their lives, reminding all those that were present that the truth of what these children experience needs to change. The show was ultimately an appeal and an invitation, to walk in the footsteps of these children and work to create a better world for them. 
Commenting on TFI's 10 years of service, Shaheen Mistri, CEO and Founder Trustee said, "Ten years ago, we started with the vision that all children will attain an excellent education. This vision is the cornerstone of every single one of our efforts. Over the past ten years, we have built a movement of leaders that is focused on educating our children at every level of the system. We are now 4000 leaders strong with 38,000 students in our classrooms across 7 cities in India but our vision remains unchanged. Ten years down the path to educational equity, we are sure, more than ever before, that building a pipeline of leaders in classrooms, schools, and communities and at all the levels of the education system is the most important thing we can be doing. Education is a human-centred business and we need to be infusing talent at all levels of the system. We know that Education will determine India's future- and we must focus on bringing in our most thoughtful, most skilled, most driven people."
Grey Sunshine, published by Aleph Book Company is an ode to teaching as a manifestation of true leadership. A special reading by the powerful voices of the Teach For India community- its Fellows and Alumni, was conducted before launching the book officially, along with board members and supporters of Teach For India.
Top Software Engineering Courses
Speaking about his book, Sandeep Rai said, "We live in a country where 76% kids are destined to drop out before they even get to the 10th grade, a country where less than 10% kids make it to college. We cannot ignore these numbers about our country's future. This book is an exploration into the greyness, through which more than 100 million lives are treading endlessly. Our teams at TFI have spent the past 10 years trying to search for the sunshine and within our search, we have been obsessing over one big question, 'how do we get the sun to shine for all of India's children?' And while we cannot say we have found the answer, we can see that there are glimmers and those glimmers are real. Let us not forget that it is education that has empowered the kids to find their voice to tell these stories. Underlying every story of transformation is a story of leadership that is courageous, brave, and reminds us that there is hope. Grey Sunshine is an imploration to act today and is rooted in the realisation that while 4000 TFI alumni are laudable, the numbers are not enough. We need more young people to step up and teach in India's toughest classrooms."
Infosys Co-Founder Narayana Murthy has called Grey Sunshine- "A must-read for everybody with a social conscience." 
Walter Isaacson, the author of celebrated biography Steve Jobs, says "Grey Sunshine simultaneously encapsulates the nightmares and dreams of India's poor [and] sheds light on a challenging but worthy path to transformation for the entire country."    
With resounding applause and a standing ovation for the kids and their performances, the audience which comprised of not only the friends and supporters of Teach For India like Anu Aga, who served as the Chairperson of the board for the last decade, Rati Forbes, Meher Pudumjee, Tapen Singhal (CEO of Bajaj Allianz General Insurance); but also the proud parents of the kids performing- took a moment to appreciate the hard work and love put in by everyone who brought these important stories to life. 
A Decade At Teach For India
Teach For India (www.teachforindia) is a non-profit organisation that believes in an excellent education for all children, and strives to end educational inequity in the nation. Since 2009, the organisation has built the largest pipeline of skilled and driven talent in the Indian educational ecosystem to address this challenge, through a highly selective two-year Fellowship program. The Teach for India Fellowship is an opportunity to create lasting change at the grassroots level by engaging the nation's most promising individuals to serve as full-time teachers to children from low-income communities in some of the most under-resourced schools. 1000 Fellows are currently teaching in government and under-resourced schools in 7 cities across India. After the two year Fellowship, our 3000 Alumni form a movement of people dedicated to changing the education system. They continue to teach, lead schools, start educational enterprises, work with government and policy level change. Teach For India strives to share its learning broadly with the system. Our online plaform, www.firki.co is a teacher professional development platform that is free for all teachers to use. Our TFIx program trains like-minded entrepreneurs who then set up their own Fellowships across the country. Our Kids Education Revolution platform brings together organizations who are exploring what it means to reimagine education alongside our children.
Grey Sunshine is available for purchase online on amazon.com.
Top Networking Online Courses
More Courses With Certification
Empower your team. Lead the industry
Get a subscription to a library of online courses and digital learning tools for your organization with EasyShiksha
Request Now
ALSO READ: Sony-livs-uday-sodhi-to-move-on-danish-khan-takes-charge
Get Course:  SAP-for-Beginners