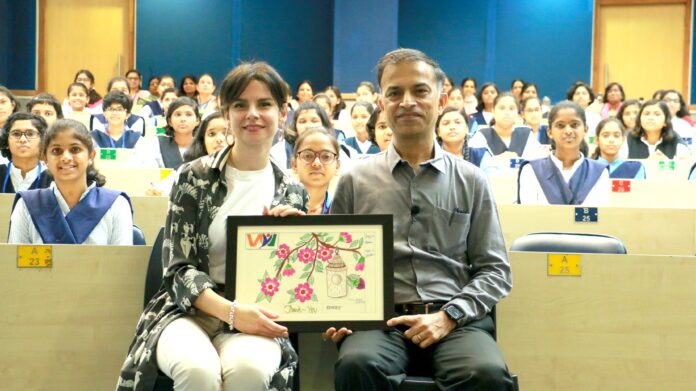 Mumbai, 31st May, 2023 – Tecnimont Private Limited (TCMPL), a subsidiary of MAIRE Group, today announced its funding support for Women in Science, Engineering (WiSE) from rural parts of India. This is initiative involving a total of 165 girls is led by Prof. Rajesh Zele from the Indian Institute of Technology Bombay (IIT Bombay) to encourage young girls from rural parts of India to pursue higher education in STEM through a week-long intensive residential program at IIT Bombay. This activity is part of MAIRE Group's sustainability strategy, specifically in the creation of value for the territories and communities where MAIRE operates through corporate social responsibility projects and initiatives
ALSO READ: Students from aspirational districts secure impressive percentile in JEE Mains 2023 with BYJU'S and NITI Aayog's Career Plus Program (CPP)
Excited with the collaboration, Valentina Grieco, MAIRE Group CSR Senior Specialist said, "Project WiSE is driven with a special focus on the rural areas from India, such as Maharashtra, Bihar, Odisha, to help the adolescent girls build their confidence in subjects like science and mathematics. While the rural adolescent girls face challenging situations in continuing their education, TCMPL strives to make education interesting for the students and parents to ensure enrolment of girls continues in the higher standards."
"TCMPL is committed to helping the communities where they operate," said Prof. Zele, "With their support, we were able to include students from remote areas across the nation. After the week-long program, the girls will continue to interact with one another, and their mentors at IIT Bombay through online sessions. This will help shape their future and career decisions," concluded Prof. Zele.

About Tecnimont Private Limited
Tecnimont Private Limited (TCMPL) is a subsidiary of MAIRE Group and serves as the Group's centre of Engineering excellence for India. With more than 2,000 employees, TCMPL is headquartered in Mumbai and has support offices in New Delhi, Middle East, Abu Dhabi and Malaysia. It is a leader in Engineering and Main Contracting for the natural resources transformation industry. With a legacy now spanning six decades, TCMPL has exhaustive experience in executing more than 400 projects globally.
MAIRE S.p.A. leads a technology and engineering group that develops and implements innovative solutions to enable the Energy Transition. We offer Sustainable Technology Solutions and Integrated E&C Solutions in nitrogen fertilizers, hydrogen, circular carbon, fuels, chemicals, and polymers. MAIRE creates value in 45 countries and relies on 6,500 employees, supported by over 20,000 people engaged in its projects worldwide. MAIRE is listed on the Milan Stock Exchange (ticker "MAIRE").
This year educate yourself and develop your career with EasyShiksha