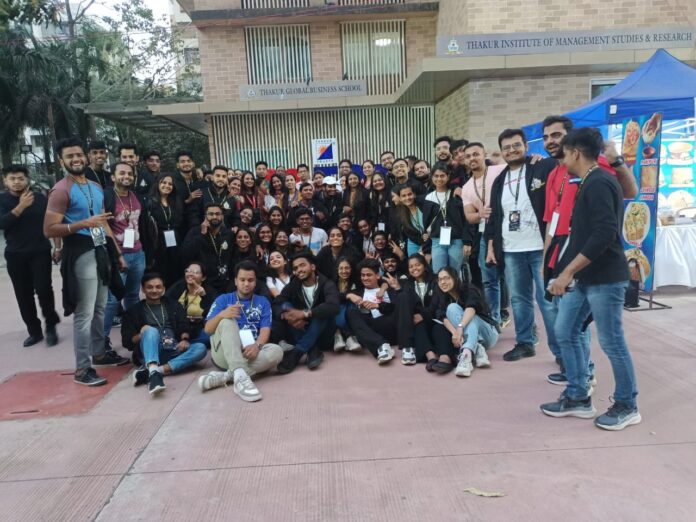 Mumbai, 22 February, 2023: Thakur Global Business School hosted the most eagerly anticipated Annual Fest Samsara 2023. The two-day-long fest witnessed an impressive participation of over 1500+ students from various renowned B-schools across the city. Compared to the previous year, where the festival comprised of seven events, this year's edition had double the number of events. Notably, mental well-being was given top priority, with the students raising awareness during street play.
Over the two days, 16th and 17th February, the fest saw participation in events like Aaja Nachle (Dancing), Sound of Music (Singing), The Devil Wears Prada (Fashion Show), Hamlet (Street Play), Hustle & Flow (Rap), Art Attack (Face Painting), Shakalaka Boom-Boom (Comic-A-Thon), Claws (Nail Art) and Picture Perfect (Photography). Under Sports & Fitness, there were events like Shaolin Soccer (Football), Not Out (Cricket) and Shuttle Master (Badminton). Management events included Shark Tank, Ad Mad and Business Quiz.
Celebrities such as Niraj Yadav, Ankit Kori, Shruti Sinha, Ankush Rampal, RJ Rani from 92.7 Big FM, Aakash Kawa, Aniruddha Deshpande, Sanjay Sawant , Rappers Malang and Talvol graced the fest with their presence and enthusiasm.
Dr. Shuchi Gautam, In-Charge Director, Thakur Global Business School, Kandivali, shares her thoughts: "As the world has returned to normalcy after the pandemic, the scale of events at TGBS Fest amplified significantly this year. The enthusiastic participation of our students contributed to the resounding success of the festival and we witnessed an overwhelming response from over 76+ educational institutes from all over Mumbai and Suburbs. The Samsara festival serves as an ideal platform that not only enables students to showcase their cultural talents but also provides them with opportunities to explore a diverse range of sports and management events."
Also Read: A Samsung Backed Edtech firm, has become the implementation partner of choice for India
About Thakur Global Business School
Thakur Global Business School (TGBS), managed by Zagdu Singh Charitable Trust (ZCT), offers Post Graduate Diploma in Management (PGDM), a two-year-old flagship programme approved by AICTE, DTE & Govt. of Maharashtra. The campus is located at Kandivali East (Thakur Village). The PGDM programme is designed to mould students from diverse backgrounds into mindful leaders ready to take on the challenges of the new VUCA world.
This year Educate yourself and develop your careers with EasyShiksha