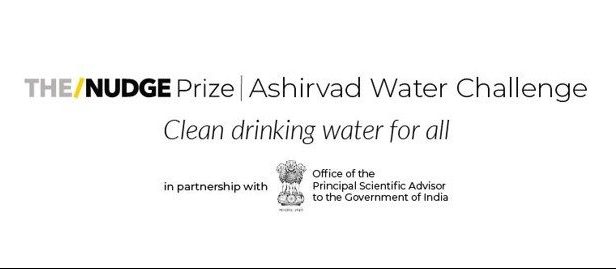 ~The/Nudge Institute and Ashirvad Pipes launched the Prize to improve Water Sustainability in India in February 2022 with over 140 applicants 
~ The Challenge supports disruptive innovations in solving India's water security crisis, with a potential to scale to serve problems of 19 crore households
~Selected finalists and semi-finalists ranged from Artificial Intelligence (AI) and Machine Learning (ML) solutions to mechanical and scientific products to community enablement through tech
~ This Prize is in partnership with the Office of the Principal Scientific Adviser to the Government of India, and 20+ allies across investors and academia
Bengaluru, February 23, 2023 – The/Nudge Centre for Social Innovation (CSI) and Ashirvad Pipes, in partnership with the Office of the Principal Scientific Adviser to the Government of India, are proud to announce the seven finalists of the Ashirvad Water Challenge who were selected from among 25 water innovators. These were shortlisted out of 140 applicants in 2022, whose innovations included solutions to water leakage and distribution, wastewater treatment, water purification, atmospheric generation of water, and even enabling water ecosystems.
Several of these solutions use deep tech interventions such as Artificial Intelligence and Machine Learning and aim to be cost-effective and are potentially scalable to water-stressed households across the nation.
The finalists are Aumsat, i47 Labs, Ossus Bio, Smartterra, and Solinas.
The Ashirvad Water Challenge is a prize worth INR 2.5 crores. INR 75 Lakhs in milestone grants will be awarded to five of the seven Finalists at this stage. These Finalists will now compete for INR 1.75 crores, awarded to the winning solution and runner-up.
"Inspired and overwhelmed by how the vast ecosystem in water has come to support an audacious idea from The/Nudge Institute, that aims to bring a spotlight and give wings to India's leading water-tech startups", says Kanishka Chatterjee, Director of The/Nudge Prize. "Our advisors and deep thinkers like Prof. Asit K Biswas (World leading Hydrologist, University of Glasgow), Madhavan VK (CEO, WaterAid); the jury members; Jal Jeevan Mission and various other partners, have provided catalytic attention and efforts for these start-ups to scale their solutions and refine their approaches to solving for India."
"Water security is a major challenge for our country and Ashirvad Pipes is committed to finding sustainable solutions" said Deepak Mehrotra, Managing Director of Ashirvad Pipes. "We are excited to announce the finalists of the Ashirvad Water Challenge and look forward to supporting their growth in solving India's water crisis. These startups are addressing pressing water challenges faced by the citizens of the country and will inspire several others to take on these issues."
Selection of the finalists from the pool of 25 semi-finalists was spread across two rounds. They were first evaluated by a team of independent evaluators from IIT Jodhpur, headed by Professor Pradip K Tewari, Professor Chair at the Jal Jeevan Mission.
The final selection was led by five jury members – Sunderrajan Krishnan (Executive Director, INREM Foundation), Dr. Sapna Poti (Director – Strategic Alliances, Office of the Principal Scientific Adviser) Mr Yogendra K Singh (Director, Jal Jeevan Mission, Department of Drinking Water and Sanitation), Mala Subramaniam (CEO, Arghyam) and Vishwanath S (Zenrainman; Advisor, Arghyam & Trustee, Biome Environmental Trust). The startups' scalability and replicability, economic feasibility, social outcomes, organizational readiness in terms of business plan and funding, environmental impact and sustainability, and the improvement in quality in the targeted water served as the selection criteria for the jury.
The finalists will now work towards proving their progress on parameters across water management and overall impact in the space. They will address the biggest challenges identified in their journey to scale, and address them through a strategic plan or action on the ground.
Prior to the final selection, the 25 semi-finalists piloted their projects for six months, began user-testing, expanded their solution presence across various locations and understood the scalability potential and impact of their innovations. They also had the opportunity to receive mentorship from IHE Delft and present their technologies to the innovation and program teams at WaterAid & INREM Foundation. Twelve of them met and received personal feedback from Mr. Yogendra Kumar Singh, Director, Jal Jeevan Mission-VI, Department of Drinking Water and Sanitation. Many of them also received recognition, grants, and mentorship opportunities from investors and foundations alike. For example, one of the semi-finalists Solinas raised INR 90 lakh on Shark Tank India and another Urdhvam was recognized as a TGS100 emerging startup by TiE Global.
Top of Form
About The/ Nudge Prize:
The selected applicants highlight The/Nudge Institute's motive for enabling The/Nudge Prize platform. The Prize methodology has demonstrated the ability to draw innovation, talent, capital and public attention to underserved problems, creating disruptive and sustainable solutions, scaling even after the challenge ends. As most of the entrepreneurial energy in the nation is focused towards lucrative problem-solving, The/Nudge Institute leverages The Prize platform to channel some of this innovative energy into the social sector, inspiring India's top talent and established start-ups to apply themselves to the most critical developmental issues.
The/Nudge Prize platform intends to run several such challenges focusing on specific issues and garner support from government, visionary philanthropists, esteemed advisors, markets and reputed knowledge and technology partners.
For more information about the candidates refer to details provided in Annex- or visit webpage: https://prize.thenudge.org/ashirvadwaterchallenge/semi-finalists 
Also Read: Showcasing unity in diversity, VogueStar brings unique Fashion Week cum beauty pageant
Annexure
Profiles of the Semi-final Cohort of The/Nudge Prize| Ashirvad Water Challenge
Aumsat Technologies LLP: Aumsat Technologies provides ready-to-use satellite data and analysis for smart agriculture, water, and surveillance sectors.
i47 Innovation Labs: The Aegir water management solution developed by i47 is a metering and water saving on purchase and distribution side with intelligent server-side analytics to help you manage your water demand.
Ossus Biorenewables: Ossus Biorenewables work in the direction of production of biohydrogen and have proposed to design a prototype hybrid bio-electrochemical process to desalinate seawater and reduce the salt content by 90-95% ,along with degrading waste to produce hydrogen.
Smartterra: Smartterra uses its AI-powered analytics platform to create a digital model of water networks and customers along with focusing on reducing water losses by assessing leakages and deploying trained members to fields to solve issues.
Solinas Integrity Pvt. Ltd: Using robotics to detect leakages, Solinas Integrity, also works in the direction of eliminating manual scavenging. The firm intends to use technology to clean septic tanks along with pipeline leakages.
VAS Bros. Enterprises Private Limited: VAS Bros. Enterprises helps in water purification by removing heavy metals and hazardous contaminants like Arsenic without using electricity and also detects toxic chemicals in waste.
Urdhvam Environmental Technologies Pvt. Ltd: Urdhvam helps in making borewells highly sustainable thereby increasing bore yield. Their efforts have resulted in improved irrigation & drinking water quantity & quality, reduction in salination of soil due to dissolved salts and improvement in soil health, among others.
About Ashirvad Pipes
Ashirvad Pipes, an Aliaxis group company, is India's leading provider of advanced plastic piping systems for residential, commercial, infrastructure, industrial, and agricultural applications. A pioneer in the design of uPVC column pipes used in agriculture, we are the world's largest manufacturer of CPVC and uPVC pipes and fittings. Over the years, we have evolved, grown, and expanded across the entire water management value chain: from pipes and plumbing to water storage and dispensing systems. Today, we are an integrated 'Tank to Tap' provider of comprehensive water management solutions with a global footprint, exporting to over 40 countries. Our 5000-strong workforce includes our pan India sales team, and personnel at our headquarters in Bangalore, factories in Bangalore and Bhiwadi – Rajasthan, Durgapur – West Bengal, Cuttack – Orissa, 12 water storage tank manufacturing plants, and 11 warehouses. Our state-of-the-art Research and Technology Center in Bangalore is one of three such facilities in Aliaxis globally.
Aliaxis is a global leader in advanced piping systems for building, infrastructure, industrial and agriculture applications. The company provides communities around the world with sustainable innovative solutions for water and energy, leading the industry in a way that anticipates the rapidly evolving needs of its customers and of society.  Headquartered in Brussels, Belgium, Aliaxis is present in over 40 countries with over 14000 employees. 
This year Educate yourself and develop your careers with EasyShiksha