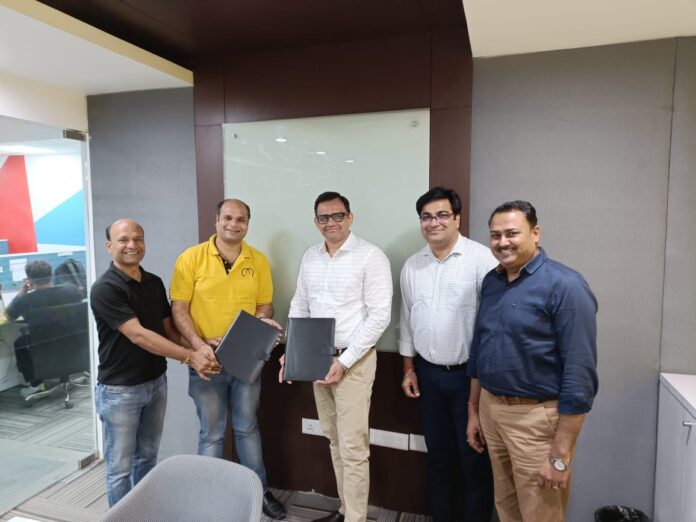 – Selected candidates enrolling for this programme will be offered a pre-conditional offer letter for an assured job opportunity at Om Logistics Ltd.
New Delhi: TimesPro and OM Logistics have collaborated to launch the Certificate in Logistics Planning & Management to equip learners with new-age skills to build a career in Warehouse Management and strengthen their supply chain competencies.
OM Logistics is a 360-degree service provider in the logistics industry and provides a one-stop solution to all logistics needs. It provides viable, cost-effective technology-enabled solutions to the most challenging logistics & supply chain management requirements. The 45-day Certificate in Logistics Planning & Management will have selected candidates receiving a pre-conditional offer letter for a job opportunity with OM Logistics with a starting salary of Rs. 2.4 lakh, which includes accommodation and a month's on-the-job training.
ALSO READ: Nissan Motor India expands its network to 267 customer touchpoints
The Joint Certification from TimesPro and OM Logistics will pave the path for graduates to seek career opportunities in Warehouse Management. The participants placed with OM Logistics Ltd will be offered positions like Credit Control Executive, MIS Executive, Supply Chain Analyst, Procurement Specialist, Operations Executive – Supply Chain & Marketing Executive.
Speaking at the announcement, Parikshit Markanday, Chief Growth & Partnership Officer, TimesPro, said, "The Certificate in Logistics Planning & Management will provide OM Logistics with skilled personnel to provide efficient and seamless services, leading towards sustainable growth. TimesPro is delighted to offer customised solutions to our customers and equip our youth with new-age competencies to strengthen its workforce."
Himanshu Agarwal, National Head HR, OM Logistics, said, "The TimesPro-OM Logistics certificate programme will provide our organisation with skilled personnel that will enable us to expand our operations and strengthen our employee base. It will also help us provide high-quality services at a low cost while strengthening our relationships with suppliers and customers. It will boost our productivity, keep costs low and fill a vital cog of ensuring on-time delivery."
Learners participating in the programme will be introduced to subjects like Logistics and Supply Chain Management, Transport Operations Management, Warehousing, Safety Level Interpretation and Waste Management, Behavioural Training, etc. The Certificate in Logistics Planning & Management will be conducted via TimesPro's state-of-the-art Interactive Learning (IL) platform and delivered in Direct-to-Device (D2D) mode. 

About TimesPro:
TimesPro, established in 2013, is a leading Higher EdTech platform dedicated to empowering the career growth of aspiring learners by equipping them with skills to rise in a competitive world. TimesPro's H.EdTech programmes are created to meet the rapidly changing industry requirements and have been blended with technology to make them accessible & affordable. TimesPro offers a variety of created and curated learning programmes across a range of categories, industries, and age groups. They include employment-oriented early career programmes across BFSI, e-Commerce, and technology sectors; executive education for working professionals in collaboration with premier educational institutions like IIMs and IITs; and organisational learning and development interventions at the corporate level. TimesPro also collaborates with India's leading MNCs across varied sectors to provide upskilling and reskilling solutions to boost employability and create a robust workforce. TimesPro is a Higher EdTech initiative by the Times of India Group.
About OM Logistics:
Beginning as OM Industries, in 1978, and broadening its scope with an association with Maruti India as an auto carrier, it introduced the first-ever car carrier load truck for Maruti India. In 1991, OM Industries became OM Logistics Ltd., and by 1999 it had become a pioneer in the logistics industry in the country to offer complete management of logistics and supply chain solutions.
OM Logistics Ltd., a leader in express distribution in India, is constantly coming up with new products to meet the demand for express logistics there. Through our extensive network and the "Hub and Spoke" model, which aims to reduce travel distance and strategically manage logistics, we guarantee on-time deliveries. With more than 5000 containerized vehicles in our fleet, we provide a wide range of quick, effective, and express logistics services across the entire nation. The 'Just in Time' and lean supply chain requirements of the customers are enabled by this offering. Customers can also plan their in-transit inventory through this service, which is a crucial component of advanced materials and distribution requirements planning. To offer an unmatched express logistics experience in India, we make full use of our infrastructure, technology resources, research and development, network, fleet, and ecosystem of partners.
THE SERVICE'S PRIMARY FEATURES INCLUDE
Managing 10 million packages of volume per month with the fastest industry transit times
The longest direct haul network in India has direct routes that travel 10,000 kilometers per day between key locations covering 15000+ pin codes
Active reporting of different milestones and online track & trace to guarantee the exact timing of deliveries
largest branch network with more than 750+ locations
Assurance of On-Time Door to Door Delivery, delivering 125 million packages annually
largest surface cargo fleet in the industry, with over 5000+ GPS vehicles.
ISO 9001-2015, ISO 14001-2015, C-TPAT & FSSAI certified, all-weather-proof, containerized vehicles
Multi-modal freight services with varied customized solutions
State-of-the-art Hub & Spoke Model
Advanced 'Track and Trace' facility
24 x 7, 365 days a year operations
20 million square feet of warehouse space
Dedicated, well-trained, and experienced workforce
This year Educate yourself and develop your career with EasyShiksha