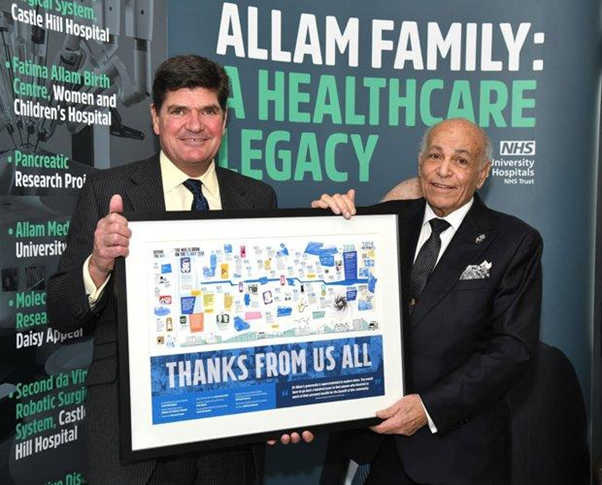 Groundbreaking research on one of the most aggressive forms of cancer is being spearheaded by researchers at the University of Hull.
The research team at the University of Hull, Hull York Medical School and the Hull University Teaching Hospitals NHS Trust have devised a project to improve the diagnosis of pancreatic cancer with a focus on the investigation of pancreatic lesions called 'cysts', in particular, being able to spot changes in cells that would support a more accurate cancer diagnosis, allowing surgeons to operate accordingly and potentially preventing some patients from undergoing unnecessary or debilitating surgery. The study, which is being funded largely by Dr. Assem Allam, is unrivalled globally in terms of scope and ambition, and the findings and potential benefits of this research initiative might be life-changing.
ALSO READ: SBI Life Insurance and Rajasthan Royals franchise unveils a larger-than-life 'helmet' installation at Sawai Mansingh Stadium, Jaipur
Professor Anthony Maraveyas, Professor in Cancer Medicine at Hull York Medical School, the University of Hull and Honorary Consultant in Oncology at Hull University Teaching Hospitals NHS Trust, has led the research team, and he believes the findings will benefit patients suffering from pancreatic cancers, cysts and lesions across the world. "Pancreatic cancer is one of the rarer forms of cancer, with around 15 people per 100,000 being affected, but has one of the highest mortality rates; only 5-8% of those with this type of cancer survive beyond five years. Unlike the more common types of cancer such as breast, prostate or colorectal, pancreatic cancer has not generally been prioritised for funding or research, nationally or internationally, due to the relatively low number of people affected. We're proud to be leading the change right here in Hull by bringing together experts from the Trust, the Medical School and the University".

The primary aim of this research is to determine the exact nature of a lesion or cyst and whether it is cancerous or not. The team at Hull uses conventional radiology techniques, including endoscopic ultrasound (EUS), to look at cysts and take small samples of fluid to test for biochemical changes known as tumour 'markers', which could help detect cancer early. The study also incorporates the use of platform technologies, a form of cell research, to accurately diagnose the type of cyst the surgeon is dealing with, which is being championed by the University of Hull and is seen as the future of cancer diagnostics worldwide. As a result, this will enable treatment to be tailored specifically to each patient, potentially reducing the number of patients undergoing avoidable surgery. The team has already recruited 168 patients for the study, with an overall target of 180 people for the duration of this project.
After producing its initial set of encouraging results, the team has also received Cancer Research UK's Early Detection and Diagnosis Primer Award, an additional £98,500 research grant, to support the study further and ensure vital research in this field continues in the future.
This year Educate yourself and develop your career with EasyShiksha.