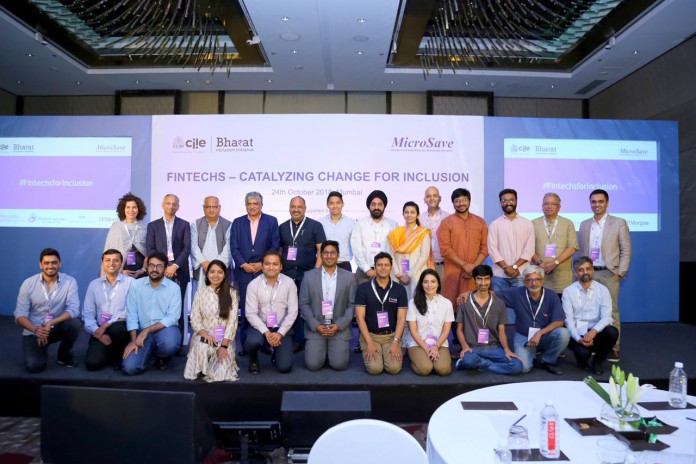 Winning ideas leverage technology to offer credit scores, savings, loans and insurance to small businesses, farmers, lower- and middle-income individuals.
Mumbai, October 24, 2018 – The Financial Inclusion Lab today announced eleven fintech innovators who have been selected for its first intake to the Lab. The successful entrants will use technology-based strategies such as automation, underwriting and machine learning to help improve the financial health of lower- and middle-income (LMI) people, farmers and small entrepreneurs in India.

Important Announcement – EasyShiksha has now started Online Internship Program "Ab India Sikhega Ghar Se"

The Financial Inclusion Lab, a part of IIMA-CIIE's Bharat Inclusion Initiative (BII), is a collaboration between BII, J.P. Morgan, Michael & Susan Dell Foundation, and Bill & Melinda Gates Foundation to help scale early-stage fintech startups that address the unique needs of lower- and middle-income people. The US$9.5 million initiative will provide the start-ups with the necessary support, capital, strategic guidance, market access and mentorship to build and test their products in twelve months.   
The Lab builds on insights from international financial inclusion consulting firm MicroSave, which found that more than 40% of the Indian population have not accessed financial services enabled by technology. The lack of awareness, availability and access to suitable products and non-intuitive user interfaces are some of the reasons why lower- and middle-income customers do not gravitate towards fintech solutions. These are the gaps that the first entrants into the Lab will address by building credit scores and facilitating access to appropriate savings, loans and insurance products for small businesses, farmers, and lower- and middle-income people.
Top Software Engineering Courses
To support its first entrants the Lab will draw insights and learnings from the work performed by the JPMorgan Chase-funded Financial Solutions Lab, managed by the Center for Financial Services Innovation. In its fifth year, this initiative has supported 34 fintech companies to improve the financial wellbeing of underserved communities in the U.S.
Sanjay Jain, Chief Innovation Officer, CIIE said "Technology-based innovations offer tremendous opportunities to create solutions that enhance financial resilience of underserved communities. We look forward to working with these start-ups to de-risk their journeys towards sustainability and commercial viability".
"Fintech presents a unique opportunity to promote the financial health of India's underserved households who struggle to adopt digital platforms for their financial needs. J.P. Morgan remains committed to promoting the financial health of this segment and is incredibly proud to support and mentor this talented pool of entrepreneurs," said Kalpana Morparia, CEO, South and South East Asia, J.P. Morgan. 
About Bharat Inclusion Initiatives
Bharat Inclusion Initiative (BII) is an incubator platform at CIIE that provides entrepreneurs the domain knowledge, training, financial support, mentorship, and market access they need to bring inclusive, for profit-business to life. BII's core design is to promote technology driven entrepreneurship towards the delivery of affordable services to the Bharat Segment- the poorest 200 million households in India who survive on less than $5 per person a day through programs, fellowships, and funding where possible. The program focuses on solutions that leverage technology. It integrates financial inclusion research with entrepreneurship and training to transform these solutions into scalable, viable and high impact businesses. We are keen on partnering with entrepreneurs who are driven by building next-generation digital services for India. More details at www.bharatinclusion.org. We can be reached on bharatinclusion@ciieindia.org.
About J.P. Morgan India
J.P. Morgan is a leading global financial services player, with a presence in India since 1922. J.P. Morgan provides a comprehensive range of Corporate & Investment Banking, Commercial Banking, Asset & Wealth Management, and corporate functions services and solutions to our clients. India is a key market for J.P. Morgan and the firm has consistently invested in the India business, which has been growing steadily. J.P. Morgan is among the country's leading players in almost all of its businesses and primarily caters to the firm's global clients with business interests in India and local multinationals growing their footprint internationally. India is also home to the Global Service Centre, which services J.P. Morgan's businesses around the world in the areas of operations, technology and research.
About MicroSave
MicroSave is a leading international consulting firm that offers practical, market-led solutions focused on enhancing access to financial services to the low and middle-income segments. MicroSave has worked in more than 50 countries across Asia, Africa & Latin America, with more than 450 clients. MicroSave has been working with various national and international clients for nearly two decades as a locally based international consulting firm on guiding policies & facilitating partnerships to develop enabling eco-systems, providing comprehensive, customised strategic advice and delivering actionable, on-site operational assistance for financial inclusion. For more details about MicroSave, visit http://www.microsave.net/