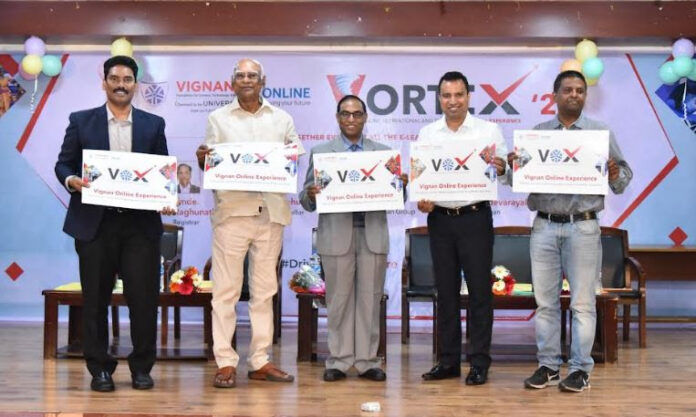 A Unique learner support and assistance platform for learners of Vignan Online
Learners will have 24 X 7 access to post their queries using VISA.
Guntur, 6 April 2023: Vignan Online, the e-learning arm of Vignan's Foundation for Science, Technology, and Research (Deemed-to-be University), Guntur, today announced the launch of Vignan's Integrated Support & Assistance (VISA). The unique learner support and assistance platform provides an immersive experience for the learners enrolled in Online Degree Programs from Vignan Online. VISA is a comprehensive service platform that allows learners to post their queries at any time of day and track their progress based on the tickets they have raised.
ALSO READ: Ellde Fazilka Pays Tribute to Punjab's Rich Cultural Heritage with New Release,''This Is Punjab''
The platform is a one-click solution for multiple queries of the learners ranging from change of program or electives, issues, and queries regarding fees, correction to the existing personal information, any issues related to the Online Degree Programs or subject, LMS login query, document verification query, and so on. Based on the generic queries, the service will provide automated solutions and a step-by-step process to be followed or will help the learner connect with the right person pertaining to the issue. The service provides a ticket number for each submission in the system to help the learners track the status of their tickets and act accordingly. The platform is designed to ease day-to-day queries, making the interface easy and uninterrupted. The turnaround time (TAT) is less than 24 hours, and it varies according to the nature of the query. If a query is not resolved by VISA, it is automatically escalated to the program manager.
Announcing the launch of VISA, Srinkant Nandigam, CEO of Vignan Online, said, "This is a unique initiative aimed at providing simplified solutions to the learners for numerous issues that require administrative support. Learners can operate on the platform without any stress through a single-click solution with 24 X 7 support. A specialized team of more than 50 technical and administrative staff works at the back end to make this service uninterrupted and effective. I am hopeful that VISA will prove to be a perfect platform for the learners and resolve their problems at the earliest."

About Vignan Foundation for Science Technology and Research (Deemed-to-be University):
Incepted in 2008, Vignan (Deemed-to-be University) is situated in Guntur, Andhra Pradesh. It is the brainchild of Dr. L Rathaiah, Chairman, Vignan Group of Institutions. The Group carries a legacy of over 45 years in the states of Andhra Pradesh and Telangana and has been providing on-campus UG, PG, and Ph.D. programs. Known for its ethical and moral standards, upliftment of the learners and first-time engineers of the family, disciplined learning, committed faculty, state-of-the-art infrastructure, and excellent placement record, Vignan has been providing quality education in a diverse and academically inspiring environment. Vignan has become instrumental not only in shaping the future of the learners, making them job-ready, but also in helping in their overall development and being successful citizens.
This year Educate yourself and develop your career with EasyShiksha