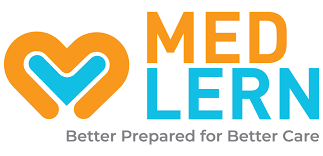 In a Historic First for Indian Nursing Education, 150 nursing graduates from RR Institutions certified on MedLern's Simulation Platform for CPR Life-Saving Skills
● Students achieve Globally Recognized Certification Valid from American Heart Association valid for 2 Years all over the world
● State of the Art, IOT Based Simulation Platform – Training on Cognitive and Psychomotor Skills
● Self-Paced, Adaptive Learning Algorithms to suit all proficiency Levels
● First in the country partnership between MedLern and RR Nursing Institutions
● Improve On the Job Readiness of Fresh Nurses in the ICU, ER and other critical roles
● Automated multi-modal feedback provides confidence and assurance in Life-Saving situations
Bangalore, 29th November 2022: In a significant development that marks the elevation of the quality of nursing education as well as lifesaving training in India, MedLern, the country's leading digital learning solutions provider for hospitals and healthcare professionals, has completed an American Heart Association (AHA)-backed training programme for nursing students at RR Institutions, a Bangalore-based educational service group. As a part of the programme, as many as 150 nursing students received AHA certification in Basic Life Support or BLS, a critical component in a nursing student's curriculum.
While the healthcare sector has been reeling under the twin blows of the pandemic and shortage of skilled staff, the new developments signal a new phase of innovative training models that leverage technology to rapidly and confidently build the talent base in crucial areas.
The simulation-based platform is designed to test and train on the theoretical knowledge as well as hands-on skills that can save hundreds of thousands of lives in ERs, ICUs and accidents and other situations. The platform incorporates the latest evidence-based research on CPR from the American Heart Association and the latest digital technologies like IOT to create confidence in the learners. Interestingly, traditional training methods to achieve the same proficiency take many days since they have to be done under the supervision of an experienced trainer and are subject to human error in observation.
MedLern's platform provides precise feedback and corrective suggestions on the learner's actions in real-time – on timing, depth of compressions, airway management etc. so learners rapidly gain confidence to face a real-life emergency and significantly improve the chances of saving lives.
"This is truly a game changer for preventing unnecessary loss of lives in and outside Hospitals. India has a chronic shortage of trained CPR providers in Hospitals, First Responders like Ambulance and Fire personnel for accidents as well as everyday situations in offices, schools and public places. 
Also Read: 70% Indians are thin outside but fat inside, with excess visceral fat in the belly, show preventive health tests
Preventable loss of untold thousands of lives in hospitals is a tragedy due to inadequate investment in high-quality training, despite NABH guidelines to do that. There is a lack of well-trained instructors which has in the past prevented the scale-up. This solution changes all that. Hospitals, Medical and Nursing Colleges can now decisively commit to preventing unnecessary loss of life by rapidly training in confident life savers. We laud the foresightedness of the RR group as a pioneer to amplify the skills of their Nursing Graduates and partner with MedLern in this mission, said Mr Deepak Sharma, Co-founder and CEO, MedLern.
"Without a doubt, a training programme developed by American Heart Association is the gold standard for basic life support. And who other than MedLern we would turn to ensure that our students only get the best training available anywhere in the world. So, by way of this programme, we are indeed delighted to have partnered with MedLern for training and upskilling our students. In fact, MedLern has been known to make available the most advanced learning and training programmes for nursing students and healthcare professionals in India. I hope that we will continue this fruitful partnership with MedLern in the coming future too, said Mr Kiran H R, Secretary RR Institutions. 
Visit EasyShiksha for skill development