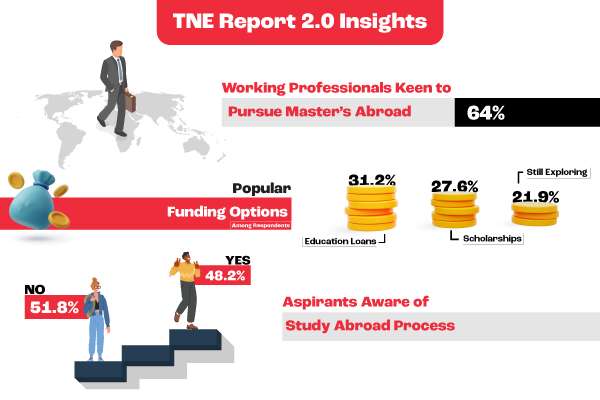 Skilling giant's Study Abroad arm presents Transnational Education Report 2.0, offering insights into Indian learners' global education pursuit.
Bangalore, June 27th, 2023 – The Study Abroad arm of Asia's largest integrated learning, upskilling, and workforce development company, upGrad, released the second edition of its annual survey – Transnational Education Report 2.0 to provide industry stakeholders with valuable insights into the preferences, challenges, and aspirations of Indian students who wish to study overseas for lucrative career growth. Based on aspirants'/students' feedback from over 200 cities, the findings offer a comprehensive analysis of Indian learners' interests and motivations for pursuing higher education abroad.
It explores factors influencing Indian learners' aspirations for international education, as evidenced by the six-year high (over 7.5 lakhs) in students studying abroad in 2022, and highlights the need for innovative learning methods. The report further showcases the transformative impact of technology that has made education flexible, student-centric, and nonlinear. Nearly 80% of data has been obtained from Tier 2 & 3 cities, including Coimbatore, Kochi, Agra, Visakhapatnam, and Indore among others. 
ALSO READ: Renowned Surgeons Join the medical team at Manipal Hospital, Ghaziabad to Enhance Surgical Expertise
Findings revealed that nearly 64% of working professionals are keen to pursue master's degrees abroad because the curriculum remains market-oriented and offers enhanced employment opportunities. The shorter course duration also leads to reduced costs compared to a bachelor's program. Another significant data highlights the growing popularity of education loans among aspirants, with 31.2% of respondents relying on them, followed by 27.6% seeking scholarship options, and 21.9% still exploring various funding alternatives. Despite the high motivation to study abroad, 51.8% of the respondents are unsure of the processes, including how to apply, which exams to take, visa procedures, etc. 
Other findings include:
Nearly 45% of Indian students are now more open to exploring non-conventional study-abroad destinations, including Poland, Taiwan, Belarus, and South Africa, in addition to traditional destinations
While the US remained the most popular study-abroad destination among respondents, Canada's flexible PR (Permanent Residency) policies and superior higher education system remain a huge draw
High-quality education and job opportunities are the primary driving factors for Indian students aspiring to study abroad
A significant majority of study-abroad aspirants lack sufficient knowledge about the application and admission process, highlighting the need for guidance and support
"The surging demand for affordable and accessible international education in India is undeniable, especially among the aspirational class residing outside major cities. These learners yearn to transcend borders to embrace cultural diversity, expand their horizons, and cultivate a global mind set for unlocking greater career opportunities. Yet, amid this enthusiasm, a growing gap exists in understanding the crucial aspects of financial planning and preparation.  Therefore, with our second edition of the report, we also aim to spotlight these emerging challenges, fostering awareness and empowering learners to make informed career decisions," saidAnkur Dhawan, President of upGrad Abroad, while commenting on the findings. "The country needs innovative higher-ed solutions to pave the way for learners to explore global opportunities and achieve their dreams without breaking the bank. We have to work to tackle the challenges our aspirants face collectively by also offering more guidance and support while innovation continues to play a major role," he added.

upGrad Abroad has established itself as a market leader in monitoring industry movements and anticipating trends. By offering a credible data source through its annual reports, the India HQ skilling giant further positions itself as a trusted/reliable partner for industry stakeholders such as universities, policymakers, and education companies who would look forward to aligning their offerings with the evolving market and consumer needs. Launched in 2022, the first edition of the report was designed to understand the role of technology that pivoted the entire study abroad sector towards online and blended learning while also making such formats more flexible and convenient to Indian households. 
About upGrad
Started in 2015, upGrad is Asia's largest integrated Learning, Skilling, and Workforce Development Company. The offerings range from online & hybrid Degree programs to pathway and study abroad programs to certification and Bootcamps to Diploma, Master's and Doctorate programs for working professionals. upGrad provides most of these programs to enterprise clients through its B2B arm along with recruitment and staffing services. To date, upGrad has enrolled 10 million+ learners from 70+ countries, boasts a network of 300+ direct global university partners, wide line-up of 2500+ pathway connections, 20,000+ recruitment partners, and an enterprise arm with 3000 corporate partners, worldwide. www.upgrad.com
This year educate yourself and develop your career with EasyShiksha