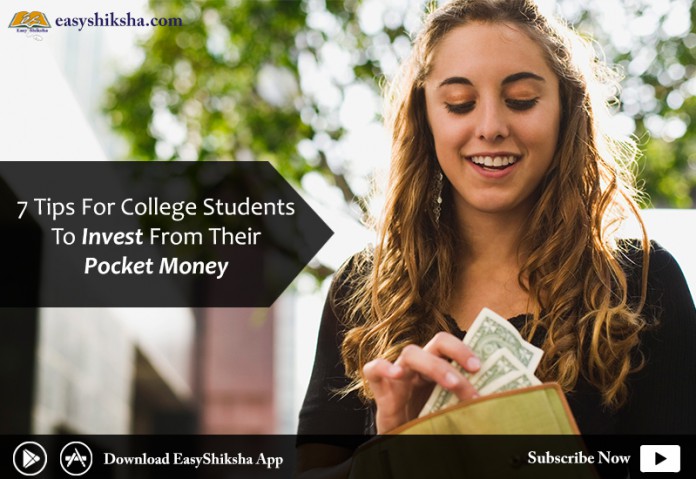 Investments are the simplest ways to generate money, and the trick is to begin as early as possible and sustain the pace. The variation can be extraordinary: investing only 10 – 15 years earlier can truly grow your money manifold. All one requires is a small capital of Rs 500/1,000 that can easily come from your pocket money.

Important Announcement – EasyShiksha has now started Online Internship Program "Ab India Sikhega Ghar Se"

Here are a few tips for college students to include in their journey as an investor:
1. Start Saving
Retirement may be 30 – 40 years away, but it will take a heap of savings to fund it. Investing a small sum on a regular basis for longer periods enables you to take benefit of reinvesting and compounding returns. For instance, you start with Rs 1,000 to invest, add Rs 100 per month to your investments for 40 years, and earn 8% interest on average yearly. In 40 years, you'll have more than Rs. 3,32,000 accumulated. By investing your money, any profits you gain will work towards alleviating the effects of inflation so your money retains its price by the time you think to retire.
2. Eliminate High-interest Debts
Debts with high-interest rates such as outstanding loans and credit cards bills should be paid off first before you plan to make any investment. Speculating your money in investments while carrying high-interest loans can considerably worsen your financial standing. Paying off your debt in full gives a guaranteed return on your money, which isn't the case for any investment. For instance, paying off a Rs 10,000 credit card balance with a 15% interest rate is equivalent to clearing 15% returns or Rs 1500. It's presumably the best decision to pay off the credit card bill in full considering you would avoid paying future interest on that card.
3. Go For Low-risk Investment Options:
Young college investors should keep in mind that while it is an appealing prospect to invest in the share market, low-risk alternatives should be considered so as to not lose a major sum of money. A low-cost index fund is a viable choice for college students because it requires moderate fees and fewer risks. This is a comparatively safe method of investment as the risk tolerance level is balanced. A planned, long-term investment can get you a modest return.
4. Systematic Investment Plan (SIP) In Mutual Funds
SIP is one of the best investment plans for youngsters, as it offers a huge return on investment (ROI) with lowest risk rate. SIP's allow college students to transfer a pre-determined amount on a monthly or quarterly basis. You can start a SIP with a much lower amount as opposed to other investments. Most Mutual Fund organisations support investment via SIP for as low as Rs. 500 per month. To give you a better idea of SIP, imagine investing Rs. 2000 in a Mutual Fund through SIP for 4 years, by the end of your 4th year, you will get a sum of Rs. 1.2 lakh. This figure comes from assuming that you make a 10% ROI, and you would have gained Rs. 22,424 in a year. One can actually earn as much as Rs. 76 lakh in 35 years if the Mutual Funds give you a return of 10% per annum.
5. Calculate Your Risks In Advance
Calculating your risks is the key to success when it comes to investment. Learn how to identify your risk profile and risk appetite by acquiring investing knowledge and techniques through reliable investing books and articles. When you are in college, you can take more risks because you have time for the market to improve, but as you get older, you would want to be more careful in your investments. If you want to take risks, the likelihood of making large profits outweighs your concerns about losing money. On the other hand, if you are risk-averse, it is advised to perform calculations concerning the exact sum that you are ready to risk.
Top Software Engineering Courses
6. Open A Demat Account
If you really want to make investments, you must know how to open demat account. According to an Economic Times report, exceeding the previous record of 3 million in 2007-08, approximately 3.76 million new demat accounts were opened in the year 2018. Dematerialisation has also reduced the risks of thefts, fake shares, transfers gone wrong, and eliminated the paperwork involved. Time of delivery has also decreased drastically, and once your trade is accepted, the bonds are automatically credited to your account. This helps college students to stay up to date with the share market happenings and keep a check on their progress on one platform.
7. Diversify Your Portfolio
Even when you think an investment is going to give you a high ROI, never place all of your eggs (money) in one basket (company). Reconsider putting your funds in different industries and investment mediums. This approach is called "portfolio diversification." A diversified portfolio will spread out your investment options, and present you to a broad spectrum of assets and market areas, which can decrease risk and potentially boost your portfolio returns.
Staying patient is imperative to reap the profits of an investment plan. Thus, remember that while it looks like you're giving your money away at first, it will be well worth it in the end when you get that final return on all of your hard work and money invested.
Empower your team. Lead the industry
Get a subscription to a library of online courses and digital learning tools for your organization with EasyShiksha
Request Now
ALSO READ: Current-affairs-hindi-english-video-quiz
Get Course: Learn-to-Code-with-Ruby