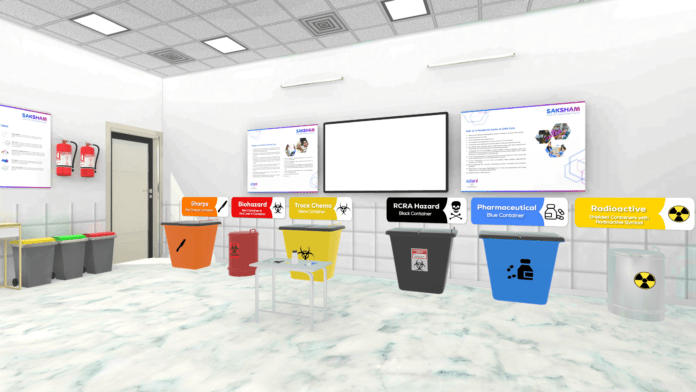 The skill-development vertical of Adani Foundation marks the completion of 7 years with a new milestone
May 17 2023, India: Adani Skill Development Centre (ASDC) was registered on May 16, 2016 as a not-for-profit company to skill India's youth launches and contribute towards nation building. Marking the completion of seven years, it has become the world's first skill centre to enter the Metaverse, beginning by introducing two courses. With this milestone, the skill-development vertical of the Adani Foundation is furthering its mission of using cutting-edge technology to train future-ready professionals.
ALSO READ: P&G Health announces First-of-its-kind Caregiving Policies for employees
With Metaverse, ASDC is stepping into an exciting phase where knowledge, skills, and technology converge to create an immersive educational experience through virtual classrooms. Recognizing the national urgency in healthcare and safety standards, ASDC has prioritized courses like General Duty Assistant (GDA) to support the healthcare and hospital industry, and Fire Safety in the Metaverse. In due course of time, more courses will be made available in a similar manner.
Imagine the thrill of learners, donning Virtual Reality (VR) headsets to enter a virtual classroom where they not only absorb theoretical knowledge effectively but also practice hands-on activities in metaverse. This is a game-changer, equipping trainees with a deep understanding of their chosen field, going well beyond the restrictions of a physical space. Learners at 40 Adani Skill Development Centres across 13 states in India will be able to enrol for these courses in metaverse.
As a pioneer in tech-enabled skilling, ASDC will also make these courses available to students worldwide. Anybody can enrol for these courses online and learn using a computer/laptop. They will be able to experience the virtual classroom on their screen, without the assistance of a VR headset.

Adani SAKSHAM continues to link industry needs with their course offerings. By imparting skill-development courses through advanced technologies such as augmented reality for welding and simulation-based software for crane operation, it is accelerating the development of India's youth, in alignment with the domain specific demands. The ground-breaking intervention of a Skill Centre in the Metaverse is a step forward in the same direction. In the brief span of seven years since its inception, Adani SAKSHAM has skilled 1.25 lakh people, with more than 56,000 of them gainfully employed or running their own entrepreneurial venture.
About Adani Foundation
The Adani Foundation, the community support and engagement arm of the Adani Group, is dedicated to making strategic social investments to achieve sustainable outcomes throughout India.
Since 1996, the Foundation has focused on core areas including education, health, sustainable livelihood, skill development and community infrastructure. With its strategies based on national priorities and global Sustainable Development Goals (SDGs), the Foundation is known for its innovative approach and focus on sustainability, which contributes to the well-being and wealth of communities surrounding the Adani Group's businesses and beyond. At present, it operates in 5,753 villages across 19 states, impacting the lives of 7.3 million people.
This year educate yourself and develop your career with EasyShiksha