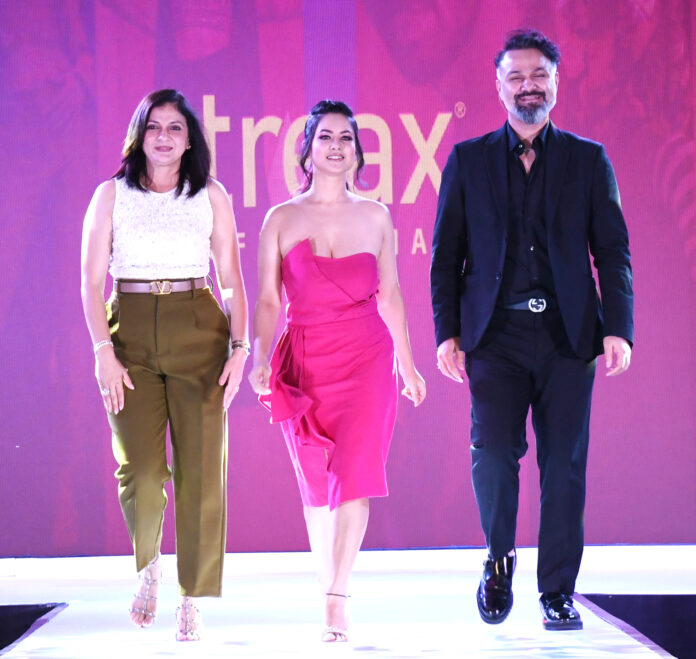 The collection is an embodiment of seamless transition from one state of mind to another, which reflects in one's hair cut, colour, and style.
Streax Professional announces its association with celebrity stylist Vipul Chudasama.
Actor Puja Banerjee walked the ramp for the showstopper.
Kolkata, India, 11th May 2023: Streax Professional, the professional product range for hair care, colour and style, specially crafted for salon professionals and hairdressers, showcased its latest collection of hair colour and style, Mercurial, at a fashion event in Kolkata today. Actor Puja Banerjee, with her ravishing looks and lustrous hair, held the audience spellbound as she walked the ramp sporting the textured pouf look from the Supercharged segment of the Mercurial collection.
ALSO READ: Calm Down fame artist Rema was recently added to the list of Mr. Faisu's followers on social media.
Streax Professional also announced its association with celebrity stylist Vipul Chudasama. Vipul Chudasama is a true game changer in the hair and salon business. Vipul has led more than 520 illustrious hair shows, seminars and exclusive masterclasses. He has styled top celebrities for talented fashion designers and showcased his creation at Haute Coiffure Francaise in Paris. He has also been the face of top international brands.
Streax Professional's Mercurial collectionbrings about seamless transition from your current state of mind and takes you to a world of change, exuberance, and fantasy. It shifts your mindset from the boring, mundane, and everyday life and transitions you through layers of novel, unique and different possibilities that reflect in your hair cut, colour and style.
The collection is a definite hit with audiences who like to experiment with variety:
SUPERCHARGED allows for a departure into impulsiveness, harmony, boldness, and austerity. Blended together, it is perfect for the fashion-forward audience.
NATURAL ME entices audiences that want to strike a balance when 'Softness meets Rawness.' Conventional brightness and lightness meet monochromatic colour with an enhanced touch-and-feel factor.
OTHERWHERE depicts folklore through characteristics of freedom and self-determination. It is a look crafted for thinkers, loners, and introverts.
Streax Professional also organized a 'look-and-learn' seminar before the launch, led by Vipul Chudasama, and the Streax Professional technical and education team.
Rochelle Chhabra, Head – Professional Division (Streax Professional), Hygienic Research Institute, said, "Hair always tells a story, a story of your persona, your ideologies and your state of mind. We are a brandthat enjoys customising different styles and looks for our contemporary customers for whom haircare is a way of life. Consumers today enjoy being spoilt for choice, and we at Streax Professional are versatile. With the Mercurial collection, we have showcased three distinct head-turning styles and looks, representing transformation in all its forms. Our newest collection blends varied styles and looks with modern-day influences for fashion enthusiasts."
Vipul Chudasama, celebrity hairstylist said, "As hairstylists, we are always on the lookout for fashion-forward collections that can challenge our creativity and innovation in cut, colour and style. Streax Professional has yet again nailed it with the launch of Mercurial, a perfect new-age collection for the trendy consumers of today. The added advantage of the collection is its versatility and effervescence that works wonders on all hair types."

All the hairstyles from the collection showcased at the event were created using the perfect blend of Streax Professional's range of products.
About Streax Professional
Streax Professional – a brand closely associated with style and glamour in the salon business- was launched in 2004 by Hygienic Research Institute. Streax Professional is the smart choice for smart Indian stylists and consumers. Launching innovative products with well-researched formulations, especially suited to Indian hair types, Streax Professional is the forerunner in the professional segment with the widest distribution network. Streax Professional Hair colourant range (Colour, Developer and Ultralights) has a partnership with over 25,000 salons in India and overseas.
About Hygienic Research Institute
Established in 1957, Hygienic Research Institute (HRI) is one of the fastest-growing cosmetic companies in India. Every beauty product of HRI has been prepared with the help of ancient Ayurvedic sciences and modern technology, giving the consumer the absolute best. An ISO 9001:2015-certified company, HRI implements path-breaking innovations and personal care solutions. All the products are manufactured, tested and approved by quality assurance as per Indian BIS specifications and adhere to the stringent international norms of countries like Thailand, Malaysia, Singapore and Sri Lanka FDA (Food & Drug Administration). Streax, as a hair colour brand, is trusted and used by 17 lakh consumers every month across India and is sold through three lakh outlets.
This year educate yourself and develop your career with EasyShiksha