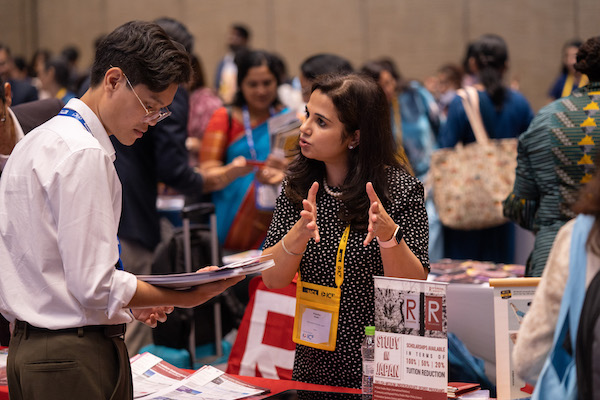 23 Aug, Hyderabad – The University of Arizona is proud to be a priority partner as co-host of this year's highly anticipated International Conference on Counselling and Coaching (IC3) on the 23rd and 24th of August. With the University's sponsorship, this year's conference promises to be a landmark event, revolving around the theme of "Finding Purpose through Counselling."
The IC3 is globally recognized as a leading platform that fosters dialogue and innovation in the fields of education counselling and coaching, and its 2023 conference is poised to further elevate the industry. The theme of "Finding Purpose through Counselling" is intended to inspire
educators to unleash the full potential inside each and every student, through school-based counselling. Much more than an administrative function, counselling can elevate the experiences and outcomes in school and transform society by launching young people on the
critical journey of discovering purpose in their lives.
The University of Arizona's prominent role as a co-host reaffirms its commitment to reaching future students through authentic representation and counselling to ensure decision-making about study and career choices is well nurtured and informed from school to commencement at university. As part of the landmark event, UArizona will also be present in student fairs that are to cover over 12 schools such as Silver Oaks International, Bachupally, Oakridge International School, Gachibowli, Birla Open Minds International School, amongst others from August 21st – 25th.
The University's team is also set to conduct Pre-Conference Workshops for School Advisors at institutions like Silver Oaks International, Oakridge International School, and the CHIREC International School. These workshops aim to equip school advisors with valuable insights for guiding students and parents towards making informed educational decisions and exploring promising career opportunities.
"IC3 is a priority event for the University of Arizona each year, as an opportunity to connect with schools and peers to collaborate and progress quality counselling in the ever-changing education landscape. This year's theme 'Finding Purpose through Counselling' speaks to the importance of ensuring students' characteristics, passions and goals are best matched with the most up-to-date education offerings, educational modes and environments to ensure optimal fulfilment and potential for each student," said Salil Gupta, Chief Advisor for South Asia, University of Arizona. "We strongly believe in empowering individuals to discover their true potential, and this conference aligns perfectly with our commitment to building communities of education and research that are passionate and dedicated to solving the world's great challenges. We look forward to engaging with experts, practitioners, and students from around the world as we collectively explore the profound impact of counselling on personal growth and well-being."
The IC3 Conference 2023 offers an array of enriching experiences, like keynote speeches by industry experts, Workshops, research presentations, and networking opportunities will provide a platform for meaningful discussions and knowledge exchange that will shape the future of counselling. 
Also Read: What's Next for Smart Board Technologies in the Future of Education Technology
Interested schools and students are encouraged to contact Mr. Salil Gupta at sgupta2@arizona.edu, for any additional information or assistance with the process. 
Registrations are now open, and interested participants are encouraged to secure their spots at the earliest through the conference website. 
This year educate yourself and develop your career with EasyShiksha