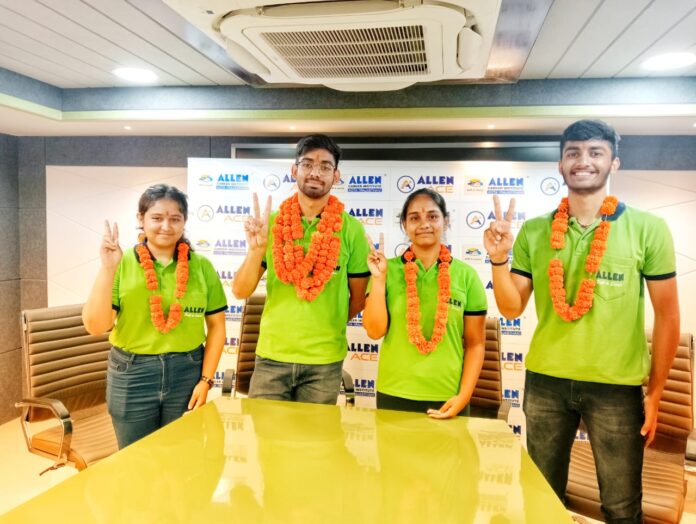 Jaipur, 11th August 2023: Indian C.A. institute announced the C.A. Foundation June, 2023 exam result on 7 August, 2023, in which 117068 candidates from all over India participated and 25860 candidates were successful. The overall pass percentage was 24.9%, while ALLEN Career Institute's exam result was 61.2%.
Allen Career Institute's Siddharth Sankhla secured first position in Jaipur city with a score of 350 marks, while Dheeraj Kumar, Manasvi Jain, and Aditi Goyal also made the institution proud by scoring more than 300 marks.
Senior Vice President, Allen Career Institute, C.R. Chaudhary has given the credit of the unprecedented success to the hard work, dedication and enthusiasm of the students, and the best guidance of the teachers and the trust and cooperation of the parents towards the institution.
ALSO READ: Prime PR wins Quality Mark Awards 2023
Due to this phenomenal exam result of ALLEN Career Institute, there is an atmosphere of joy in the entire institution.
About Allen Career Institute:
Founded by Rajesh Maheshwari in 1988, Allen Career Institute is India's pioneering, leading and most respected test-prep brand that has had a transformational impact on over 28 lakh young lives since its inception. Allen has a Pan-India base with more than 200 classroom centers in 53 cities, a team of highly dedicated and renowned faculty members, and a pedagogy that has been perfected over three decades. The institute offers a range of programs, including classroom coaching, distance learning, online tests, and study material, tailored to the needs of students at different levels. Allen has helped thousands of students realize their dreams of cracking prestigious exams such as NEET, AIIMS, JEE Main, and JEE Advanced.
This year educate yourself and develop your career with EasyShiksha