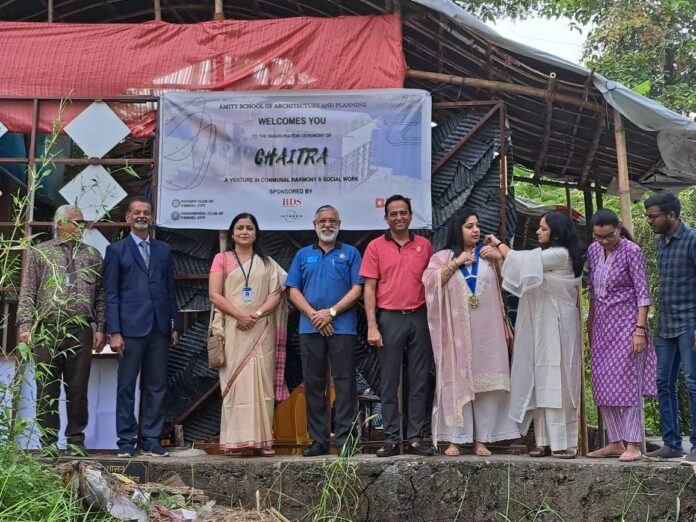 Students from Amity School Of Architecture and Planning (ASAP) have created Chaitra, a sustainable structure for the Anganwadi school children in Bhatanpada village, near the Amity University Mumbai (AUM) campus. This project served as ASAP-AUM's entry into the National Association of Students of Architecture (NASA) Annual National Design Competition (ANDC) trophy. Chaitra was unveiled by the village's sarpanch, alongside dignitaries from AUM, Rotary club, and Inner Wheel clubs of Panvel.
Prof. Dr.A W Santhosh Kumar, Vice Chancellor of Amity University Mumbai, praised the initiative, stating, "This project embodies the values of education, sustainability, and community engagement. Chaitra, a collaborative effort by dedicated ASAP students, has made a lasting impact on its surroundings."
ALSO READ: Daggubati Rana launches the 15th edition of the TiE Young Entrepreneurs (TYE) program
Dr. Supriya Nene, the Director of Amity School Of Architecture and Planning (ASAP), explained that the project's goal was to create a sustainable structure. The students accomplished this by using waste materials found in and around the campus, and they were actively involved in the construction process, gaining valuable hands-on design and construction experience.
In addition to this achievement, Amity School Of Architecture and Planning (ASAP) celebrated World Architecture Day with the presence of renowned architect Yann Leroy. Mr. Leroy discussed the design process, creativity, and showcased some of his international projects, particularly in the hospitality sector, such as hotels and resorts. He engaged with students, answered their questions, and praised the exhibition of ASAP students' work, which included drawings, models, and walkthroughs.
This year educate yourself and develop your career with EasyShiksha