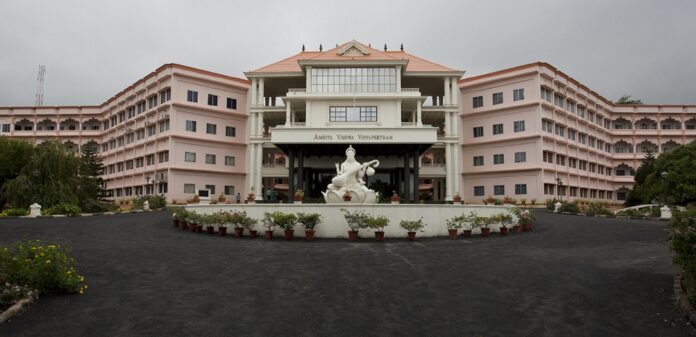 New Delhi, 21st Feb 2023: Admission applications for Undergraduate (BA) and Postgraduate (MA) degree programs in Mass Communications are now open in Amrita Vishwa Vidyapeetham, Coimbatore (ranked 5th Best Overall University by NIRF 2022).
The eligibility criteria for BA require a minimum of 50% in the Senior Secondary Board Examination and for MA  50% in the Undergraduate Course in any discipline
For details login to: https://www.amrita.edu/admissions/ascom/
The admission procedure for 2023-24 is a hybrid process with the following stages – submission of online application, offline entrance examination and in-person interview, seat allotment, and certificate verification. The eligibility criteria for BA demand a minimum of 50% in the Senior Secondary Board Examination and for MA 50% in the Undergraduate course in any discipline.
Candidates for the BA Mass Communication programme can submit their applications online by visiting the official admissions link https://aoap.amrita.edu/capug-23/index/ and provide all the necessary details along with the application fee. The application link for the MA Communication programme can be accessed at https://aoap.amrita.edu/cappg-23/index/ 
The BA Mass Communication and MA Communication programmes offered by the Department of Mass Communication at Amrita University follow the UNESCO model curricula for media education following a conviction that professional standards are essential to a media system that can foster democracy, dialogue, and development. The programmes include courses in Print​ Journalism, Multimedia and Online Journalism, Photography, Television Production, Web Design and Animation, Advertising, Public Relations, Event Management and Digital Marketing Communication​. The courses are a combination of modules related to core Media and Mass Communication subjects, Humanities (related to allied disciplines such as Sociology, Anthropology, Environmental Science etc.) and Open Electives (with a focus on building social responsibility and an Indian consciousness).
To foster an industry-academia connect, the programmes have in-built Media based Projects – Online and Broadcast options (with portfolio enhancement and industry collaboration), multi-disciplinary academic research, and one semester-long mandatory internship. Students get opportunities to showcase their skills and work with government, non-governmental , corporate and media organizations. Skill enhancement workshops, expert lectures, on-the-job training, and field visits are integrated into the pedagogy.
Detailed information related to the admission process is available at https://www.amrita.edu/admissions/ascom/ The candidates may also contact the helpline number +919442562291 (9.00 a.m. to 5.00 p.m. on working days)
Also Read: IIM Sirmaur records great International Placements
About Amrita Vishwa Vidyapeetham
http://www.amrita.edu
Amrita Vishwa Vidyapeetham is a multi-campus, multidisciplinary Institution of Eminence accredited by NAAC. It is also ranked the 5th Best Overall University in India in the 2020 National Institution Ranking Framework (NIRF). Amrita continues to be the No. 1 Private University in India as per THE 2020 world rankings as well. The university has been awarded two UNESCO Chairs namely the UNESCO Chair for Experiential Learning for Sustainable Innovation & Development and the UNESCO Chair on Gender Equality & Women Empowerment. The university headquartered at Coimbatore is spread across six campuses in three states — Kerala, Tamil Nadu, and Karnataka. Amrita partners with academic, industry and governmental institutions across the world to accomplish human-centred, translational, and groundbreaking research. To date, Amrita has more than 500 collaborations from more than 200 signed Memorandums of Understanding (MoUs). Some of Amrita's partners include Harvard University, Columbia University, King's College London, KTH – Royal Institute of Technology, VU Amsterdam, the British Geological Society, University of Oxford, Italian National Research Council, Deakin University, and the University of Tokyo. Sri Mata Amritanandamayi Devi (Amma), a world-renowned humanitarian leader is the founder, Chancellor, and guiding light of Amrita Vishwa Vidyapeetham. Amma's words, thoughts, and vision for education and research have shaped the university's mission and vision.
This year Educate yourself and develop your careers with EasyShiksha