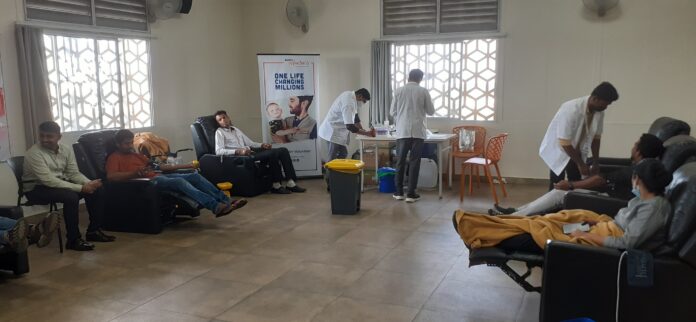 1 August 2022, Bangalore: Aster RV Hospital, Bengaluru organized Drops of Hope – a blood donation drive to encourage people on the concept of blood donation and to cater to the need of blood requirement in Bengaluru in collaboration with Aster Volunteers.
The blood donation drive was a success as almost hundred people turned up and more than 45 liters of blood was collected. The event started at 10 am and ended by 4.30 pm. It witnessed participation of both internal and external stakeholders.
Speaking at the drive, Dr. S.N. Aravinda, Consultant – Internal Medicine, Aster RV Hospital said, "The camp was organized to create awareness among general public about the importance of blood donation. It is a global call for people to come forward and donate blood voluntarily. The blood collected will be of great help in meeting the requirements of needy patients.
The drive went on smoothly as the doctors and paramedic team were ensuring the safety of the people and guided them through the process. Biscuits, fruits and juice were provided to replenish the lost fluid from the body and avoid dizziness. All participants received a certification of appreciation and key chain as token of appreciation.
Sister Shanti Rani, Chief Nursing Officer, Aster RV Hospital said, "The current amount of blood units in our country is nowhere close to the demand. This leads to a lot of lives being lost daily. Donating blood has many benefits, including a reduction of the risk of heart and liver ailments for donors. So, keeping this in mind, we have taken this initiative to highlight the importance of donating blood and encouraging people to come forward and save lives.
ALSO READ : The advantage of the industry-based course curriculum in Data Science
ABOUT ASTER DM HEALTHCARE
Aster DM Healthcare Limited is one of the largest private healthcare service providers operating in multiple GCC states and is an emerging healthcare player in India. With an inherent emphasis on clinical excellence, we are one of the few entities in the world with a strong presence across primary, secondary, tertiary, and quaternary healthcare through our hospitals, clinics, and pharmacies. We have over 20,000 plus dedicated employees across the geographies that we are present in, delivering a simple yet strong promise to our different stakeholders: "We'll treat you well." We reach out to all economic segments in the GCC states through our differentiated healthcare services across the "Aster", "Medcare" and "Access" brands.
visit EasyShiksha for skill development.