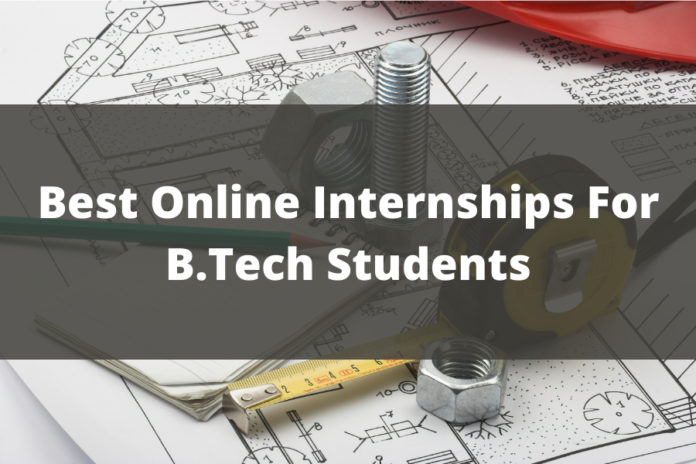 Are you searching for Internships, after doing a 4year degree course? Congratulations on your part for completing this, or even pursuing this, first of all. But, What are the best Online Internships for B.Tech students? Have you ever wondered about it?
Let us know all this in detail.
But first what are Internships and why are they required?
Internships are the opportunities to give you a practical approach to working life, so you learn the practicalities of grown-up life. They tell you about what and how you have to do your work. How your internships can make you learn the skills required, for which you have dreamt or your life. And why begin and pursue a career in something or some niche?
Generally, there are 2 types of internship opportunities in India
Online Internship
Offline Internships
Owing to the difficulties of recent times, it is perceived and advised too, to have the opportunity to have work from home, set up even for internships. Because they are more time saving, good on the environment, build a meaningful conversation with families, cost-effective in terms of living and traffic costs of traveling. These are also flexible and allow you the balance of working life.
With so many benefits, why would someone want to have an offline internship opportunity?
Now, after deciding the mode of internships to be online, create your reasons to learn from them. What is a prospective intern you must look for? Why do you want to have an internship opportunity?
Some of the important considerations for an Online Internship program are as follows.
Role or Position which the employing company wants me for, and what position do I prefer. Do they match or can I work with what they are willingly offering, will it help me in my vision of life.

Company's Background
It is important, so you know the authenticity of the company. You can know the projects they will offer. The scope of learning will also be clear. This builds the trust of the company and one can easily start with an interning position with the company.
The company have projects or not
Is the company affluent enough? Does it have projects, where I can learn something new? Will I be timely paid, if it is a paid online internship opportunity? Does this company offer real-time projects? Do they challenge whatever theory I have learned, in the shape of new projects?
How many months will it take to complete my internship?
Duration plays an important role in deciding the internship. It is because we have to plan out our lives accordingly. Sometimes, the college gives you a period, in which you must join something so you can show an experience letter. All this impacts our decision.
They give Experience Certification or not
Do the online internships covered under an Experience certificate. Is the certificate valid and authentic and will it be accepted by the university I want to join in the future or even for a job opportunity? Will these certificates add value to my C.V in any manner?
Is this Company best for learning
Whatever I want to learn, as per my knowledge, I can work with the company, under their internship programs. Will they allow you to make mistakes, will you be guided in the process, are there many boundation or something like that. Will my knowledge increase or will it be just a normal routine job?
Office Culture and Internal communication
This plays an important role, because the way people in a company interact with one another, draws a meaningful sense, as to what they value in life. This will be the vibe in the firm after you join. And also you will learn the official communication, the formal one.
Types of B-tech internship opportunities offered to students
There are many fields in B-tech streams because it offers many solutions. Everyone has different fields so you must have opportunities in the same niche if you are looking for one. Some of the world-famous fields of the subjects are:
Mechanical
Computer Science
Civil
Electronic and communication
Electrical(EEE)
Aeronautical Engineering.
Biotechnology Engineering
As and however you dream, you will have to choose your interest to first decide the specialization. It's not too hard to find the best online Internships for B.tech students. Under this specialization, now have the reasons for what you want to learn under Engineering and why so?
These why's are the most important because they help in carrying your dream forward. Now when all this is done, know your interests, what you want to achieve from this. Because in the field of Engineering too, you will have to bifurcate and decide what you want to do.
For example, the field of CS offers various languages, coding, development styles, and solutions. Now, what captures your interest and what is your aptitude is what will help you to go further.
Important Announcement – EasyShiksha has now started Online Internship Program "Ab India Sikhega Ghar Se"
Some important and trending courses of Computer Science Engineering is as follows:
Python and Java languages
Android Mobile Development
Networking
Machine Learning
Artificial Intelligence
PHP development
UI/UX development
Cloud Computing
Cyberspace and hacking
These are some of the best and most relevant and trending courses of today's time. Hence check out Online Internships for B.tech students in this sector.
Getting certified by a Multinational (MNC) company is the best thing one can get for their internship training programs in India. Easyshiksha.com provides you with the opportunity for that and develops you completely.
They provide two certificates, one for 'course completion' and the other one for 'internship training' from an MNC company. you can check their website here & get 90% discounts on top internship programs.
EasyShiksha is the best portal that provides the best online internship courses for b.tech students. you can check them here & the parent company hawkscode from here.
What's next? Check out the best internship courses for computer science students.
Top Software Engineering Courses
Fore more Information visit Easyshiksha and Hawkscode
ALSO READ: orchids-the-international-schools-celebrates-world-mental-health-day
Get Course: Programming-with-C-and-C-Plus-Plus