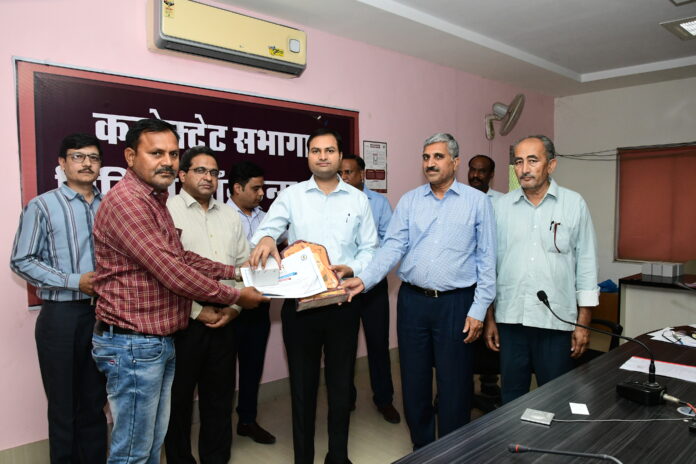 The initiative has benefitted 5,00,000+ students and 20,000+ teachers from 4,500+ government schools in Barmer, Rajasthan
The Foundation has provided expertise to the Rajasthan Education Department in effective implementation of the initiative by curating learning activities and institutionalizing monitoring & reviewing mechanism.
30 March 2023, Barmer, Rajasthan: Bharti Foundation extended its support to the Rajasthan Education Department for strengthening the implementation of No Bag Day initiative in the government schools in Barmer. Since July 2022, the Foundation has supported the efforts of state government in achieving the vision of joyful and meaningful learning, to bring out the creativity of every child in the schools and decreasing the burden of school bags on them.
In the Barmer district, as a part of review and recognition, top performing blocks (Kalyanpur, Samdari, Siwana, Patodi and Barmer) along with 68 best performing schools were felicitated recently for their remarkable contribution towards the success of No Bag day initiative. 4,718 schools reported on activities that were organized every Saturday to improve life skills and subjective learning in students.
ALSO READ: HP Leads in Hybrid Work with Future-Ready Portfolio
Under the initiative, learning resources and activities were developed which were shared with the teachers through monthly memos. The activities were based on themes like Rajasthan ko Pehchano, Bhasha Kaushal Vikas, Khelega Rajasthan Badhega Rajsthan, Main Vaigyanik Banunga and Balsabha – Apno Ke Sath. In Barmer, the expert teachers contributed towards designing of activities for two themes – Bal Sabha – Apno Ke Sath and Khelega Rajasthan Badhega Rajsthan. The initiative aims at enabling children with important life skills such as teamwork, language development, creativity, scientific aptitude and problem-solving skills. With NEP 2020's goal of aligning India's education system with the aspirational goals of 21st century education, providing a holistic quality education has become more important than ever.

Sh. Lok Bandhu – District Collector, Barmer; Sh. Prem Chandra Sankhla – Joint Director (SE), Jodhpur Division; Sh. Narsingh Janghid – Additional Chief District Education Officer, Education Department, Govt. of Rajasthan, Barmer along with Sh. Tanu Ram – Chief District Education Officer (Acting) & Additional District Project Coordinator, Samagra Shiksha Abhiyan, Barmer graced the event with their presence.
About Bharti Foundation
Bharti Foundation was set up in the year 2000 as the philanthropic arm of Bharti Enterprises. It implements and supports programs in primary, secondary and higher education. Since 2006, the flagship, Satya Bharti School Program has been providing free quality education to thousands of underprivileged children in 173 schools in rural India across five states, with a focus on the girl child. The impact of quality education has been widened by transferring the learning and good practices of this program to more than 3 lakh students studying in 808 partnering government schools across 11 States/UTs, through Satya Bharti Quality Support Program(QSP), since 2013. Most of the processes under QSP were found to be pragmatic. Bharti Foundation was invited by several education officers at district and state level to scale up some of the initiatives through Satya Bharti Quality Support Program – At Scale. Satya Bharti Abhiyan, the sanitation initiative started in 2014 till 2021, has benefitted 2,19,872 beneficiaries by improving sanitation conditions in the districts of Punjab, providing access to toilets and by fostering behavioural change in communities.The Foundation has been able to impact more than 2 million children in a meaningful manner through its education programs this year.
This year Educate yourself and develop your career with EasyShiksha