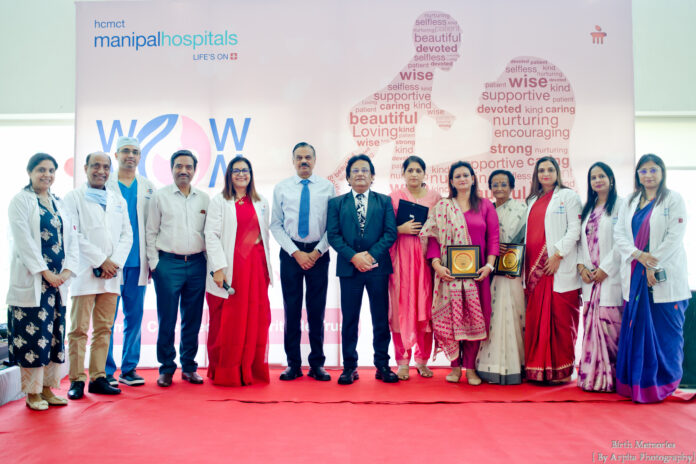 New Delhi, 14th May 2023: HCMCT Manipal Hospital pay tribute to the brave battle casualties Veer Naaris, who have been the strong pillars of our society by felicitating them today. We appreciate their courage and strength and applaud the Supreme sacrifice they have made for our motherland.
ALSO READ: C20 Summit on Technology and Security inaugurated at Amrita Vishwa Vidyapeetham, Coimbatore
As a part of the Mother's Day celebrations, we have organised a fun-filled activity; including a fashion show where mothers showcased their personality through different color codes and a photo contest for new mothers and expectant mothers. We believe that this is a small way of celebrating their motherhood journey and showing our appreciation for their role in nurturing the future generation. We understand the importance of maternal health, and we aim to provide the best possible care for all mothers, now and after birth.
Speaking on the occasion, Dr Leena N Sreedhar, HOD and Consultant Obstetrics and Gynecology, HCMCT Manipal Hospitals, Dwarka said "Motherhood is a journey of love, sacrifice, and selflessness. As a hospital, we understand the importance of supporting and celebrating mothers on this special day. Our aim of celebrating Mother's Day was to provide a fun-filled day for mothers and their children, while also highlighting the significance of taking care of their health. We are proud to have been able to felicitate the battle casualties Veer Naaris and express our deepest respect for their courage and strength. We hope to continue building happy and positive memories with all the mothers we serve."

About Manipal Hospitals
As a pioneer in healthcare, Manipal Hospitals is among the top healthcare providers in India serving over 4.5 million patients annually. Its focus is to develop an affordable, high quality healthcare framework through its multispecialty and tertiary care delivery spectrum and further extend it to out of hospital care. With the completion of acquisition of 100% shareholding in Columbia Asia Hospitals Private Limited and Vikram Hospital (Bengaluru) Private Limited, the integrated network today has a pan-India footprint of 29 hospitals across 16 cities with 8,300+ beds, and a talented pool of 4,000 doctors and an employee strength of over 12,000.
Manipal Hospitals provides comprehensive curative and preventive care for a multitude of patients from around the globe. Manipal Hospitals is NABH, AAHRPP accredited and most of the hospitals in its network are NABL, ER, Blood Bank accredited and recognized for Nursing Excellence. Manipal Hospitals has also been recognised the most respected and patient recommended hospital in India through various consumer surveys.
This year educate yourself and develop your career with EasyShiksha