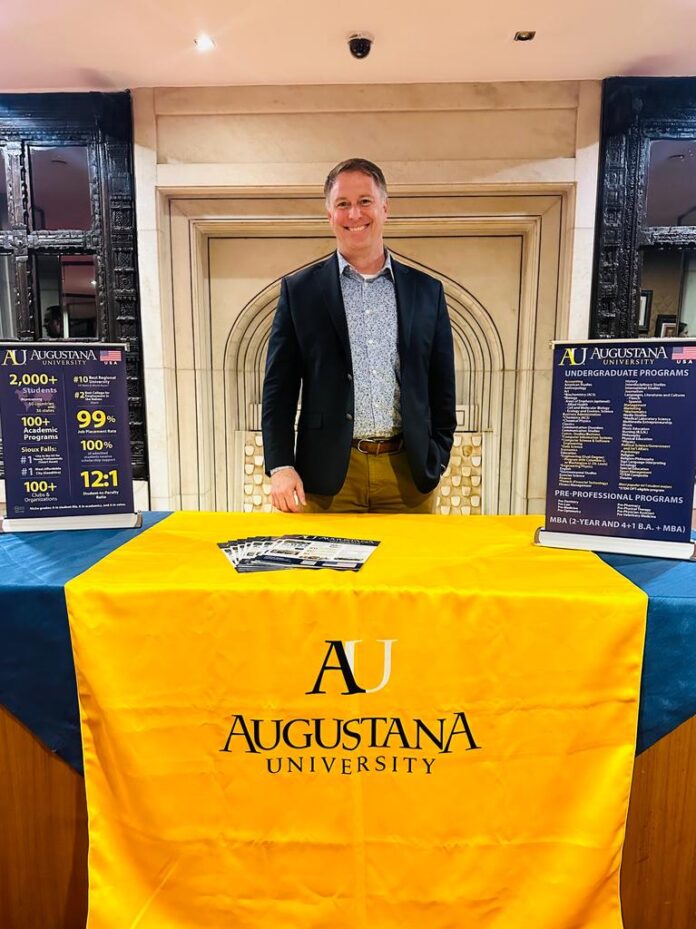 4-year interdisciplinary programme focuses on payments, lending, wealth management, and blockchains with internships
Students will learn cutting-edge fintech skills, including computer programming and data analytics
April 26, New Delhi: Augustana University in Sioux Falls, South Dakota, has announced the launch of its four-year fintech undergraduate programme. The programme aims to offer students the ability to use technology to make financial services faster, better, and more convenient with four specialisations: payments, lending, wealth management, and blockchains
ALSO READ: MAKAUT Organizing One Day Symposium on the Chemistry Behind Phytochemicals Used as Herbal Medicine
Dr. Colin Irvine, Provost and Executive Vice President of Augustana University, said "As a liberal arts university, Augustana University is meeting the demands of the 21st century by offering a fintech programme, which will provide students hands-on experience in areas such as blockchain, cryptocurrencies, and artificial intelligence, among others. Augustana University launching this program is first of its kind in the region and the program comes with the support of our strategic partner, Pathward NA (formerly MetaBank NA)."
The programme is interdisciplinary, and students will take courses in accounting, finance, computer science, statistics, and economics, along with completing an internship arranged by Augustana with local companies. For deserving students, scholarships worth USD 15,000 to USD 25,000 per year are also available.
"We are excited to get started," said Raymond Leach, Fintech Programme Director at Augustana University. He added, "The skill sets and tools that will be taught include specific bundling of computer programming and data analytics, and the topics specific to fintech, along with relevant internships."
The programme's first students will graduate in 2027, and applications for the fall of 2023 are currently open.
Augustana University is a nationally recognized university located in Sioux Falls, South Dakota, and offers an education of enduring worth that challenges the intellect, fosters integrity, and integrates faith with learning and service in a diverse world.
Programme Duration: 4 years
Fees per year (Residential+meals+tuition): USD 52,000 for four years
Scholarships per year: USD 15,000 to USD 25,000
Scholarship Eligibility: Indian students and young professionals can apply for undergraduate scholarships worth up to $25,000 during four years of education. Applicants must have a minimum SAT score of 1230, an IELTS score of 7.0 or equivalent, a GPA of 3.25, and submission of a compelling essay.
Last date to apply: June 01, 2023
To apply: Visit https://www.augie.edu/apply
Important Briefs/profiles
Dr. Colin Irvine, provost and executive vice president
Dr. Colin Irvine is the Provost and Executive Vice President at Augustana University. He earned his PhD in English from Marquette University, his Masters in American Studies from the University of Notre Dame, and his Bachelors in English from Carrol College .
His responsibilities include academic excellence, programme development, and community outreach. He is in his fifth year as Chief Academic Officer, and previously he served twelve years as an English Professor, focusing in his teaching and research on American Studies, narrative theory, environmental studies, undergraduate research, and education methods. He was a Fulbright Scholar in Norway during the 2009-2010 academic year.

About Dr Raymond Leach, Programme Director
Dr. Raymond Leach, Programme director of Augustana University Fintech Programme by Pathward, is also assistant professor of computer science and business administration.
Dr Leach converts problems, possibilities and ideas into curricula that are experiential, that take data sets, issues and problems from these intersecting fields and converts them into open-ended, authentic student learning experiences.
Before Augustana, Leach served as a research associate at the Claremont Institute for Economic Policy Studies and statistics instructor at California State University, Los Angeles. Leach earned a Ph.D. and Master of Arts in Economics from Claremont Graduate University and Bachelor of Science in Economics and Statistics from the University of Wisconsin-La Crosse. He also earned a certificate in machine learning from Stanford University
About Augustana University
A nationally recognised university located in Sioux Falls, Augustana is home to students who aspire to become the change-makers and problem-solvers of tomorrow. Inspired by Lutheran scholarly tradition and the liberal arts, Augustana provides an education of enduring worth that challenges the intellect, fosters integrity, and integrates faith with learning and service in a diverse world.
Augustana University is a private institution that was founded in 1860. It has a total enrollment of 2,022 (fall 2021); it is located in the city, and the campus size is 100 acres. It utilises a 4-1-4-based academic calendar. Augustana University's ranking in the 2022 edition of Best Colleges is Regional Universities Midwest, #10. The annual tuition and fees are $35,914.
Augustana University is located in the city of Sioux Falls in South Dakota, about 180 miles north of Omaha and about 250 miles southwest of Minneapolis. Students traveling from India may connect with one stop in Atlanta, Chicago
This year Educate yourself and develop your career with EasyShiksha