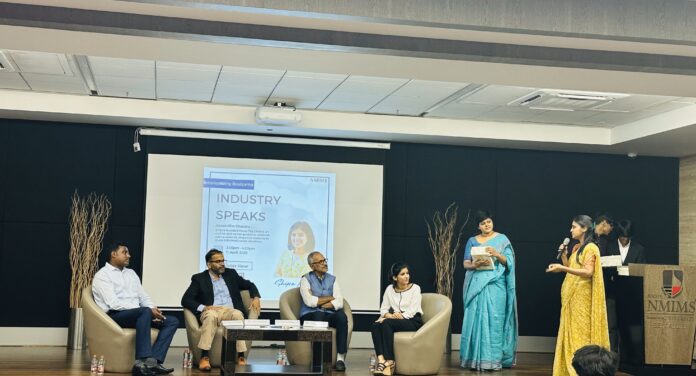 Bengaluru, 27th April, 2023 : NMIMS Bengaluru organized the Employability Bootcamp, a three-day event aimed at helping Students bridge the gap between education and industry. This boot camp enabled students to highlight various skills and job opportunities available in today's job market. The event was a huge success with the presence of esteemed guests, Mr. Ramesh Nagesh, Mr. Biju Nambiar, co-founder, Talent Bee, Mr. Vikram Poojary, Human Resources and Talent Acquisition professional at Cognizant Technology Solutions,  and Ms. Shipra Chandra, Founder of  Know Thy Choice.
ALSO READ: Discover the Future of Finance: Augustana University Launches Innovative Fintech Programme, Offering Scholarships Worth up to USD 1,00,000
This Employability Bootcamp is marketed to be a well-rounded program for the students as well as the experts, designed to provide students with practical skills and knowledge that will help them succeed in their future careers. With a focus on networking, information sharing, and international education, this event was a must-attend for any student looking to take their career to the next level.
Speaking at the bootcamp, Mr. Ramesh Nagesh, who is known for his transformational leadership style and carries over three decades of banking experience and has built his career upon ideas and innovations extremely relevant in today's world, said, "Are we receptive to acknowledge a gap, or are we accepting that we need to learn and then raise our hands for help, there's nothing wrong in it, each one of you, in 10-20 years down the line might be heading a company, your own startup, a unicorn etc. Three things: challenge, understand and make it better! Lastly the strongest opportunity you can have is networking , this is leadership"
Adding to this, Ms. Shipra Chandra said, "A lot of education institutions have adapted very quickly during the covid, as a result of which , a lot of opportunities have opened up for you. You can sit here and have Stanford and MIT Professors teaching you on various digital platforms, you can upscale in any particular field using just your laptops and phones"
The first day of the event featured the poster presentation and an alumni meet presented by the first-year students of the School of Economics. The posters emphasized practical skills and internships for students to excel in the job market, while also showcasing the diverse job opportunities available. Additionally, the alumni meet enabled students to network and gain valuable insights from successful graduates about the qualities required to succeed in their chosen fields. On the second day of the event, students gained valuable insights from industry leaders who shared their hiring experiences and expectations in the job market. The students also showcased their research through posters on a range of themes, providing insights on required skills and job opportunities. The third day focused on international education opportunities, with delegates from universities in Canada, UK, and Australia providing information on the application process, admission requirements, scholarships, and benefits of studying abroad. IDP provided guidance on selecting universities, applying for visas, and arranging travel.
"The nature of the workplace has changed in the last 3 years, moving to hybrid and virtual forms. There are also challenges in terms of interpersonal connect, between manager and team members, but we have learnt to work in a virtual environment, with rare physical meetings. So we have to learn how to manage relationships virtually as well as in a hybrid environment", Mr. Vikram Poojary highlighting the future of workplace relationships in organizations.
"Your execution skills are very important in a corporation, you constantly learn and unlearn to become better. Work with a lot of startups, in my experience, you have to look and work in a company like it's your company. Firms are looking for candidates who are ready to go beyond your job role and you start getting noticed in your organisation. It's absolutely okay to figure out what your passion is, because a lot of people in this world are still in that stage. The reality is that a lot of us like to do a lot of things. We all have passions, but we have to do our job and also pursue our passion, could be dancing, painting, or anything that interests you. Don't get sucked up to the idea that I need to find a career which is also my passion. You've to experiment , explore and somewhere you find a match", highlights Mr. Biju Nambiar explaining to students how to balance career and passion.
The Employability Bootcamp was a resounding success, and NMIMS is proud to have provided their students with a platform to gain valuable insights and skills to succeed in the job market. Moving forward, NMIMS remains committed to providing students with the best possible opportunities to enhance their skills and secure their dream jobs to shape the leaders of tomorrow.
About NMIMS Bengaluru
The School of Business Management (SBM) Bengaluru campus has been ranked first in the "Top B-Schools under Private Universities" category in Karnataka by Open Magazine. NMIMS Bengaluru was ranked second in the city-wise category by Fortune India Magazine and was awarded a rating of A+++ by Business India Magazine. Business Today Magazine ranked NMIMS Bengaluru third in the city-wise category, seventh in the south-zone category, and 32nd overall.
This year Educate yourself and develop your career with EasyShiksha