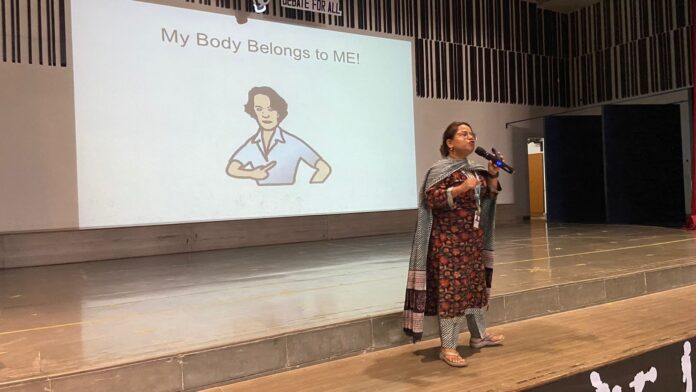 Keeping in mind National Crime Records Bureau NCRB's latest report highlighting the rising cases of sexual and physical violence against women and girls, DPS RNE organised a much needed counselling session for students on the theme 'Safe Touch'. Ms. Kriti Mishra & Ms. Archana Hingle of the Counseling Department, efficiently conducted the session.
Noting that there is a lack of discussions and conversations about these topics in our society, DPS RNE focussed on educating girls and enabling them to differentiate between 'Good Touch' and 'Bad Touch'. The counsellors also made sure to sensitise the children towards the perception of feelings related to touch. They guided the children that it is very important to be aware of their surroundings and physical contact to avoid any harm to their dignity and modesty.
ALSO READ : India has Potential to become the largest producer of Green Hydrogen: Hon'ble Union Minister of Road Transport and Highways, Government of India, Shri Nitin Gadkari
The counsellors created a conducive and friendly environment to comfort the students and encourage them to interact and ask questions. The aim of the interaction was to inform them about the potential dangers and how to convey issues without anxiety. The students imbibed well and involved themselves in a question-answer session at the end of the talk.
Principal, Ms. Pallavi Upadhayaya quoted, "The counselling session acted as an ice-breaker between students and administrative bodies. It was to enable students to find solace in parents and us if these situations arise. Women's safety issues have reached an inflection point in India which has necessitated such informative talks. It was really satisfying to witness an empowering and enriching counselling session which truly paved a way for an open-minded discussion."
Visit EasyShiksha for skill development courses.