In the modern times designers have become the new creators. Every single day they bring to life a new idea or concept. Ecole Intuit Lab Their work has the power to impact the minds of millions of viewers and users. Design is a timeless entity, which tends to establish connections between people and the pressing issues affecting the world we live in. In an era where the sector holds such importance, it is the need of the hour to nurture those experts who are imbued with sensitivity and are driven by a will to create a positive difference by their work. Ecole Intuit Lab It is a well-established fact that visual forms of communication tend to remain etched in people for a longer time-span; hence, it becomes very essential to put words to outcomes which work towards betterment and facilitates awareness.

Important Announcement – EasyShiksha has now started Online Internship Program "Ab India Sikhega Ghar Se"

Here are some ways in which sensitivity can be ensured in the magnanimous sphere of design:
Correct intentions
Designers should take their work in the right spirit and should view it as something that can leave an everlasting impact. For instance, the menace caused by environmental degradation has grabbed the sensitivity attention of the masses due to the efforts put in by multitudes of designers across the board. Ecole Intuit Lab Viewing an art-form, which delivers a strong message, helps even a layman understand the gravity of the situation and generates widespread awareness. With one's heart in the right place, the result is bound to hit the root cause of all problems.
Choice of products
The market has diverse products to offer; however, an ideal creator of art should opt for those products that do not harm the surrounding in any manner. They should support brands which function on the principles of sustainability and produce biodegradable goods. These products sensitivity degrade and go back to nature without harming it. Companies that do not manufacture environment-friendly goods, end up generating large quantities of harmful waste materials responsible for causing soil erosion, air quality deterioration, water pollution and several other negative impacts.
Participating in a noble cause
Over the years it has been witnessed that communities of artists have used their work to transform the world into a better place. A plethora of initiatives have been sensitivity taken to eradicate the negative energy and help those who are in need. Several designers have created awareness by their art and have inspired others to partake in more and more noble activities. Even students have been generating funds for causes like cancer and doing their bit towards the betterment of society.
Usage of Virtual Reality
Technological disruptions such as Augmented Reality (AR) and Virtual Reality (VR) have played a key role in empowering the designers and enabling them in curating experiences which are immersive and powerful. These near to reality graphic forms are highly impactful and have high retention capabilities. For instance, the usage of these advancements in rehabilitation centres has proven to be very useful. Patients attain insights on the downsides of addiction and it helps them by strengthening their will-power.
Top Software Engineering Courses
It is thus safe to say that designers have great power, which resides in their work. A dash of sensitivity in what they do will work dramatically towards spreading awareness and bringing about the much needed changes. One has to simply be open to fresh ideas and novel solutions that will assist in reducing the impact of a large number of pressing issues.
INTUIT.LAB
Intuit Lab is a French educational institute of design, strategy and digital creation, co-founded in Paris 2001 by Clément Derock and Frederic Lalande. The vision of these industry sensitivity veterans is to build a culture, not just a school. A culture where creative minds get the freedom to innovate, create and become part of a design revolution.
Spread over 3 campuses (Paris, Aix-en-Provence and Mumbai), and with its network of 27 partner universities and 1000 partner agencies across North America, Latin America, Europe and Asia, Intuit Lab has a strong international presence. It has been ranked as one of the top 5 graphic design schools in France by SMBG (2015). To date, over 100 designers, professionals, and artists from all over the world have conducted workshops on Intuit Lab's campuses to contribute towards nurturing students' creative outlook of the world. This exposure is accentuated by the numerous exchange programs between campuses and partner universities.
Intuit Lab is a design school that strives to bridge the gap between theoretical, academic learning and practical, professional applications. It has achieved success by incorporating professional exposure into its design and art curriculum. The vision of the institute is to produce highly skilled designers and art directors who are attuned to the needs of the corporate world and trained to adapt their acquired skills accordingly. The syllabus constantly evolves in order to keep pace with changing technology, emerging start-ups and to create an innovative experience in design.
The opening of a campus in Mumbai was a step towards the evolving field of education in graphic design, digital and advertising in India. Intuit Lab understands the potential of the Indian market and is committed to creating 'industry-ready' students to meet the tremendous market needs. With extremely talented, hand-picked, professional faculty; weekly and monthly workshops; exchange programmes as well as local and international internships, Intuit Lab ensures that every student leaves the campus ready for the professional sensitivity world. For students, Intuit Lab is more than a college: it is a place of fulfilment, creative emulation, and enriching dialogues with professionals. Students are encouraged to participate in various international opportunities to discover cultures, mind-sets and approaches that differ from their own, preparing them to contribute to a global community.
Intuit Lab is driven by an aspiration to contribute to educating new generations about the evolving technologies and lifestyles that a civilisation in movement demands. The school strives to equip its students not just with the knowledge professionals have gained over the years, but with the versatility necessary to adapt to the technologies, communication, media and markets of their future.
Rita Ashara, Dean, Ecole Intuit Lab, Mumbai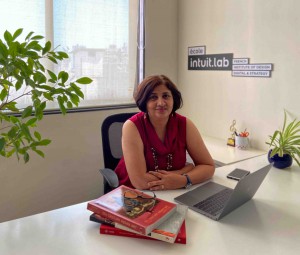 Rita Ashara brings with her over two decades of experience in the creative arts, design and interactive media realm. With a Diploma in Graphic Design in Applied Art from L.S. Raheja School of Applied Art and Architecture, Mumbai, she has had successful stints in design oriented roles across reputed educational institutes, and companies including — Pearl Academy, Emerging Media, Zapak Digital Entertainment, Learnet Media, and Websource. She has an eye for detail, and is well-versed with an array of skills in the sphere including UI/UX, Web Design, Animation and Graphics, Wire framing development, and Interface application among others.
Rita began her professional journey as a Creative Head at Websource Pvt. Ltd., wherein she spearheaded all of its design projects — right from conceptualising to the execution stage, followed by efficiently leading projects and people in various capacities at Emerging Media, Zapak Digital Entertainment, and Learnet Media. She forayed into Education in the year 2015 as the Course Lead for the undergraduate Communication Design Course at Pearl Academy in a long-standing association. She successfully oversaw the course, ensuring academic excellence, delivery and outcomes, intended student experience, and academic standards and processes of the academy, in line with its objectives. Moreover, she regularly affiliated with the faculty, to creatively strategize and contribute to the sales and marketing efforts of Pearl Academy.
As the Dean at Ecole Intuit Lab, Mumbai, Rita is responsible for further enhancing the quality of its education via robust programmes, along with augmenting and developing the faculty and curriculum. Besides overseeing the faculty and staff, she is already facilitating and encouraging teamwork, whilst ensuring the highest quality of academics. With respect to students, she is working towards harbouring a 'wholesome learning' environment via skill development, wherein they emerge as sensitive designers with a sustainable approach. Her objective is to provide experiential and immersive learning experiences to these students, which will aid them in becoming industry ready.
Besides being a successful professional with diverse skill sets, Rita is a gardener, nature lover, adventure seeker, and an active environmentalist.
For more information related to technology, visit HawksCode and EasyShiksha
Empower your team. Lead the industry
Get a subscription to a library of online courses and digital learning tools for your organization with EasyShiksha
Request Now
ALSO READ: xlri-delhi-ncr-campus-gets-aicte-approval-announces-admissions
Get Course: How-to-Use-Photoshop-for-Beginners