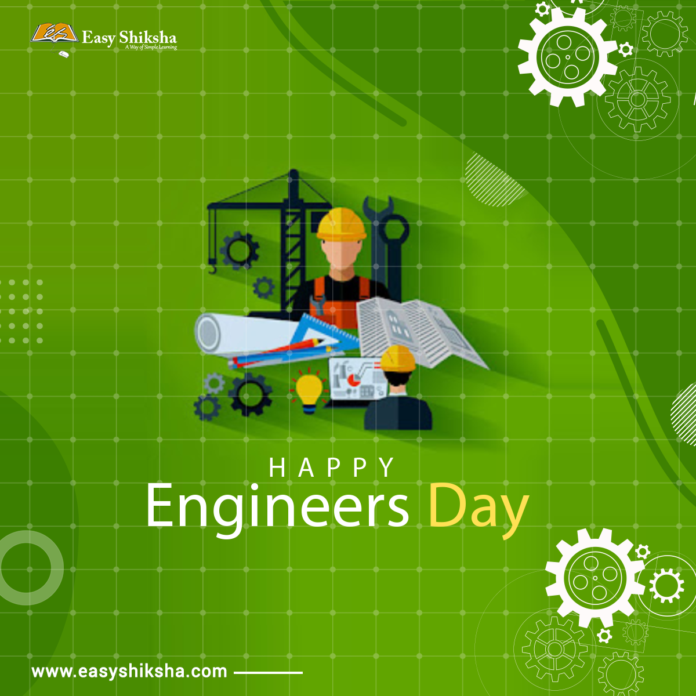 Wishing all the engineers a very Happy Engineers Day. Engineer's Day is one of the most important events which is celebrated on 15th September every year in India. This day is dedicated to all the engineers who changed the whole world with their great ideas and innovations. This day is celebrated to salute the contribution of engineers towards society. Many different programs are organized throughout the day to appreciate their contribution which makes our life easier and better.

Important Announcement – EasyShiksha has now started Online Internship Program "Ab India Sikhega Ghar Se"

Engineers Day is dedicated to those people without whom we would not have been able to do anything. A day dedicated to those without whom no one would be able to fly, not be able to make their home, not be able to watch TV, no one would be able to communicate over long distances.
Everything from mobile phones to airplanes, televisions to satellites is possible because of engineers.A hundred such examples of the discipline and devotion to work of our engineer Sir M. Visvesvaraya can be listed. He once said, "The curse of our country is laziness.The dams built by him are functional even today, a testament to his talent, skill, honesty and dedication. Hence 15th September, Engineer's Day 2019, is a remarkable tribute to the greatest Indian Engineer Bharat Ratna M. Visvesvaraya.A man of honest principles and a dedicated engineer, he served as the Diwan of Mysore and helped in the overall development of Karnataka. His wonderful works include the construction of the Krishna Raja Sagara Dam and its neighboring Vrindavan Gardens, the establishment of the Mysore sandalwood oil factory and the establishment of the Bank of Mysore.
His detailed report on the Planned Economy for India's Reconstruction is still considered by many economic planners to be the best research material.Today, India produces maximum engineers in the world who have done wonders in the field of technology and played a major role in the development of our nation.Whether we talk of new age cars, nanotechnology or renewable energy for the future, everything requires vision and the engineers of the future are doing much more than they are doing today.It is therefore important that future engineers focus on their communication skills, problem solving ability and willingness to learn new things in order to be better prepared for the challenges of tomorrow.Engineers play the most important role for the development of any nation.
Sir M. Visvesvaraya was one such engineer who changed the face of irrigation systems, water resource systems and many other things. He is still a great inspiration to all.To remember his significant contribution, the people of India celebrate Engineer's Day on 15 September every year on his birthday.
Engineers play the most important role for the building of any nation, so to honor the engineers in India and remember their contribution, the birthday of Sir M. Visvesvaraya 15 September is celebrated as Engineers Day. It is well said that "Scientists study the world as it is; engineers create the world that has never been
ALSO READ: global-healthcare-academy-launched-global-dental-academy
Get Course: Microsoft-Excel2007-Tutorial-for-Beginners