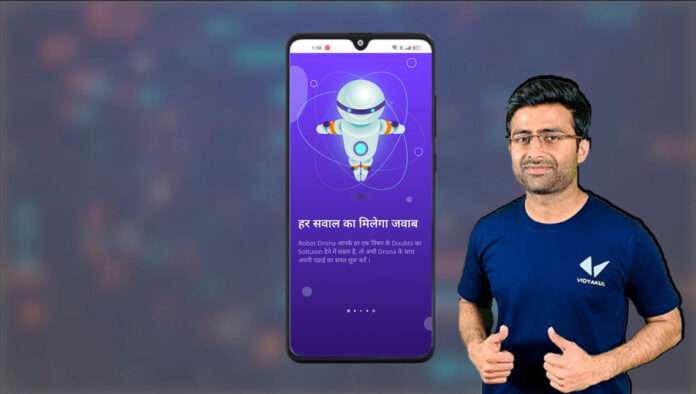 Launched as pilot for Bihar Board students, tool gets overwhelming response, over 100,000 queries of students resolved within couple of weeks
New Delhi/Bengaluru/Mumbai, July 30
Gurgaon-based ed-tech company, Vidyakul, has recently launched a GPT-powered AI doubt resolution chatbot, Robot Drona, to offer Hindi medium students of Bihar Board an enhanced, round-the-clock learning experience and streamline their doubt resolution process.
Robot Drona, made with OpenAI, has resolved over 100,000 queries by students of 9th to 12th standards of Bihar Board on subjects like science, mathematics and social science within a couple of weeks since it's beta launch.
Robot Drona is an extraordinary innovation as for the first time ChatGPT is used to develop a tool for the students of India's state board students who study in Hindi.
ALSO READ: LEAD targets 1 lakh+ low-fee schools, to transform education in India's small towns
While different edtech players have integrated ChatGPT for doubt resolution and learning in their products, none of them has been particularly designed for the Hindi medium students of India's state boards.
What sets the Robot Drona apart is its multi-modal input and output system. It can understand user queries in both text and audio forms, and respond effectively via text or voice. Students can either type the questions in Hindi or give voice commands to the AI bot. Moreover, it possesses the unique ability to interpret queries and doubts directly from images, further enhancing its problem-solving capabilities.
Beyond academics, the tool adopts the Octalysis Framework to gamify the learning experience. This approach fosters motivation and engagement by turning the learning process into an interactive game-like experience.
According to the 2022 ASER report, over 82.2% of Bihar's students study in the state government's schools. By running the pilot project of Robot Drona to cater to this segment, Vidyakul is attempting to bring a social impact through technology-powered education.
Vidyakul's Robot Drona helps in enhancing the students' independent problem-solving skills and also makes the job easier for teachers, who have been resolving the students' doubts manually so far. 
Important Announcement – EasyShiksha has now started Online Internship Program "Ab India Sikhega Ghar Se"
"Vidyakul aims at empowering vernacular medium students with quality education. With this aim, we made Robot Drona behave like a diligent, multilingual teacher, providing our users with a rich and personalised educational experience. Not only does it assist in resolving academic doubts and queries, but it also guides learners through the problem-solving process in their local language," said Tarun Saini, CEO, Vidyakul.
Vidyakul has tested Robot Drona to handle up to 25,000 live users simultaneously.
Vidyakul's Robot Drona is capable of tracking and showcasing user progress on a granular level, down to each topic of every subject, enabling learners to have a clear and comprehensive understanding of their strengths and areas needing improvement.
"We aim to create a tool that not only assists, mentors, and motivates, but also guides learners towards achieving the best possible learning outcomes in a tailor-made, data-driven manner", Saini added.
Saini also informed that following the success of the pilot project of Robot Drona in Bihar, the company will also roll out similar AI tools for the students of Uttar Pradesh and Gujarat Boards, followed by localised versions for other states.
About Vidyakul:
Vidyakul, India's first vernacular e-learning platform, aims to make education more accessible in tier-II and III cities, where the soul of Bharat lives. Vidyakul offers live lectures and pre-recorded courses to students of Std IX to XII in Hindi, Gujarati, Marathi, etc., to help state board students excel in their academic careers.
This year educate yourself and develop your career with EasyShiksha