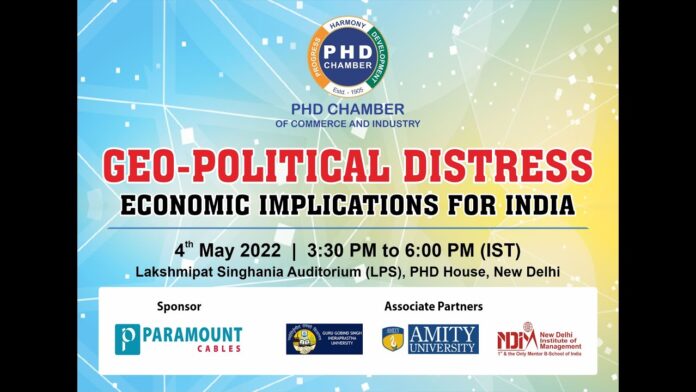 Regardless of Geo-Political Distress, India has an opportunity to play a bigger role in terms of leadership and governance, says Smt. Bindu Dalmia, Chairperson, National Committee on Financial Inclusion and Literacy, NITI Aayog, in a Programme on Geo-Political Distress: Economic Implications for India, organised by PHD Chamber of Commerce and Industry today.
She said that India has the potential to become the best investment destination provided that great focus is put on enhancing ease of doing business by the government. Opportunities for India amid recent Geo-political developments include a high scope of wheat exports, acceleration in the deployment of renewable energy, accelerating the speed and ease of doing business along with reducing costs of doing business, among others.
Shri Ajay Chhibber, Renowned Economist and Distinguished Visiting Scholar, The Elliott School of International Affairs, The George Washington University, highlighted the 3 critical issues for India in the immediate term due to the global crisis. Firstly, a recovery from sharp contraction in FY 2021 which is anticipated in FY2022 will be diluted to some extent and sharply affected in FY 2023. Secondly, the rising inflation has become a key focus for our macroeconomic management and will put a brake on growth. Thirdly, higher oil prices will affect the Current Account Deficit (CAD) which may inch toward now 3% of GDP in FY2022. He said that there is a huge reserves of over USD600 billion that will help India to finance CAD and the capital outflows that could be expected from higher interest rates in US and Europe and will help to manage a sharp drop in the value of Rupee.
Dr. Abheek Barua, Chief Economist and Executive Vice President, HDFC Bank said that there is a risk of a global slowdown that is likely to set in. He said that there is a possibility that the demand effects of a global slowdown will pull commodity prices down or dominance of supply effects will continue. A further rise in the Dollar is likely to affect Rupee and will lead to capital outflows from India. Though commodity prices are soaring, there is a possibility that could ease due to weak global demand and possible resolution in geo-political tensions, late this year. RBI has raised its interest rates recently, in a move towards countering high inflation, but there should not be a rate hike further as it severely impacts growth prospects.
Dr. Shamika Ravi, Non-Resident Senior Fellow – Governance Studies Program, Brookings Institution Washington D.C. and Former Member- Economic Advisory Council to the Prime Minister of India, said that there are three key sectors in which India needs to build and strengthen self-reliance— food security, defense security and energy security. India is significantly progressing in food security. Energy security is one of the areas of concern for India given its large reliance on energy imports. She said that there is a need for a mass movement such as the energy revolution in order to reduce India's import dependence for meeting its energy needs. In regard to strategic self-reliance in defence, India needs to encourage public private partnerships along with increasing participation of start-ups in this sector. Also, she also suggested that India has to adopt a twin strategy to maintain the balance in the South Asian Region.
Shri Dhanendra Kumar, Chairman, Competition Advisory Services and Former Executive Director for India, World Bank, said that there is a resilience in all sectors and GDP growth of India is considered one of the highest in the world. He said that the geo-political distress has disrupted India's edible oil market as India imports more than 90% of sunflower oil from Russia and Ukraine. The high commodity prices, supply chain disruptions and further extension of Russia Ukraine war could expose about 42% of rated Indian companies in oil, gas, chips and semiconductors and automotive sectors to significant risk. Further, opportunities for India lies in exports of food products to the world particularly in wheat exports.
Dr Nilotpal Goswami, Director General, Comptroller & Auditor General of India, Government of India, said that with the ongoing Geo-political development, countries will be facing an increasingly interconnected global security environment marked by the growing spectrum of great power competition. These challenges will play out to continue global disruption resulting from the COVID 19 pandemic contention over global efforts to deal with the changing climate, increasingly powerful nonstate actors and rapidly evolving technology all within the context of evolving world order. But the continued diffusion of power is leading actors to reassess their place and capabilities in an increasingly multipolar world. These challenges will intersect and interact, unpredictable, leading to mutually reinforcing effects and could challenge our ability to respond. These responses is not just the security response, it is also talking in terms of being a policy response in the areas and other alliances.
During the Welcome Remarks, Shri Saket Dalmia, Sr. Vice President, PHD Chamber, said that the Indian Economy is expected to remain resilient on the back of its inherent strengths, strong economic fundamentals, and growth promising sectors. India's growth trajectory is expected to remain steady in 2022-23 supported by various dynamics reforms undertaken by the government during the last two years. However, Geo-political conflicts, high inflation and renewed corona variants are the major worrying factors. Percolation of Ease of Doing Business at the factory level, decriminalization of minor offenses will boost the size of the economy to USD 5 trillion in the coming times.
Shri Deepak Pahwa, Chair, Foreign Trade & Investment Committee, PHD Chamber; Shri Sandeep Aggarwal, Chair, Industry Affairs Committee, PHD Chamber; and Shri Ashish Ghosh, Co-Chair, Economic Affairs Committee, PHD Chamber, participated in the Programme. Dr S P Sharma, Chief Economist| DSG, PHD Chamber, moderated the session and presented the formal Vote of Thanks.
The Event was sponsored by PHDCCI's Annual Sponsors – Multani Pharmaceuticals Ltd; Star Wire; PG Industry; Uflex Ltd; DLF Ltd; Continental Carriers Pvt Ltd; Belair Travel & Cargo Pvt Ltd; Radico Khaitan Ltd; Jindal Steel & Power; MMG Group; Paramount Communications; Superior Industries Limited; JK Tyre & Industries Ltd; SMC Investments and Advisors Ltd; Crystal Crop Protection Ltd; Sagar Group of Industries; Samsung India Electronics; Comtech Interio; R E Rogers; AYUSH Herbs Private Ltd; Apeejay Stya Group; DCM Shriram; EaseMyTrip; Blossom Kochhar Beauty Products Pvt Ltd; Oswal Greentech; Trident Group; MV Cotspin Ltd; Synergy Environics Ltd; Ajit Industries Pvt Ltd; P S BEDI & Co.; Indian Farmer &Fertilizers Corporation Ltd; Jindal Steel; Hindware Sanitary; Modern Automobiles; Livit Ltd; Central Coalfields Ltd  ; Axa Parenterals; Bhagwati Plastic and Pipes Industries; J K Insurance Brokers Ltd; DD Pharmaceutical Ltd.
Improve your Skill set and your resume with EasyShiksha