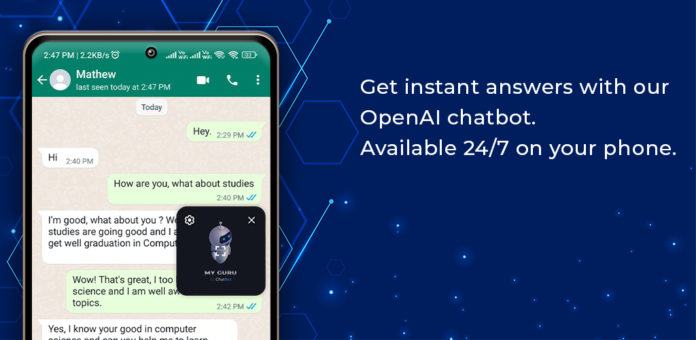 Looking for a smart and efficient virtual assistant to help you manage your daily tasks? Look no further than MyGuru AI Chatbot!
MyGuru AI Chatbot is a cutting-edge AI-powered app that enables you to easily connect with a virtual assistant, 24/7. With its advanced natural language processing capabilities, the app can understand your requests and respond in real-time, providing you with quick and accurate answers to your questions.
Whether you need help with scheduling appointments, setting reminders, or finding information, MyGuru AI Chatbot has got you covered. The app uses state-of-the-art machine learning algorithms to learn your preferences and provide personalized assistance, so you can get the most out of your experience.
In addition to its exceptional functionality, MyGuru AI Chatbot is also incredibly user-friendly. Its simple and intuitive interface makes it easy to use, even for those who are new to virtual assistants. And, with its fast and reliable performance, you can count on MyGuru AI Chatbot to help you get more done in less time.
So if you're looking for a smart, efficient, and user-friendly virtual assistant, download MyGuru AI Chatbot today! With its advanced AI capabilities, personalized assistance, and easy-to-use interface, it's the perfect app to help you manage your daily tasks and get more done.
Download MyGuru AI Chatbot now from the Google Play Store!
Also Read: What are Chatbots and How Do They Work?
This year Educate yourself and develop your skills with EasyShiksha