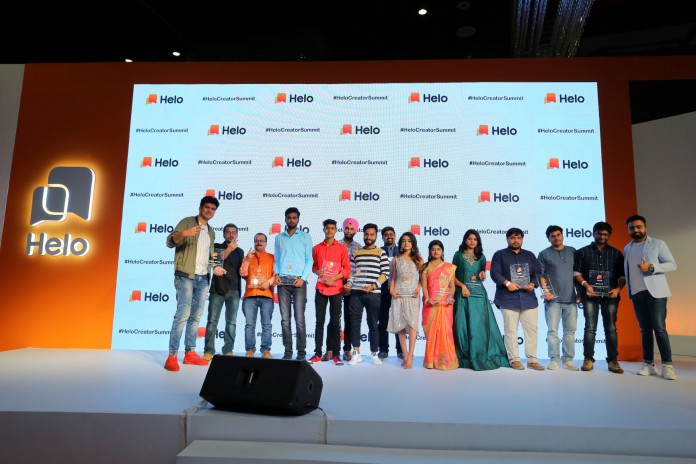 India's leading regional social media platform launches inaugural Creator Summit to further strengthen its community of over 100,000 talented creators on the platform
Helo reveals that 50 million monthly active users spend more than 30 minutes on the platform to share content across categories including Entertainment, News, Culture, Education, Sports and Technology
With the launch of key creator initiative, Helo also launches new product features including Helo Insights, Helo Playbook and Help Broadcast to help users manage and create engaging content for their followers
New Delhi, 17th July 2019: Helo, India's leading social media platform, today unveiled a wide array of content consumption trends and insights among Indian regional language users as well as its vision for the wider creator community as it hosted the inaugural Helo Creator Summit in celebration of its first year anniversary. The event brought together over 500 content creators from various parts of India, representing true cultural diversity and multiple dialects.
Now with over 50 million monthly active users, Helo's success lies in recognizing the need for a social platform that allows the internet users who prefer to consume content and express themselves in any of the 14 Indian languages available on the platform. An India-first app, Helo is also now also available in 13 other markets globally with thriving Indian communities who want to stay updated with local news and trends back in their respective hometowns.
Helo's Commitment to the Regional Creator Community
Helo launched its first Creator Summit as it marks its first 365 days in India, as a testament of its ongoing mission to bridge the information gap and empower regional language communities. As part of this key creator initiative, Helo has also announced the launch of key product features that would help creators grow and have a better understanding of their audience.
Some of the key features that were launched at the Helo Creator Summit include:
Helo Insights & Helo Playbook: Tools to make it easier for creators to understand their followers and their feedback so they can create more engaging content

Helo Broadcast and Star program: An incentive program to support top 100 creators on the platform to manage engagement

Live streaming: A new way for creators to engage and interact with their audience in real-time
"We are thrilled to host Helo's first-ever Creators Summit to celebrate Helo's first year in India. Creators have been an integral part of our journey as they drive and define content trends using our interactive product features across 14 major Indian languages," said Raj Mishra, Head of Creator Strategy and Growth, Helo. "With the launch of our new product features and tools that enable every creator to get a better understanding of their audience, we are optimistic that by the end of 2019, we will grow our creator community to as much as 100,000 across a diverse array of content categories."
Regional Content Creators and Partners on the Rise
Since its launch, Helo has witnessed a tremendous growth in the number of creators using the platform to share content in the form of trending jokes, memes, wishes, quotes, shayari and Bollywood news across categories including Entertainment, News, Romance, Humor, Culture, Education, Sports, Fashion, Technology, and Lifestyle.
The content creators who have made it big on the app, are either food enthusiasts, shayars, comedians or poets. Among them is #SpoonsOfFlavour, run by Prerna Garg. She is a housewife, mother and a professional food blogger who has become popular because of her engaging content on the platform. "The nature of engagement and user base that Helo is offering to creators, like me, is unmatched. Helo has enabled me to reach out to a larger audience and build a fan base for myself. Helo has helped me pursue my dream of being an influencer despite being a housewife," she said.
Another creator, Babu Bhaiya also shared his journey during the Creator Summit. Babu Bhaiya aka Himanshu started creating humourous content when he was in college. He found Helo to be the perfect platform to engage with a like-minded audience. With 142,000 followers on Helo and counting, Babu Bhaiya's punchlines and jokes are mostly satirical and mostly making fun of himself. "The key to success on social media is to understand your audience well. I am thankful to Helo for giving me a platform to express myself and an audience to engage with in my preferred language," he said.
To further engage regional language audiences, Helo successfully partnered with regional content platforms including TV shows and films such as Bigg Boss Kannada, Super Star Junior in Tamil, Bigg Boss Marathi and Gully Boy to name a few. Underlining the app's regional essence, content around festivities across different states, such as Diwali and Uttarayan has clocked maximum traction among users. Recently, Helo also celebrated Cricket World Cup by launching #CheerforIndia campaign which urged the fans on the app to post original content to cheer team India.
As India's leading regional social media platform, Helo celebrates diversity and believes in democratising content by creating an ecosystem that gives creators an opportunity to express themselves. Helo's machine learning-powered visual platform is specifically designed for Indian smartphone users. Available in 14 Indian languages, Helo enables users to create quality content with easy-to-use tools.

For more updates, download Helo via iOS or Google Play.
About Helo
Helo is the leading social media platform made for global desis. Our mission is to add color to your life and bring everyone together, empowering you to create and share content in your own language, as well as connect with your wider community. Available in 14 languages including Hindi, Telugu, Tamil, Malayalam and more, Helo is among the top apps downloaded on the Google Play store in 2018. Headquartered in New Delhi, Helo is available in India as well as in the USA, Canada, Singapore, Malaysia, Saudi Arabia, UAE, Oman, Kuwait, Qatar, Nepal, Sri Lanka, South Africa, and Bangladesh for iOS and Android. For more information, visit www.helo-app.com.