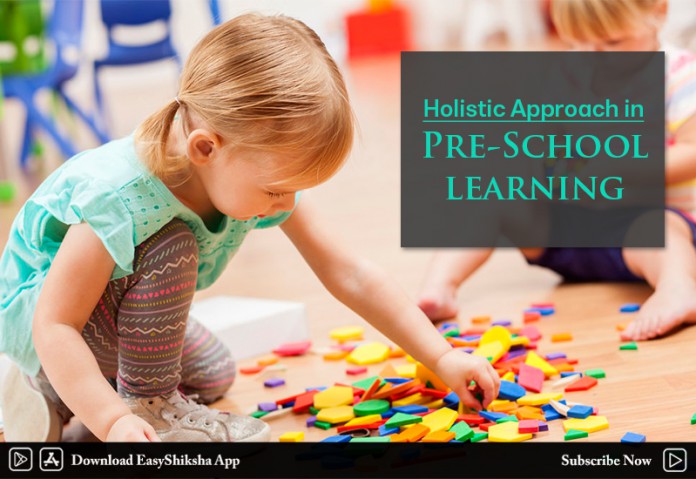 Gone are the days where classroom were only poky within textbooks and blackboards, rather the recent evolution towards the classroom we see today has changed the way of learning of the child. PRESCHOOL LEARNING The modern day era classrooms are not only furnished with different and various tools of education but is about relationship building between the parents and the educational professionals to help amplify the over-all development of a child from a very early age.
A child is pure consciousness, a pure soul. The first step towards education starts with home. Recent studies suggests that be it a formal pre-school or an informal teachings at home, benefits the child when he/she targets the traditional school. The modern day educational system has advanced for the emotional, physical, psychological well-being of the child.

Important Announcement – EasyShiksha has now started Online Internship Program "Ab India Sikhega Ghar Se"

Before turning 5
Recent studies advocates that the majority of the child's brain develop is before the age of 5. This crucial time if taken care of helps achieve goals for a child faster. This is the time your child starts crawling, learning words and forming sentences. One has to keep in mind that every child during pre-school encounters the first interaction with a structured organization, teaching professionals and group of other children. Consequently, the first opportunity for every child to learn, share and express in front of the society.
[td_block_text_with_title 
Modern classrooms are inclined more in giving unique hands on experience rather than following the traditional way of teaching. For example instead of showing color on paper, the educational professionals use blocks, toys, sand, water etc. which helps them demonstrate the difference between them in a better and more creative way. Children are often asked to assemble toys, read instructional directions, differentiate between currency notes and coins etc. which makes the child learn faster along with having fun. Today the educational professionals are not just mentors but they work as family.
[/td_block_text_with_title]
[td_block_text_with_title 
After narrowing down the assessment gap the most significant thing which changes the current education format is inclusion of technology. Technology is so widespread that offers so many new resources of learning. Technology helped us change dull and monotonous classrooms into a smart classes, working with visual upshots, audio discourses and other supplementary methods, makes the kid grasp and absorb swiftly. It is a scientific phenomenon the more the senses are used the more calm and comfortable is for a kid to fathom the subject.
[/td_block_text_with_title]
Co- Curricular Activities
Co-curricular activities enhances the experience and increases child's capacity to emphatically confront practical situations in the future. This helps in building a more precise, accurate understanding of a problem and to search solution for the same. Co-curricular activity also installs a feeling of sportsmanship, practical solidarity, team work and productive thinking. These exercises helps the child to develop skills and uncover their talents.
Focus on Child's Physical Fitness
In the current buzz the professional educators do ploy a lot of outdoor activities which allows child plenty of time to play inside as well as outside. Childhood obesity has knocked the corridors of preschool and to fight against it, we have involved a lot of physical activities such as running, swimming, dancing, arts etc. Studies also stipulate that children who are into hobbies tend to get better results in academics as it aids their minds to grow. These small activities helps them magnify in managing time, solving problems, etc.
Child's Nourishment
In a healthy body resides a healthy mind, children feel better when they eat well. The modern day schools ensure to give a healthy environment and food of nutritious value. If your child is hungry, the institution fortifies what to eat and how much to eat. It is ensured that one's child eats variety of foods as to have a balance of vitamins, proteins and minerals which helps him/her heighten physicals and mentally both acknowledging the serving size for every kid according to their age and weight.
Times have changed, preschools we see today have modified with a lot of colors, fun, amusement, care and learning. Usually parents are edgy about their kid's higher education and they often miss the relevance of their child's initial and key phase of learning.
About Author
Pankaj Kumar Singh is a young enterprising social entrepreneur and an angel investor. Having more than 24 years of experience in the corporate sector and academia, Pankaj has contributed immensely in the sphere of enhancing management as a tool of learning. An MBA from Birla Institute of Management Technology and a graduate from Patna University, Pankaj has worked with various companies of repute at senior management level within India and abroad before taking the plunge of entrepreneurship. He has founded and invested in many companies. While working within a professional ambit, he has been associated with EMPI Business School Delhi, ITM Group of Institution Mumbai, Shalina Healthcare Mumbai, Chemaf SPRL London and Africa, Waves Group (DAMAC) Dubai and GD GOENKA Group Delhi.
Additionally he is also associated with various prestigious institutions namely Member – Core Committee of UN GCNI SDG, Founder Member – IPRS (Indian Placement Reporting Standards) at IIM- Ahmadabad, Member – Advisory Committee, NHRDN (National HRD Network), Ex. Co-Chairperson- MAST Committee, AIMA, New Delhi, Ex. member of HR Core Committee, AIMA.
——————————————————————————————————————————————-
Sign up / Register with EasyShiksha or Download the app and get free online education account. Get latest Jobs Notification & Current Affairs. You can access more than 50 free online courses, various computer and SSC Bank Railway test series and find your career options. You can Sign up with Facebook
Empower your team. Lead the industry
Get a subscription to a library of online courses and digital learning tools for your organization with EasyShiksha
Request Now
ALSO READ: ind-vs-aus-india-win-1st-test-series-in-australia
Get Course: Learn-to-Code-with-Ruby