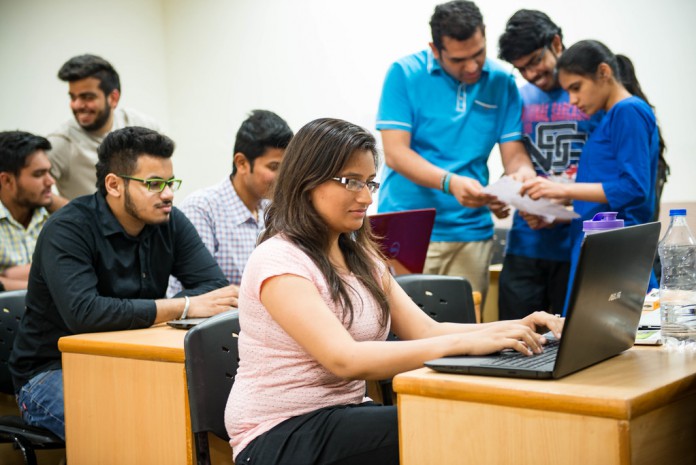 Artificial intelligence (AI) is rapidly changing the educational landscape around the world. The technology is helping to simplify administrative tasks so that teachers can focus on communicating with students instead of spending valuable time on manually grading exams and homework. This new, tech-oriented approach may also help educators to create customized learning materials based on traditional syllabuses, and foster a personalized approach to learning.
How Artificial intelligence (AI) Can Improve Education?
While India is serious about investing in AI, it's still way behind China, which plans to create a $150 billion AI-based tech sector by 2030. However, the education industry on the Indian subcontinent is experiencing dynamic growth and is currently revolutionizing the approach to learning. Here, everything starts with small companies in the private sector.
According to research from Tracxn, in 2019, there are over 300 Indian startups with AI being at the core of their product or service. Around 11% of these startups are based in the educational industry.
So far, the main focus of these companies has been on using AI to help assess the students' level of knowledge faster, cheaper and better. The technology is excellent at identifying gaps and offering specific suggestions for improvement. This is not to say that it's going to replace teachers, but rather, that it will assist educators by freeing up their time to focus on interpersonal communication with students.



Top Software Engineering Courses



This is crucial because according to the Human Resource & Development (HRD) Ministry of India, there's an urgent need for over 1 million more teachers across the country. This lack of qualified staff affects not only the primary levels of education but universities as well.
The vast majority of teachers are still performing tasks that could be quickly done by an AI system. These responsibilities include evaluation, grading, creating mark sheets, paper setting, and manually tracking performance of individual students. AI systems will soon be able to automate these tasks and improve the overall performance of teachers.
Another thing worth considering is using AI to proctor standardized assessments and prevent students from cheating. This can be done with the use of an AI-enabled camera that sits on top of the monitor and tracks bodily movements.
AI can also be beneficial in identifying knowledge gaps often overlooked by teachers working in overcrowded classrooms. A mobile app can quickly assess where the student needs improvement, and give suggestions and exercises that will boost their performance. This would enable more students to keep pace with the class instead of being left behind.
We will still have to wait for two or three years until AI-enabled, apps, and solutions will make their way into Indian classrooms. Fortunately the cost of technology is dropping, and now students can buy a 10-inch tablet for 6000 Rs or less. This can still be too much for some families, and that's why the government needs to step in and give support so that the new generation of students can learn and develop faster.
—————————————————————————————
Click Here for: Free Online Courses for Science, Arts, Commerce
Click Here for: Free SSC & Bank Online Test Series
Top Networking Online Courses
More Courses With Certification
Empower your team. Lead the industry
Get a subscription to a library of online courses and digital learning tools for your organization with EasyShiksha
Request Now
ALSO READ:  Prana-air-launches-pocket-monitor-for-pm2-5-levels
Get Course:  Zero-to-Hero-in-Django-Python-Framework