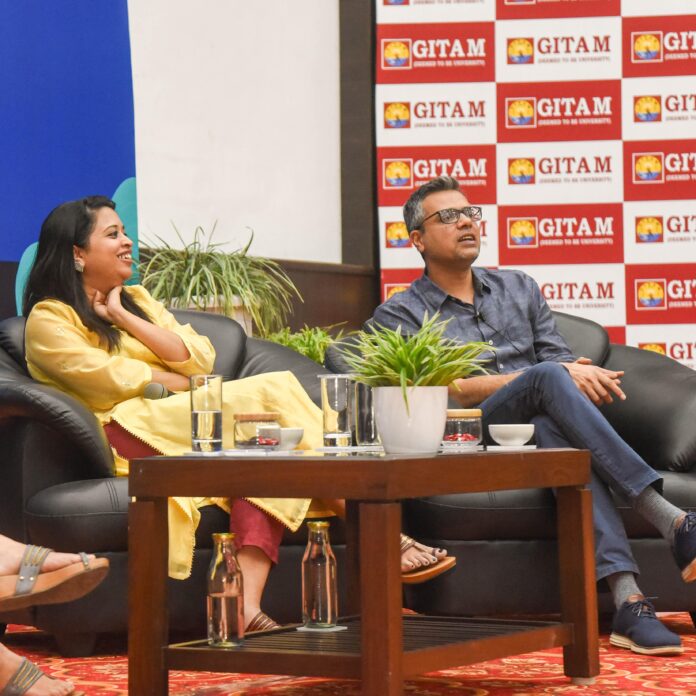 She was speaking at a Changemakers session at the Bengaluru campus of GITAM (Deemed to be University)
Hyderabad, August 2023: In a thought-provoking Changemakers session at GITAM (Deemed to be University) Bengaluru campus, distinguished journalists Dhanya Rajendran and Vignesh Vellore shed light on the underrepresentation of the Southern news stories in mainstream media and their mission to bring about change.
As a former TV journalist, Rajendran highlighted the struggle to get Southern news featured on national bulletins, while seemingly trivial incidents from other regions received extensive coverage. "It made me feel like not just a journalist but also a marketing agent for South India. There was a lack of focus on Karnataka, Andhra Pradesh, or Kerala, and Kerala hardly found a place on the national map unless there was political violence leading to deaths," she expressed.

Speaking about their media entrepreneurial venture, Rajendran shared her college experience, saying, "College life was all about forming opinions, whether about politics, life, or how I view things." Recognizing the level of awareness and strong opinions among the student community in South India, Rajendran and Vellore were driven to create The News Minute, a platform dedicated to balanced regional news coverage.
Founded in 2013, The News Minute started as an aggregator and evolved into a full-fledged news organization focused solely on South India. Vellore emphasized their strategic decision to publish in English to reach a broader audience in the region.
The session explored broader aspects of journalism, with a focus on the responsibility to reflect political realities and hold governments accountable. The duo expressed their commitment to question liberal and progressive governments to ensure transparency and accountability.
Reflecting on late actor Sushant Singh Rajput's case and the importance of mental health in organizations, Dhanya Rajendran also stressed the importance of addressing mental health in organizations, stating, "Acknowledging employees' mental health issues doesn't lead to concessions, but rather, it is essential for organizations to support their workforce in a mindful and compassionate manner."
ALSO READ: 5 Hard lessons for E-commerce entrepreneurs
The event also shed light on the challenges faced by media organizations during government-imposed information blackouts. Rajendran voiced concerns about internet shutdowns and their impact on people's access to vital information, referring to recent incidents in Manipur.
The Changemakers session at GITAM (Deemed to be University) Bengaluru campus brought dynamic insights from national and global leaders, inspiring a positive transformation in media representation.
About The News Minute
Dhanya Rajendran and Vignesh Vellore are prominent journalists and co-founders of The News Minute, a leading media organization focused on balanced news coverage in South India.
About GITAM (Deemed to be University)
GITAM was founded in 1980 by an inspired group of eminent intellectuals and industrialists of Andhra Pradesh led by Dr M. V. V. S. Murthi, former Member of Parliament and popular philanthropist. Located in Visakhapatnam, Andhra Pradesh, it also has campuses in Hyderabad and Bengaluru. Collectively, the four  campuses have 12 Schools offering 112  UG and PG Programmes ,  under their wing, in addition to Ph.D. Programme. Over the years, GITAM (Deemed to be University) has taken part in many social activities and has also produced many renowned personalities.
This year Educate yourself and develop your career with EasyShiksha