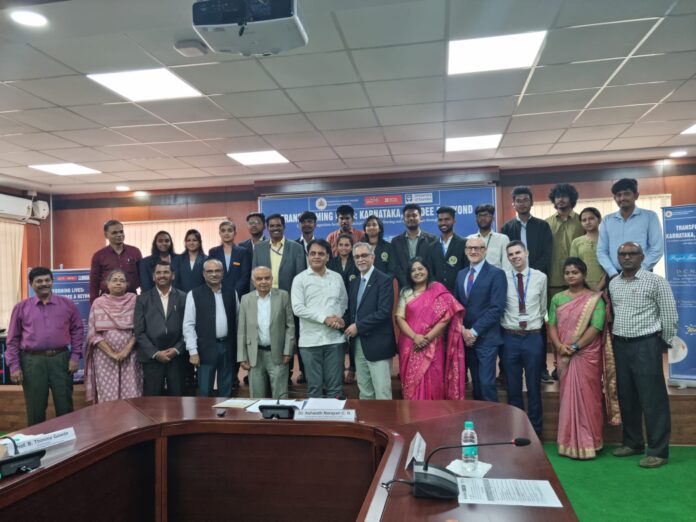 The University of Dundee will work with students from Indian institutions to address global health and environmental challenges as part of a new international collaboration.
'Transforming Lives: Karnataka, Dundee & Beyond' is a student competition that has been launched at an event at the Karnataka State Higher Education Council Office in Bengaluru on Thursday, 23 February hosted by Dr C.N. Ashwath Narayan, Honourable Minister of the Karnataka Government. Delegates from Dundee will be in attendance along with participating students and academic colleagues from the Indian institutions. Students will have the opportunity to earn postgraduate scholarships at Dundee worth £6,000, with the University seeing its partnership with Karnataka State Higher Education Council as a way of strengthening ties in the region.
The three universities taking part in the competition submitted research projects for assessment by academics at Dundee. Their students will now develop these projects to make a difference locally and potentially at a global level. A team from University of Agricultural Sciences will design and develop a low-cost solar based sensor automatic irrigation system, while competitors from Gulbarga University will explore the use of biofuel alternatives to diesel. Students from the University Of Visvesvaraya College Of Engineering will address antimicrobial resistance in a local tribal population. The teams will be co-supervised by academics at their own institutions and Dundee.
The student teams at each university will then begin working on these projects, with the competition culminating in a five-day residential visit to Dundee in June. In addition to the winning team being announced, the visit will also see the students experience the world-leading facilities on offer across Dundee School of Life Sciences and School of Science and Engineering. Participants will engage in both educational and cultural site visits during their time in Dundee.
Professor Hari Hundal, Dundee's Academic Regional Lead, South Asia, said, "The University of Dundee considers this as a major step towards strengthening ties in India through the creation, sharing and application of knowledge. We are proud to be working with the Karnataka State Higher Education Council on this project and are thankful for their support. We think this is a novel approach to partnership building and one that is consistent with the key themes of our University strategy – climate action and net zero, equity and inclusion, and population health and wealth. Beyond the competition itself, we hope this collaboration will lead to new research and learning links with India."
"It was very important to us that the teams were drawn from different disciplines so the students can each bring perspectives from their own field of study to the project. Students participating in the competition will have the opportunity of returning to the University of Dundee to study for a postgraduate degree. Those students taking up this opportunity will be offered a £6000 scholarship to join the course of their choice, and we believe the University will learn from their creativity, ingenuity and experiences."
Also Read: The credit won't be a hurdle in the businesses of industry
This project is enabled by Karnataka State Higher Education Council, Bengaluru, with financial support from the British Council, as a step towards realising the recommendations of National Education Policy, NEP2020.While the projects are specific to Karnataka they are also relevant at a global level. It is hoped that there will be scope to develop the concepts and solutions devised by the students not just in Karnataka but also other areas where they are applicable. Janaka Pushpanathan, Director British Council, South India, said, "We are very excited to support this landmark collaboration between Karnataka State Higher Education Council and the University of Dundee. The competition will test the students on teamworking and resilience, helping the students realise the real-world impact they can make locally and globally. This reaffirms the work the British Council does in building high-quality partnerships between the UK and India and inspiring India's youth to realise their academic potential."
This year Educate yourself and develop your career with EasyShiksha