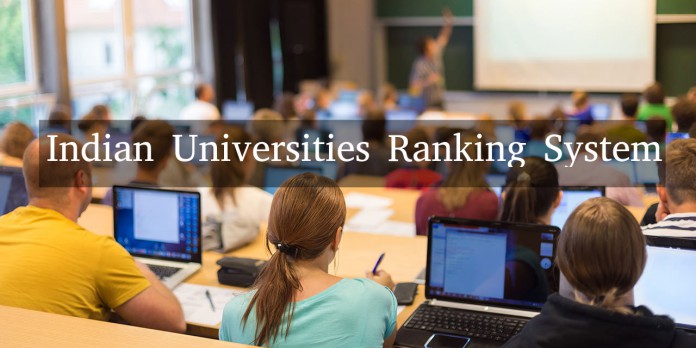 National Institutional Ranking Framework: An aspiration without essentials 
April 2018, National Institutional Ranking Framework released its 3rd edition of Indian University Rankings. The higher education world in India and its stakeholders in various capacities expected eminent Institutions of the country like IIMs and IITs continue to be on top of these rankings. On a contrary, it was quite surprising to see few private institutions are ranked even above some IITs and NITs like Vellore Institute of Technology, Birla Institute of Technology and Science, Pilani, College of Engineering, Pune and much more which were missing in 2017 were able to secure positions in best 10.

Important Announcement – EasyShiksha has now started Online Internship Program "Ab India Sikhega Ghar Se"

The idea of India's own ranking system came into existence after HRD ministry noticed the continuous poor performance of Indian universities in the top 3 recognized world university rankings i.e., QS, ARWU, also known as Shanghai Ranking and Times Higher Education (THE) World University Rankings.
On October 2014, the framework of National Institutional Ranking was laid by a 16 member core committee which included Chairman NBA, Chairman AICTE, Chairman NAAC, Former Director, IIT Bombay, Director, INFLIBNET center and other prominent personalities of MHRD and NBA. It took almost a year to formalize it.
On 29th September 2015, Smt. Smriti Irani, Former Minister for Human Resource Development publically announced India's own ranking system list for Engineering and Management categories and later on ranking of the pharmacy and architecture and other institutions were released.
Total 22 parameters in five major categories are used to rank universities across the country, most of them are handpicked from the recognized world university ranking systems such as Teaching, Learning and Research Excellence. However, the committee brought few country-specific parameters like regional diversity, a facility for physically challenged and the percentage of economically and socially disadvantaged students under the head of Outreach and Inclusivity.
NIRF envisaged separate ranking for different universities/colleges/ institutions, within each discipline, there are separate ranking in two different categories- Category A for institutions who are engaged in Teaching & Research and Category B for only teaching institutions.
In 2016, NIRF published India's first universities ranking. During its initial stage, NIRF ranked only engineering, management and pharmacy institutions from government funded, privately- funded or self-financing institutions had participated, the Architecture and general degree were exempted due to no or less response. The core committee did few significant changes in few sub-parameters but the main ranking parameters unchanged.
Top Software Engineering Courses
One of the paradoxes or moreover an irony is that the MHRD felt the need to have India's own ranking system when our universities are struggling with basic necessities like shortage of faculty members, efficient staff members, basic infrastructure, job oriented course curriculum and minimum fund for research & innovation.
These current state of affairs seems familiar, a decade back when China found that its Universities are struggling to be amongst the top world universities of the world, the Chinese policymakers decided to start their own ranking system i.e., Academic Ranking of World Universities (ARWU), also known as Shanghai Ranking, focusing on Science and Research. While framing parameters, they focused and gave more weightage on Quality of Education and Quality of faculty with the indicators focused on Alumni & staff as Nobel Laureates and the projects like 985 & 211 to improved the overall quality of China's higher education as a result two Chinese universities — Peking University (PKU) and Tsinghua University are in the world's top 30 (According to the World University Rankings 2018 published by the Times Higher Education Supplement) and included 12 Chinese universities in the world's top 100 (QS World University Rankings ).
Another initiative was taken by the Chinese Central Government to promote the development and reputation of higher education was to develop the C9 League, an official alliance of 9 universities through Project 985, the C9 League together account for 3% of the country's researchers but receive 10% of national research expenditures. They produce 20% of the nation's academic publications and 30% of total citations that's why China is responsible for 17% of Global Research Output as compare to Indian universities, which contributes a measly 3.5% only. On its earlier time, ARWU faced serious criticism for its criterion which heavily focused on scientific research but at present ARWU is considered one of the best 3 world university ranking and it's highly appreciated for its transparency and objectivity. On the other side, MHRD took the same initiative but while drafting the framework and while establishing the parameters for ranking, the policymakers perhaps neglected that most of the Indian universities are struggling to keep up with the basic requirements of a higher education institutions.
Challenges
Voluntary exercise
Participation in NIRF ranking is a voluntary exercise due to which there is a huge imbalance in participation number and it's really hard for MHRD to produce the entire list. In 2017, the second list of NIRF ranking had witnessed the decline of 16% and participation of only 6% of the total institutes around the country. Point to keep in mind that in 2016 only Engineering, Management, Pharmaceutical universities/institutes were ranked but in 2017 they increased the dimension by adding Subject stream colleges and best General Degree colleges. The latest rankings in 2018, new category rankings being introduced in Medical, Architecture, and Law.
| | | |
| --- | --- | --- |
| Year | Total No. of Institutes participated | Growth/Decline Ratio |
| 2016 | 3,563  | NA |
| 2017 | 2,995  | -16% |
| 2018 | 4500  | 44% |
Although, while announcing NIRF 2018 ranking, Union Minister for Human Resource Development (HRD) Prakash Javadekar raised his concern on participation and said that it would be mandatory for public institutes to participate in the ranking framework from next year and those public institutions which will not take part in it will face fund cut.
Data authentication issue:
There is no way anyone can verify the data which is submitted by universities across the country (Note: the ranking heavily based on these data). NIRF has not authorized any company or individuals to verify the submitted data. At present whether private or public or any institution, are required to submit their data on their own. There are possibilities of errors in the submitted data (intentionally or unintentionally). In a recent NIRF 2018 ranking list, Times of India accessed the data from NIRF website and found that Bishop Heber College (BHC) Trichy had submitted false data about the total student strength. This is only one incident which came into light, we really don't know how many more such cases. Who is responsible if a potential student blindly trusts NIRF ranking, take admission and later on finds the truth.
All fruits in the same basket
There are huge structural issues in the framework of NIRF ranking, as it allows to rank all the universities on the same scale. How a public university like Indian Institute of Science which is established in 1909 and fully supported & funded by the government for its research can compare with a self-funded university which is decade old and have a very limited source of fund for research. There should be a process where the performance of university is evaluated by keeping its establishment, quality publication and community engagement activity in mind.
A roll coaster ride
Below graphs clearly, show the unrealistic difference in universities position at NIRF ranking between 2016 to 2018. Few universities like Jamia Milia & Tamil Nadu Agricultural University really enjoyed the ride of NIRF ranking. In a span of a year, they suspiciously improve their positions from 83 to 20 and 40 to 28 respectively.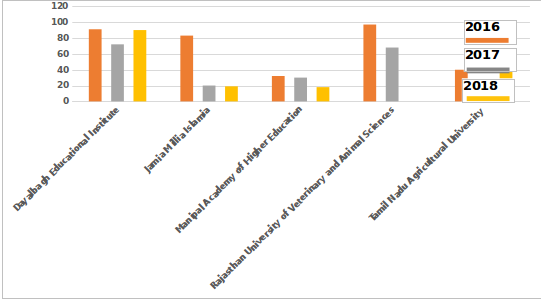 Universities who faced steep slopes during NIRF ranking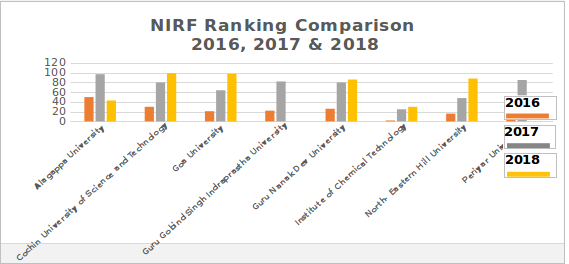 What can be possibly done
Introduce new parameters in NIRF: Keeping in mind the social obligation we have in our education system, it's time to give more weightage to parameters which are more human-centric rather than following the western way which is more process-centric. Factors like happiness, job satisfaction, work-life balance, Equal pay, Entrepreneurial ecosystem and equal opportunity can be the game changer.

Allocating more Research fund to Privately funded institutions: Most of the Indian universities don't get sufficient funding from the government. Few handful universities majorly Public/Government universities are getting funds which are not sufficient.

Fair selection process: Currently all the university is keeping on the same level which sounds not write for example how any university which is established in 10 years back have the same level of research and publication s compare to a university which was established on 60 years back. The only way to give a fair chance to all universities across the country by adding the human-centric factors in ranking parameters.

Mandatory participation: At present participation in NIRF ranking is absolutely on the desire of institutions. To improve the quality of education, research, and learning, MHRF needs to make mandatory for all institutions to participate.
It's a long way to go but I believe it is a great initiative by our government to improve the quality of institutions across the county. To get to the top, institutions definitely need to improve practices that will make them stronger and ultimately affect their ranking.
Author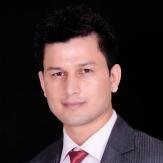 Mr. Rahul Bhandari
Assistant Director, Office of International Affairs & Global Initiatives (IAGI) – O.P. Jindal Global University (JGU), India
With an overall work experience of 14 years in the field of Higher Education involving International Academic & Research Partnerships, Rahul majorly focuses on Formulation & Implementation of Internationalization Strategy & Plan, International Academic & Research Partnerships, Joint Ventures, Strategic Alliances with an emphasis on development of State of the Art Teaching Methodologies, Research Projects and Educational Programmes.
Rahul holds two Masters degrees in M.com and Management (PGDBM) respectively. He completed his double Bachelors (B.Com & BCA) in 2003 and 2004. At present, he is pursuing Ph.D. and his research area is University Ranking System.
He is holding overall work experience of 14 years which includes 4 year of International working experience in the field of Higher Education involving International Student Recruitment strategy, International Student Mobility, Nurturing and Expanding the Institutional Relationships, Building Alliances & Implementation of Internationalization Strategy & Plan.
His other major responsibilities include:
He initiated and maintained strategic alliances ASEAN countries, China, Africa, New Zealand, & Bulgaria.

Responsible for nurturing and expanding the existing institutional relationships with more than160 partner institutions spread over 44 countries.

To liaison with the Embassies / High Commissions and Education Offices / International Organizations such as USIEF, British Council, Australia-India Education Council, Education France to name a few, for their support towards JGU's Internationalisation.
Empower your team. Lead the industry
Get a subscription to a library of online courses and digital learning tools for your organization with EasyShiksha
Request Now
ALSO READ: Minister-hardeep-singh-puri-launches-book-written-by-dr-mohan
Get Course: Digital-Electronics-Tutorial-Course