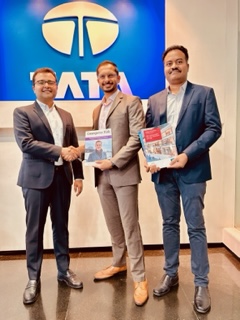 Both IRM and Tata Consumer Products will work towards building risk-intelligence and resilience to drive best practices
Mumbai, 21st September 2023: IRM India Affiliate has entered into knowledge partnership by signing a memorandum of understanding (MoU) with Tata Consumer Products Limited to build resilience and promote the need for and importance of Enterprise Risk Management (ERM) in the FMCG industry. IRM is the world's leading professional body for ERM qualifications and examinations across 140+ countries and Tata Consumer Products is an Indian FMCG company and a part of Tata Group.
Tata Consumer Products (TCP) is among the leading food & beverage companies in India with a vision to become a multi category FMCG company. The maturity of TCP's risk management is a testament to our commitment to sound and responsible business practices. Over the years, the company has cultivated a robust risk management culture spanning every facet of our business operations. This proactive approach in identifying, assessing, and mitigating risks has evolved to meet the ever-changing risk landscape in FMCG industry. TCP has implemented an effective ERM follow-up mechanism by leveraging on in-house assessment cum monitoring tools and risk intelligence analytics to, built a team of in-house subject matter experts, and fostered a company-wide inclusion of risk management as an integral part of strategic decision-making.
As a part of this knowledge partnership, both IRM India Affiliate and Tata Consumer Products will be organizing webinars, roundtables, industry meetings, and contributing thought leadership articles towards knowledge building and to enhance ERM and risk intelligence for the sector.

Speaking about the collaboration, Mr. Aien Noorul, Head – Global Internal Audit and Risk Management, Tata Consumer Products Limited said: "We are thrilled to join hands with Institute of Risk Management (IRM) as the knowledge partner for FMCG industry. Our collaboration with IRM stands as a testament to our successful deployment of matured ERM practices as well as our commitment to collectively drive adoption of ERM practices across the industry. This collaboration offers a platform to share our expertise and exchange ideas with fellow professionals to foster a culture of more resilient businesses."
On this collaboration, Mr. L Krishna Kumar, Executive Director and Group Chief Financial Officer, Tata Consumer Products Limited said: "We have a well developed risk management practice in the FMCG industry developed over the past several years. Today, Risk Management is an integral part of decision making at Tata Consumer Products aided by a robust risk management culture. Our association with IRM will further strengthen our journey towards business resilience and drive global thought leadership & best practices in enterprise risk management."
The collaboration is part of IRM India Affiliate's mission of developing a robust ecosystem of risk-intelligent organisations across sectors with an aim to build a resilient and self-reliant India. IRM has recently entered into knowledge partnership with leading organisations including: Cipla, UltraTech, IHCL, NIMSME (Ministry of MSME), AICTE (Ministry of Education) and more. IRM India Affiliate has also recently welcomed representatives from international bodies like ISO and COSO as external Board Advisors.
ALSO READ: Platforms Empowering Independent Study Abroad Decisions
Elaborating on the collaboration with Tata Consumer Products, Hersh Shah, CEO, IRM India Affiliate, said: "This knowledge partnership is a milestone for FMCG sector as it will help drive the importance of a robust risk culture in the sector, through sharing of best enterprise risk practices across platforms. Our global philosophy is well aligned with TCPL's long-term strategy towards excellence in ERM."
The key risk areas identified were either related to commodity sourcing, supply chain, sales and distribution, brand equity, regulatory and cyber risks. The COVID pandemic has demonstrated the importance of having a robust, scalable, and secure business continuity model to ensure we are able to continue delighting our consumers.
About Institute of Risk Management, India Affiliate:
The Institute of Risk Management is the world's leading professional body for ERM qualifications and memberships (Levels 1 to 5). IRM publishes research and guidance, professional standards across the world. Our members (including members of the Institute of Operational Risk) work in all industries, in all risk disciplines, and across the public, private and not-for-profit sectors in more than 143 countries. With 360 exam centres in India, candidates can register for the ERM exams and start with the Level 1 entry stage exam evaluated by AICTE (Ministry of Education, Government of India) and pursue the 5-level pathway to Certified Fellowship with designations at each stage after Level 2 and join a global community of risk-intelligent leaders.
IRM India Affiliate has entered into knowledge partnerships with: Invest India, the National Institute for Micro, Small, and Medium Enterprises (Ministry of MSME), Eduvanz, JB Boda Group, CNBC TV18, The Indian Hotels Company Limited (IHCL), Ultra Tech Cement Limited, Cipla, Reliance Jio and Bombay Chartered Accountants Society. IRM India Affiliate has also collaborated with NMIMS to launch India's first professional programmes in ERM covering IRM's exams and, earlier, launched a report with AICTE (under the Ministry of Education) on ERM and the Indian Higher Education System. . IRM India in collaboration with KPMG in India, have launched the first edition of "India Risk Taxonomy 2023". In addition, it also runs The CRO Circle with Deloitte India's Risk Advisory. IRM has ventured into the school segment through collaboration with Mindler to develop risk-literacy among children through Enterprise Risk Career Program. IRM India Affiliate has recently collaborated with NISM (SEBI's Educational Arm) to launch the Enterprise Risk & India Regulation Online Course (ERIRC) to bolster risk and compliance in India Inc.
About Tata Consumer Products Limited:
Tata Consumer Products Limited is a focused consumer products company uniting the principal food and beverage interests of the Tata Group under one umbrella. The Company's portfolio of products includes tea, coffee, water, RTD, salt, pulses, spices, ready-to-cook and ready-to-eat offerings, breakfast cereals, snacks and mini meals. Tata Consumer Products is the 2nd largest branded tea company in the world. Its key beverage brands include Tata Tea, Tetley, Eight O'Clock Coffee, Tata Coffee Grand, Himalayan Natural Mineral Water, Tata Copper+ and Tata Gluco+. Its foods portfolio includes brands such as Tata Salt, Tata Sampann and Tata Soulfull. In India, Tata Consumer Products has a reach of over 200 million households, giving it an unparalleled ability to leverage the Tata brand in consumer products. The Company has a consolidated annual turnover of ~Rs. 13,783 Crs with operations in India and International markets. 
This year educate yourself and develop your career with EasyShiksha