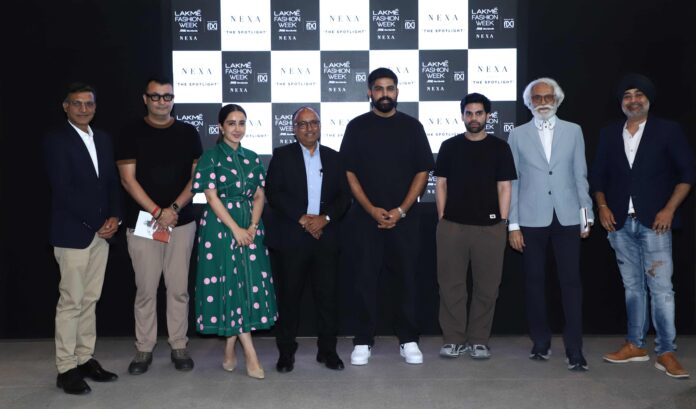 Sushant Abrol of label Countrymade to showcase his winning collection at the upcoming edition of LFW X FDCI in New Delhi
National, 29th August 2023: NEXA and Lakmé Fashion Week in association with FDCI have been committed towards spotlighting and nurturing new and emerging talent in the country through 'NEXA presents The Spotlight'. Now in its sixth glorious edition, the initiative has been credited for bringing forth some of the brightest and creative minds in the fashion industry to showcase their work at Lakmé Fashion Week X FDCI. After a competitive selection process, the program has announced label 'Countrymade' by designer Sushant Abrol as the winner of its sixth season. NEXA's "Create. Inspire" philosophy has given them an opportunity to freely express themselves and push the boundaries in fashion.
An array of designers from across the country presented their collections along with their show concept design to an esteemed jury of industry experts at the impressive Fashion Design Council of India headquarters in New Delhi. The winning designer Sushant Abrol will receive a fund of INR 8 lakhs from NEXA towards the set design and showcase at the Lakmé Fashion Week X FDCI being held between 11th – 15th October 2023.
 The acclaimed jury that helmed the compelling process included: Shashank Srivastava – Senior Executive Director, Marketing and Sales at Maruti Suzuki India Limited, Ram Suresh Akella – Executive Director, Marketing at Maruti Suzuki India Limited, Sunil Sethi – Chairman of FDCI; Jaspreet Chandok – Group Vice President, Reliance Brands; Ashish Soni, Fashion Designer; Dhruv Kapoor, Fashion Designer; Sanjana Batra, Senior Fashion Stylist. 
ALSO READ: Cardiologists at Aster RV Bangalore perform a first of its kind valve Implantation
Commenting on the initiative Shashank Srivastava – Senior Executive Director, Marketing and Sales, Maruti Suzuki India Limited said, "NEXA presents The Spotlight is a true reflection of the partnership and commitment that NEXA and Lakmé Fashion Week X FDCI have towards nurturing upcoming talent and inspiring a new league of designers. The design presentation and show concept of Sushant Abrol for Countrymade was exceptional in terms of thought process, creation, and execution and he has rightfully emerged as the winning designer for the 6th edition of 'NEXA presents The Spotlight'. His adaptation of NEXA's theme of the season, Veracity has thrilled us, and we are excited to see his creative inspiration come to life at the Lakmé Fashion Week in October.
The winner was declared from a line-up of 5 shortlisted designers – Countrymade by Sushant Abrol, Graine by Mannat Sethi & Harshana Kandhari, NoughtOne by Abhishek Paatni, Pieux by Pratyush Kumar, and Shriya Khanna of her namesake label who introduced their brands through a competitive creative expression in line with NEXA's spirit of 'create, inspire'.
Sushant Abrol's concept for the collection embarks on an extraordinary journey of transcending boundaries and embracing the profound essence of unity. Inspired by the odyssey of a soldier, this collection unfolds a narrative of oneness that emerges from the aftermath of a war, where the soldier relinquishes all material desires in search of solace and enlightenment. The collection weaves a captivating tale of transformation, as silhouettes intertwine like threads, blurring the confines that divide our world. Through a harmonious blend of earthy hues, fabrics infused with stories from handwritten letters, and a seamless fusion of styles, the collection becomes a poignant representation of healing and hope with a seamless blend of NEXA's theme of Veracity. Rooted in a resounding call for peace, "No Man's Land" encapsulates a transformative voyage that ignites the universal spirit of humanity within every garment.
Sunil Sethi, Chairman, FDCI said, "Lakmé, FDCI and RISE Worldwide have always been committed to nurturing emerging talent within the fashion realm. In its sixth season now, the ongoing initiative of NEXA Presents the Spotlight reaffirms this commitment. There was an array of innovative presentations from participants across the country, but Sushant Abrol's presentation notably stood out. Anticipation surrounds the Sushant's upcoming runway presentation, and we remain enthusiastic about our role in inspiring the upcoming designers in the industry."
Important Announcement – EasyShiksha has now started Online Internship Program "Ab India Sikhega Ghar Se"
Jaspreet Chandok, Group Vice President, Reliance Brands said, "It is a pleasure collaborating with NEXA to introduce another edition of 'NEXA presents The Spotlight' at Lakmé Fashion Week X FDCI. Our initial intent, six seasons ago, was to provide emerging talent in the industry with a stage to exhibit their design sensibilities to a wide-reaching global audience. With each passing season, we make strides toward realizing this goal. Sushant Abrol of Countrymade has captivated us with his creativity and we are keen to witness the showcase of his presentation on this season's runway."
About Lakmé:
Lakmé, is India's no.1 colour cosmetics and leading premium skincare brand from Hindustan Unilever Ltd. Lakmé has been the pioneer of the make-up and colour cosmetics in India since 1952 by launching numerous trends leading and high-performance products. Combining international cosmetic technology with an in-depth understanding of the Indian woman's needs, Lakmé offers women a comprehensive beauty experience through its extensive product portfolio.
About Fashion Design Council of India (FDCI):
A non-profit organisation, the Fashion Design Council of India (FDCI), is the apex body of fashion design in India, represented by over 400 members. Founded on the premise of promoting, nurturing, and representing the best of fashion and design talent in the country; its prime objective is to propagate the business of fashion. FDCI stays true to its commitment to promote the 'Make in India' label as handlooms take centre stage, in a country, who's heritage is soaked in the flavours of indigenous crafts.  
This year educate yourself and develop your career with EasyShiksha